London College of Communication's BA (Hons) Games Design and MA Games Design courses curated a fun selection of old-school and indie games from a diverse range of creators.
The event was part of the Reel Lives programme of discussions, screenings, performances, and interactive activities presented by the Screen School at London College of Communication. The two-hour sessions were held from 5-13 February to showcase the most popular games and consoles throughout the years.
The play-jam arcade was a collaboration between the BA and MA Games Design Courses which teach students to take the software tools of games design to create new gaming experiences from concept to finished product. Students learn a variety of skills such as interactive design, the psychology of games, designing the experience of play, computer programming and 3D modelling.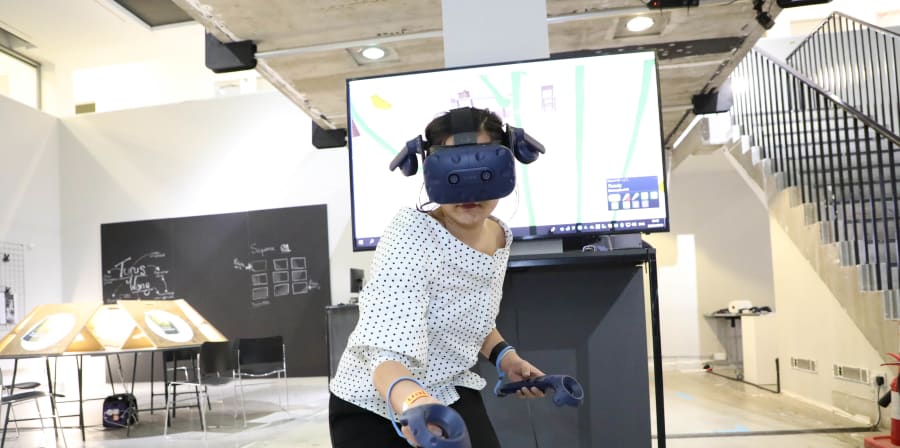 The pop-up arcade in the Well Gallery featured games from classic Nintendo 64 Mario Kart to Virtual Reality Beat Saber. Other games included Tomb Raider, Hellblade, Senua's Sacrifice, Superhot, Tilt Brush, and Goldeneye.
Attendees of the event were able to play the games from a range of diverse creators of all backgrounds to celebrate and reflect on the advances on video gaming technology. Virtual Reality was the most popular, with students queuing up to play again and starting tournaments against each other.
The play-jam aimed to celebrate video games as a universal art form, allowing people to discover VR for the first time and others to re-discover classic video-gaming hits. During the play-jam sessions, Games Design students streamed plays and critical explorations of the games through their YouTube gaming channels.
Words by Maha Khan, BA (Hons) Journalism.
Find out more: