The 'Design for Change, in our own neighbourhoods' initiative explored new opportunities for innovation in the borough.
Working in small teams, students at London College of Communication were asked to channel their skills as socially and environmentally-conscious design consultants into four challenges positioned around key local issues:
Food insecurity and family poverty for people in Southwark
The role of arts and culture in mental health services
Loneliness and isolation for young people living, working and studying in Southwark
The relationship between faith communities and diabetes prevention services.
Over the course of two months, each team worked with individuals across the borough to develop a holistic overview of their assigned themes and ensure that their designs were responsible, imaginative and engaging.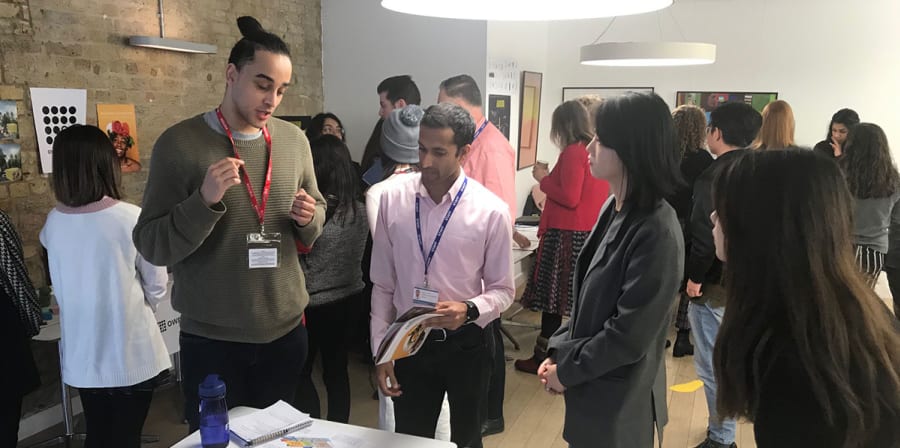 "Cups of tea to open up conversations"
The resulting concepts were presented to Southwark Council on 4 March, and included a range of innovative approaches including:
A growing product and game themed around surplus food. By encouraging children to take the lead with their families at home, this aims to raise awareness and increase knowledge around the true potential of leftovers.
An umbrella brand, Feel Good Arts, which connects all arts organisations in Southwark that can evidence their improvement on people's wellbeing. This aims to increase public understanding of ways to access help and support outside of the formal health system.
A design for more sympathetic public spaces that value loneliness while also opening up opportunities for connectivity between strangers. This concept aims to build young people's resilience for, and understanding of, loneliness while reducing the stigma attached to being alone.
A new service aimed at faith leaders which directly involves people at risk of developing diabetes in order to increase individuals' ability to not only lower their own risk, but that of others in the wider community.
Ella Britton, Course Leader for MA Design for Social Innovation and Sustainable Futures, praised the thoughtful ways that students engaged in the research underpinning their final, powerful design concepts.
"Students shared cups of tea to open up conversations about wellbeing, and created games to engage with families and their children," she said.
"They spoke in-depth to leaders in the Southwark faith community and leaders at food banks, people on the frontline of NHS Health Services and people on the ground setting up community gardens.
"All of this research resulted in a number of social design innovations which really showed the project partners at Southwark Council what design can do."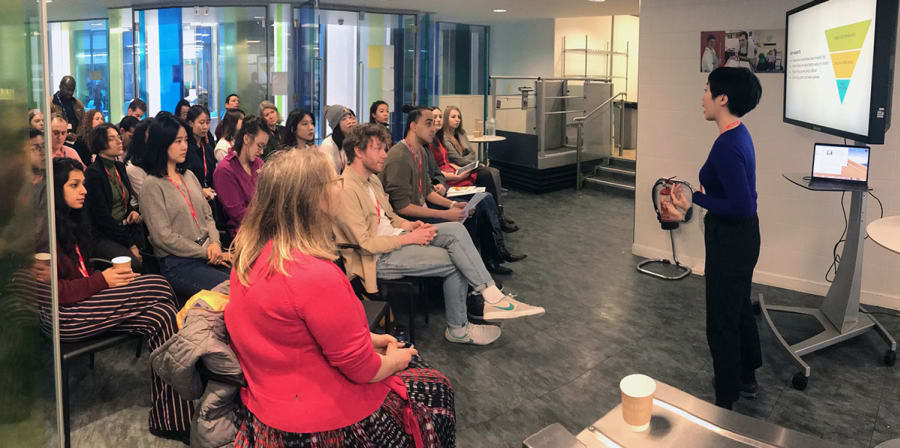 "Honest and insightful with diverse expertise"
We chatted to MA student Rebecca Ghim about her experience of working on the food insecurity strand of the collaboration, as well as the highlights of her time at LCC.
Tell us a little bit about your role in the project.
I was one of the six members within the 'Food Security' strand that was assigned to us at the beginning of the brief. My previous projects were based on food waste, and I'd also written an essay about a food cooperative, so I was able to bring in a few insights.
What were your project highlights?
For me, it was the ideation. It was a lot of fun turning all the primary research into something that could be useful. We were thinking a lot about behaviour change which I wasn't familiar with, so I was able to learn from my peers regarding that.
What have been the best things about studying at LCC?
I found that my tutors and peers were very motivated to learn and proceed to each stage with great responsibility.
I love that I was able to meet like-minded people to obsess over the same issues we're passionate about, and to discuss different resources that are relevant to one another's passions.
We've all been genuinely hopeful and encouraging towards each other's goals, whether long-term or short-term. Not to mention, our tutors have all been incredibly honest and insightful with diverse expertise.
Related links: