Students from London College of Communication quizzed Twitter boss Bruce Daisley for top job-hunting tips for a new show for BBC Radio Four.
Four students across BA (Hons) Journalism and BA (Hons) Public Relations were featured on 'Out of Office', a new series exploring the changing world of work.
The students – Maha Khan, Daryl Ho, Jennifer De Souza, and Jennifer Revell – met with Head of Twitter for Europe Bruce Daisley as part of the recording for the show, getting top tips on navigating the ever-changing landscape of applying for jobs.
Daryl Ho, BA (Hons) Public Relations student, asked Bruce about when using social media to interact with employers and senior professionals crosses the line into an invasion of privacy.
Daryl said: "Speaking with Bruce was a really interesting experience, particularly getting his insights into the hiring practices of Twitter.
"We're all students preparing to graduate and enter into the workplace, so the tips Bruce shared will be really useful."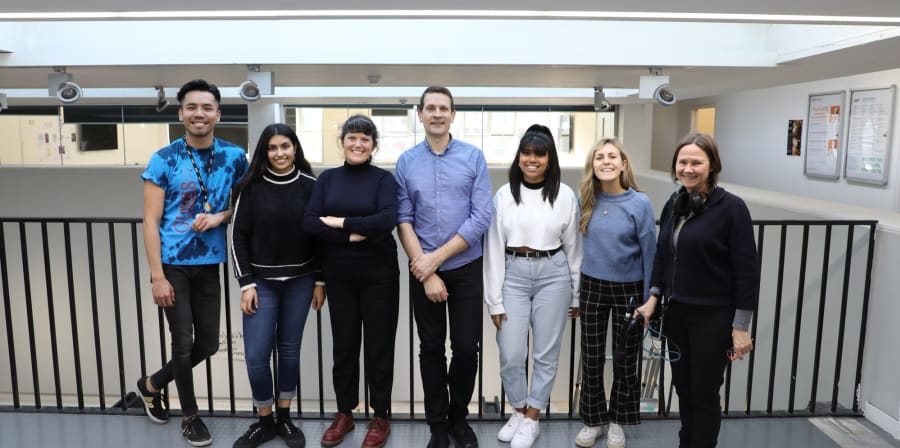 And Maha Khan, BA (Hons) Journalism student, got some tips from Bruce on allowing your personality to shine through on your CV.
Bruce – who recently released 'The Joy of Work', a No.1 Sunday Times Business Bestseller, and who runs a podcast 'Eat Sleep Work Repeat' – recounted a time in his youth when he made a CV as a cartoon comic strip, advising that a little creativity can help you stand out in a saturated crown.
Kim Normanton, who produced the show for the BBC, said: "The students asked good, considered questions and certainly impressed me – I imagine they impressed Bruce too.
"I was taken by what a friendly and buzzing place LCC was."
You can listen to the students interviewing Bruce on Episode 3 of Out of Office on the BBC website from 23 minutes 30 seconds.