First launched in 1998, the prestigious Sir Peter Ustinov Television Scriptwriting Award recognises the extraordinary talent of novice writers under the age of 30 and encourages them to kickstart their careers.
Named in memory of the British actor, writer and filmmaker, the prize is awarded by the renowned International Academy Of Television Arts & Sciences Foundation, or International Emmys, and is open to entrants outside the United States.
A significant event in the film and television calendar, previous winners have included Sophie Petzal, creator of Irish crime drama Blood, and Australian writer and playwright, Gabriel Bergmoser.
This year, MA Screenwriting graduate Hannah Westall was named the 2020 winner in recognition of her script, Mind the Gap, which explores the tragic death of a young couple and the resulting tension between their communities.
We caught up with Hannah to discuss her creative process, the inspiration behind her script, and highlights from her time at London College of Communication.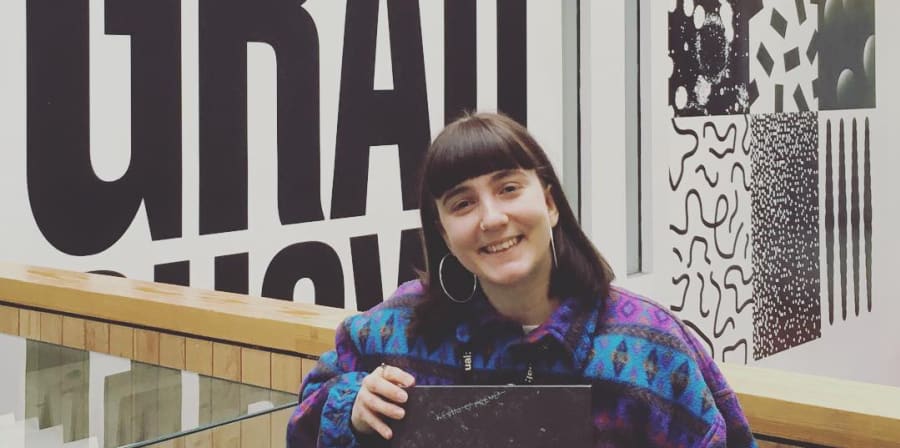 "I set myself a challenge to write for 10 minutes every single day, and it was transformative"
What inspired you to become a screenwriter?
I've been obsessed with stories – particularly those on television - since I was very young. Whenever I had free time, you'd find me watching whatever I could (and I can confirm that nothing has changed!) I distinctly remember being around 18 and watching the first episode of Girls, where Marnie and Hannah are dancing around their flat to Robyn's Dancing on My Own and just thinking: 'Wow, I want to write something like that.'
Whilst I was at Cardiff University studying for my BA in Journalism, Media and Cultural Studies, I chose a lot of television-focused modules, and it occurred to me that writing for TV could be an actual career choice. I got involved with the Cardiff Uni TV Station and wrote a short web-series about Tinder - and that was it.
Tell us about your creative practice – do you have a typical way of developing your work?
Before 2020, I wrote as and when I had the motivation to, and was often quite hard on myself for not doing enough. Then, my best friend gave me an amazing piece of advice that has really influenced the way I write: apparently, you don't become motivated to do any task until you've been doing it for 10 minutes.
Sometimes writing can become daunting, especially if you haven't done it for a while, and we can forget that it's something we genuinely love. So, in January this year, I set myself a challenge to write for 10 minutes every single day, and it was transformative. 10 minutes is such a short amount of time that it feels achievable, and most of the time when you've been going for that long, you want to continue. Mind the Gap was written this way (and of course, most of those sessions ended up being far longer than 10 minutes!)
However, it's important to say that if you aren't feeling it after 10 minutes, it's absolutely fine to curl up in bed with chocolate and Netflix instead!
I also keep an eye out for all different types of screenwriting competitions, as I find the deadlines provide a solid structure and extra motivation.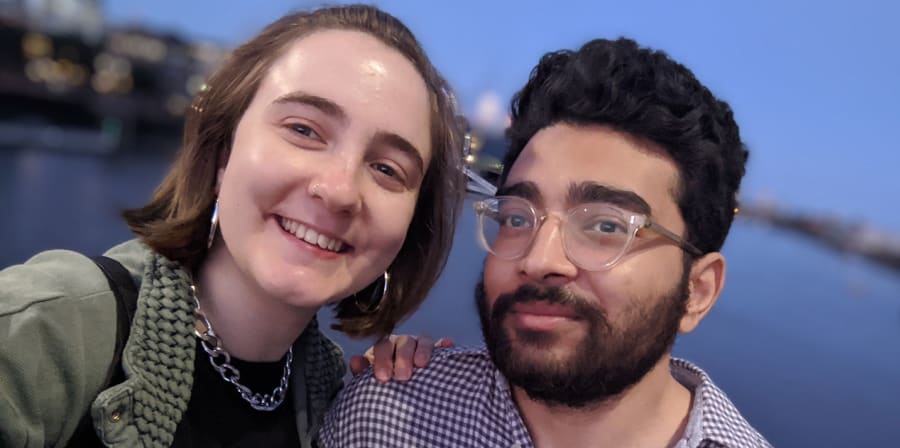 "My main drive is to write scripts that make people feel less alone"
What inspired you to write Mind the Gap?
Mind the Gap is a crime-drama about the aftermath of a young, interracial couple who are found dead in South London. Both of them come from different ethnic communities, and the story examines how these communities become caught up in a war of blame and mistrust as they try to establish what happened.
I myself come from a White British family, and my boyfriend comes from a Bengali family. This has thrown up its own challenges - being with him has definitely made me face up more to my own ignorance about different communities living in the UK, and I think we've both learnt a lot from each other. I started to think about what could be the worst-case scenario for us - of course, luckily, we've never experienced anything like this - and the idea stemmed outwards from there.
What were the main messages or themes that you wanted to explore?
When I moved to London, I was immediately struck by its diversity. This is one of my favourite things about the city, but I kept thinking about the gulfs of understanding that seem to exist between different groups of people living so close together. It's been really important for me to interrogate my own beliefs and where they come from, and I hope that the script might encourage others to do the same.
The two main characters in the script are female as I really wanted to create complex and interesting female leads, and examine the significance of bonds between women.
How does Mind the Gap reflect your approach to screenwriting?
Mind the Gap was actually a huge step out of my comfort zone. Before this, I'd mostly been writing comedy and comedy-drama pieces, but I really wanted to tell this story and it felt like a good time to see how I'd fare writing a straight dramatic script.
I've loved the challenge, and it's given me the confidence to believe that I can write for different genres. My main drive is to write scripts that make people feel less alone by tackling topics like mental health and creating diverse characters.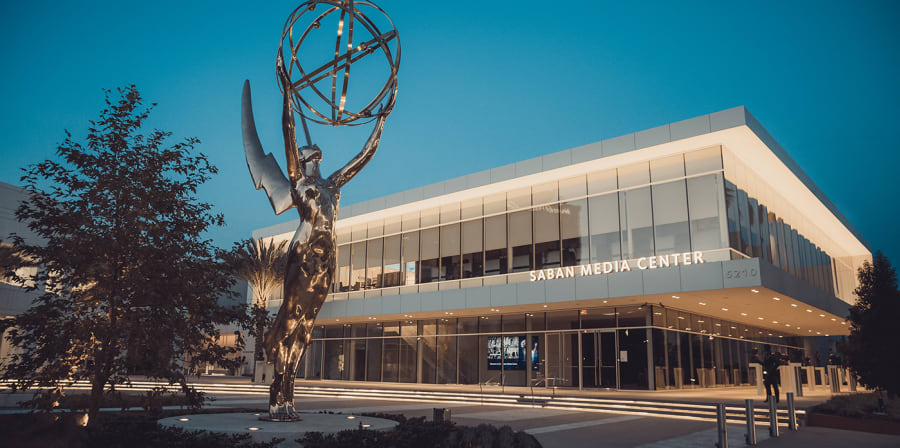 "The quality of British scripted television is phenomenal and it's only getting better"
How did you first find out about the Sir Peter Ustinov Scriptwriting Award, and what was the application process like?
I was listening to a podcast from The Network with Sophie Petzal, an incredible British Screenwriter who won the award in 2012. I'm always on the lookout for competitions and opportunities, and this sounded like a life-changing one. You needed to submit an episode of a television drama written in English and Mind the Gap fit the brief quite well, so I decided to go for it.
One massive benefit of the competition is that it's free to enter. The application process was very straightforward – I just had to submit my chosen script with my details and a short biography. It went off into the ether and I didn't hear anything until early October when I received an email telling me I was a finalist. I remember just running downstairs and shouting excitedly at my family. It's honestly been such an incredible surprise.
Why is this an important step in your career?
I hope that this award will get my name out there, and help me to achieve my next goal of securing representation.
To be backed by such an amazing institution will hopefully show that I'm a capable writer, and I'd absolutely love to write for existing British shows. The quality of British scripted television is phenomenal and only getting better - it's a really exciting time.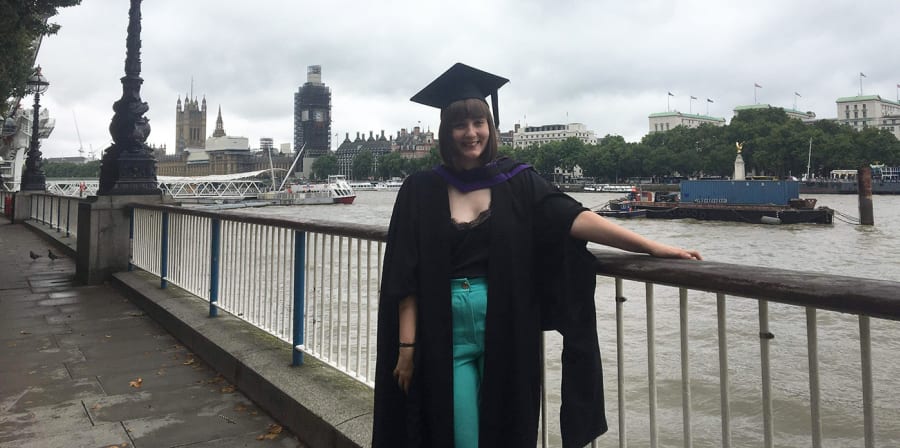 "MA Screenwriting was just the greatest learning experience of my life so far"
What were the highlights of your time on our MA Screenwriting course?
The course introduced me to a talented, supportive and all-round amazing group of writers. We still keep in contact and have regular script workshops. They've been so important in helping me to complete the course and pursue my writing career: they read so many drafts of Mind the Gap and helped its development, and I feel so fortunate to have them around me.
MA Screenwriting was just the greatest learning experience of my life so far. There was so much I didn't know about screenwriting, and I feel much more equipped as a writer now. The classes were topical, entertaining, and constantly pushed us out of our comfort zones in order to help us grow.
How has your time at LCC helped your creative career journey?
My time at LCC definitely gave me the confidence to reach out to people in the industry and share my work. We had so many opportunities to meet people and to start establishing a network of contacts. At the end of the course, we were even able to sit down with important people in the UK Film and TV sector and pitch our projects to them - I can't imagine having that opportunity anywhere else.
The support that our course leader, Kelly Marshall, provided throughout the course and now has been invaluable.
Related links