MA Screenwriting graduate Tahsin Guner has won Best Single Drama for his film 'Killed by my Debt' at British Academy of Film and Television Arts (BAFTA) Television Awards 2019.
Produced by BBC Studios Documentary Unit for BBC Three, the hour-long film depicts the story of Jerome Rogers, a 19-year-old motorbike courier who took his own life in 2015 after unwittingly racking up debt from two minor parking fines.
Speaking of how 'Killed by my Debt' came about, Tahsin said he was first approached by the director, Joseph Bullman, who had been speaking to the family about dramatising Jerome's story.
"After reading about what happened to Jerome, I immediately wanted to do it" Tahsin said, "his story made me upset and angry (both good motivators for writing anything), and it was clear that a grave injustice had been done.
"His story was an indictment of zero-hour contracts, an unregulated bailiff industry, and a system that victimises and crushes the most vulnerable in our society. It was a story that needed to be told."
After graduating in 2007, Tahsin wrote a feature-length script that caught the attention of BBC Writersroom, and was encouraged to apply to the BBC Writers Academy. Following his time at the Academy, he went on to write for Doctors, Holby City, Casualty, and Eastenders.
Tahsin said that one of the biggest challenges with writing about Jerome's story related to the sheer amount of information that needed to be presented, from Jerome's pay and outgoings to the bureaucratic processes involved in parking fines.
"We needed to find ways of conveying what could potentially be dry information in a visual and compelling way," Tahsin said. "It was clear that this was going to be a harrowing viewing experience – and needed to be – and we had to keep the audience watching. We were also dealing with sensitive issues around mental health and suicide, which had to be carefully handled.
"Everyone involved was passionate about this story and felt deeply about telling it. Now that it's been made, knowing that it will be used in schools to teach pupils about debt management and mental health is extremely gratifying."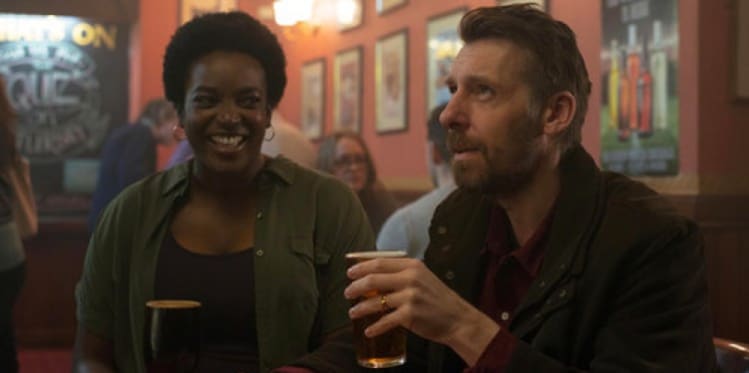 Tahsin is one of several screenwriting graduates to have been nominated for BAFTA Awards. Anna Symon was nominated for Best Mini-Series this year for her work on the BBC drama 'Mrs. Wilson', while Lauren Sequeira was previously nominated for Best Short Form for her spin-off of 'The Dumping Ground,' entitled 'Sasha's Contact Meeting.'
For Lauren, her experience of writing 'The Dumping Ground: Sasha's Contact Meeting' came about through her own pitch, following a CBBC brief to agents. Lauren got in contact and after a meeting, was then commissioned.
Speaking of how she got her start in the industry, Lauren recalled "sending out spec (unsolicited) scripts and entering competitions with many a shut door. One script reached Bryan Elsley at Balloon Entertainment, who was looking for new writers. He hired me off the back of that and I was then able to nab a top agent."
"I'd always wanted to be a screenwriter," Tahsin said, "but it wasn't until I finished the screenwriting course that my career really took off. The peer-review structure of the course was hugely beneficial in preparing me for the industry. Regular speakers ensured that we all knew what we were getting into."
Lauren agreed that the course was a major help in preparing her for writing in the television industry, stating that "it helped me work out a process that works for me in terms of taking an idea from premise to script stage. It also sharpened my analytical skills when looking at my own scripts and others."
Speaking of what advice he would give to people interested in screenwriting, Tahsin was encouraging, asserting the need to "recognise that feelings of self-doubt are normal and natural, and do not mean that you are not a good writer. It will take many drafts before you get the script to where you want it. Don't forget the 'play' in 'screenplay'. Sometimes that can be difficult, especially at draft seven or twenty, but having fun can be the key to giving you the creative spark to solve problems."
"Try to write as much as possible and expose yourself as much as possible to the industry," Lauren said. "Getting that first commission is hard and a lot of luck and being in the right place at the right time is involved. Don't get caught up in other people's success. Not every way is the same and the pace of the industry constantly changes for everyone."
"Our graduates go on to forge meaningful careers across television and film," Kelly Marshall, Course Leader for MA Screenwriting said, "and I'm delighted to see that their work is finding recognition at the very highest level of the British entertainment industry.
"Congratulations to Lauren and Anna for their incredible achievements, and special congratulations to Tahsin for winning Best Single Drama for such an important story in Killed by my Debt."
Killed by my Debt was first broadcast on BBC Three on July 18, 2018 and will be available to watch until July 2019.
The Dumping Ground: Sasha's Contact Meeting was first broadcast on CBBC on April 6, 2018 and will be available to watch until July 2019.
Mrs. Wilson was first broadcast on BBC One on November 27, 2018.
Find out more: