The Creative Technology Lab at London College of Communication (LCC) is a space where students can collaborate and create exciting work using emerging technologies such as creative coding, projection mapping and virtual reality (VR). We chatted to our VR Development Specialist Technician, Alejandro Escobar, about the ways students can get started in the Creative Tech Lab, and the opportunities that VR can bring to their creative practice.
How can students get started in the Creative Tech Lab?
Even if you don't have a specific project to work on, we encourage you to drop by the Lab as you might see other students doing interesting stuff that inspires you.
We usually give new students a short tour to introduce them to the team here in the Lab and the kinds of techniques and technologies we support.
If you want to use the VR booth or the soldering bench, you'll need to have an induction. We always encourage students to just approach us and ask for help, so just come to the Lab, say "Hey, I want to use these things," and a technician will schedule you in. You'll then be able to book things like the VR booth through ORB. Every booking is for four hours, and you can use that time to work or test projects.
When do students use the facilities?
As technicians, we give students a lot of support for their mid-term projects and final exhibitions, but sometimes, they just ask for guidance on their initial ideas. After they give us a little bit of information, we point them in the right direction.
We also run a couple of workshops every term which allow students to start using the technology without having any specific projects in mind. This could involve physical computing, soldering, using controllers or creative coding. Last term, we ran a couple of workshops around projection mapping – we make the space a bit darker and the VR booths become a playground to test out ideas.
We usually publish upcoming workshops on ORB so students can check out what's happening. We're planning to put a VR headset in the Kit Room so that students can borrow it and take it home.
Do you collaborate with any of the other teams at LCC?
We're developing a relationship with the team in the Digital Space to explore ways we can cross-over and provide support to more students. There are many areas where our work meets with theirs, especially around free-modelling, 3D animation and 360 degree video, and they also have three headsets that students can book and use.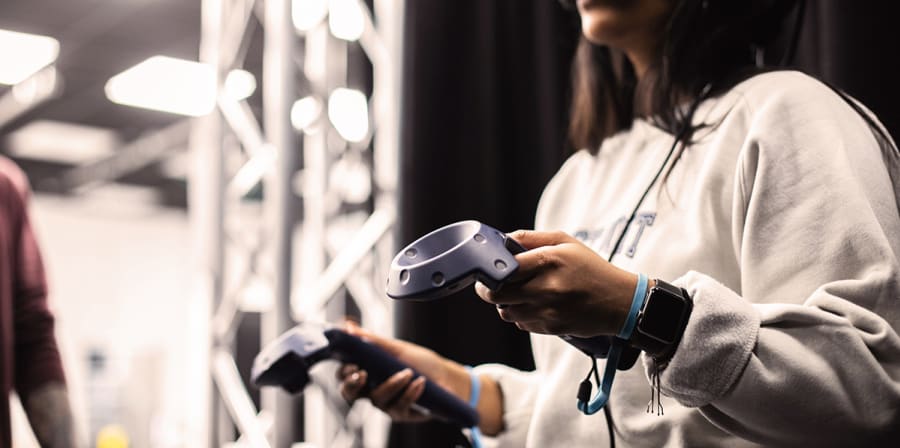 Is your background in VR or is this an area you've moved to over time?
I'm actually an artist - I started as a painter, but my background has also involved using many different types of software in the creative industries. I also studied on the MA Fine Art Digital course at Camberwell College of Arts.
Digital technology is embedded in life – we use it all the time, and it's become part of our everyday lives. Even when I started as a painter 12 years ago, I used my computer to look at the image I was going to paint, so there has always been a digital aspect to my practice. I'm still a painter, but I also use VR, and I can support students with both virtual and augmented reality (AR).
Lots of students tell us that the support from technicians throughout their degree was an important part of their time at LCC. What role do you play in helping students to develop their work?
I think we play quite a specific role at the end of a project when students move from thinking about a concept to actually building something towards a deadline. That's when they tend to come to the Creative Tech Lab and ask us lots of questions.
We often help students when they're facing a challenge. They spend a lot of time trying to sort something out and sometimes, they find that nothing they try works – so we help them, and they try again, and they try again. 99% of the time, they achieve what they wanted, and it's really nice for us to hear them say, "Oh, I struggled with this for a month, but now, I can see the end result." This creates quite an emotional bond because it feels like we've helped them along that difficult path.
What are some of the best things about VR at LCC?
Sometimes, people end up doing stuff that they never imagined, and I think that's because we have such a diverse environment. It's great to have spaces which allow people to explore different things - like recently, I ran an induction for students on the BA (Hons) Animation course who want to animate using VR, which is exciting.
I've also seen students migrate from one practice to another. Last year, I had a student who was really good with VR, and then her tutor pushed her to start using micro-controllers. Even though it was a bit painful at the beginning, I encouraged her to understand that being flexible and adapting to new challenges is an important skill. Now, I speak to her and she's happy.
It's nice to see this kind of transformation where a student begins to understand that beyond technology, creativity is more about the ability to be open to new things, and that happens a lot around here. You might end up doing something that is very different to the thing you thought you were going to do in the first place.
What are your top tips for developing a successful VR project?
At the moment, VR is quite popular, but I think it's important to mention that it's quite different to other mediums. The first thing you should do is to find a way to experience VR – and I don't mean to just put on a headset. It's quite different when you go to an exhibition and you experience VR as a spectator, as a viewer.
I'd encourage you to try out some software and tools that can help you realise the potential of the medium, like Tiltbrush - a really nice tool which lets you play around and draw things in the air. Using tools to create something of your own is quite different to experiencing something that someone has already built.
However, if you're interested in 360 videos, I would encourage you to watch them using a VR headset. Even though you're experiencing something that was created by someone else, you'll still able to understand the kinds of challenges that the person had when they were creating that content.
Related links: