A collaboration between the Outreach team at London College of Communication (LCC) and Southwark Arts Network encourages local school pupils to envisage their future educational path through the Insights programme.
Every year, the Insights team works with schools in Southwark to engage with pupils who are exploring their options and deciding whether to go to university. They are supported earlier on in their journey through the education system by the Insights core and pre-16 offering, which delivers workshops and gives access to LCC exhibitions for students and teachers in the local area.
The focus is on engaging collaborations which help to develop the skills and experience of young people — both those with existing ambitions to work in the creative industries, but also those who might not have considered it as an option.
"We want to stand out to students, to show who we are and that we are here," explained Susannah Rees, Outreach Practitioner at LCC.
"Something that had meaning to young students and the community"
Through the Insights programme, the Outreach team's work with Southwark Arts Network is designed to help build confidence amongst those young people — some of whom may be the first in their families to consider going to university — to explore art and design. This year, the project also included a focus on primary school teachers, allowing them to strengthen their skills through a programme of Continuing Professional Development. The workshops, offered via the Southwark Arts Network, were successful and influenced the Outreach team to develop further projects involving the local community.
One of the most successful of these was the Local Heroes Project. Susannah said: "We wanted something that had meaning to young students and the community."
In July 2019, a variety of primary schools around the area were visited by LCC staff and students to collaborate on the theme of 'Local Heroes'. Susannah worked alongside the teachers and young pupils in the design of a series of artworks which showcased their local heroes, and an exhibition was staged at the College to highlight the work produced.
Over 600 pupils participated in the Local Heroes Project, and many of them visited LCC to see their work on show across the exhibition's three days. Susannah said: "We had amazing pieces of work being displayed."
After receiving positive feedback, Insights will continue next year focusing on the themes of community and mapping the local area.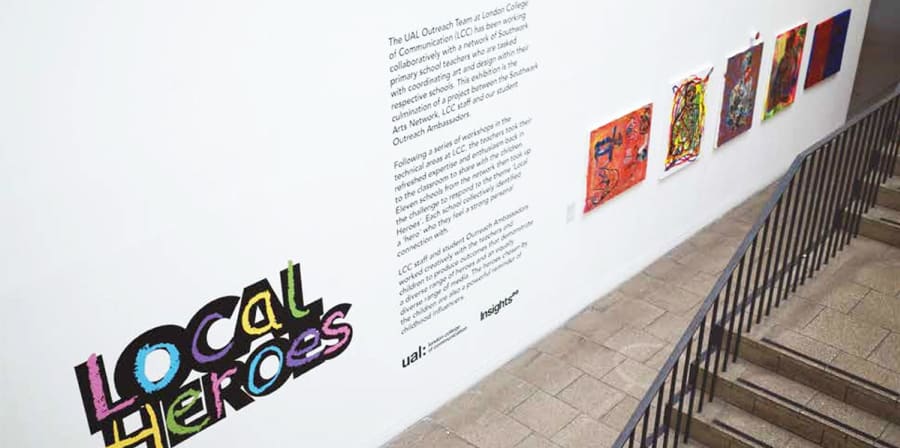 "Everyone is invested in the process"
Another highlight for the Insights team came when they worked with Angel Oak Academy inPeckham. Staff at the school were encouraged to join workshops in art and design. Susannah recalls: "One of the teachers did a photography session through the CPD programme but didn't have the right equipment, so instead, used iPads to produce photographs with natural lighting.These turned out to be really good and helped their confidence."
LCC Outreach practitioner Gavin Waters said: "Many schools do not have the funding and money to send their teachers on this professional training programme, so they can attend it for no cost during their free time. At LCC, it is important for us to engage with local schools as they are such an important part of our community."
The work of the Insights team has built a rewarding symbiotic relationship between LCC, its staff and students, local schools and the Southwark Arts Network. Pupils who develop a deeper interest in art and design, and working in the creative industries, can then take advantage of further support from the Insights programme from the age of 16. It is open for students to sign up during school holidays to take part in additional workshops which help them to develop their portfolios in readiness for applying to university courses.
Gavin added: "Everyone is invested in the process, and we are there to support students and help with applications."
This feature was taken from our Business and Innovation Developing Partnerships with the Local Community publication, where all articles were produced by third-year students from our BA (Hons) Magazine Journalism and Publishing course.
Related links