Teams from London College of Communication were awarded first and third place for their concepts which aimed to transform traditional healthcare into truly human-centred services.
The Student Service Design Challenge celebrates, encourages and inspires the next generation of designers to find people-centred and future-oriented healthcare solutions. Supported by Philips Experience Design, teams are encouraged to develop new, playful and disruptive approaches which provide the right care to the right people in timely, affordable and accessible ways.
More than 35 student design teams from universities across the continent took part in the 2020 Challenge, which involved a 5-month process of research, ideation and development in response to the brief: 'How can we improve the heart health of people in Europe who are 'invisible', neglected, underserved, forgotten or overlooked?'
Unanimously, the Jury chose the 'WomenToHeart' concept as the 2020 winner. Developed by a team of LCC students on the MA Service Design course, I <3 Women, the concept focuses on an online service which helps women to identify and communicate cardiac symptoms via metaphors rather than a traditional pain scale. This approach ultimately helps them to understand early warning signs and encourages them to seek help sooner.
Judges praised 'WomenToHeart' for the clarity of its concept, the fact its research was guided by a deep sense of empathy, its great storytelling and its potential for high impact.
The winners were joined in their success by fellow LCC team, London Arts 1, who were awarded third place and praised for their solid research, quality insights and stand-out idea of combining both clinical and personal data. Their 'Heartsease' concept was designed to improve communication between elderly patients and medical staff through a 'cardiac passport' and a personalised planning experience for medical procedures.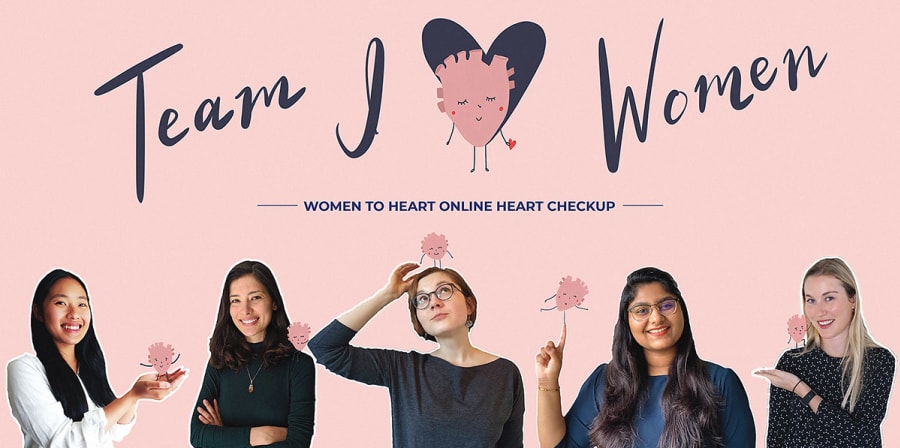 "A dream team of supportive, talented and inspiring friends"
We chatted to Angela Tam, Laura Duarte Carrasquilla, Katerina Shikhotova, Ruchika Karnani and Maria Jesus Domeyko Hurtado from Team I <3 Women about their experience of the Challenge, as well as their time at LCC so far.
Tell us a little bit about working as a team during the Student Service Design Challenge – what key roles did each of you play?
Angela: "We were a dream team of supportive, talented and inspiring friends who drove each other forward. We each contributed equal parts vigour and dedication throughout each stage, gathering research, framing insights, and ideating opportunities. In particular, I conducted interviews, worked as the dedicated videographer, reviewed work, and created the illustrations."
Laura: "Our roles were based on needs, skills and availability of time. Half of the project was done remotely, which required a lot of planning. My role was to put together a plan to work asynchronously, making sure that the team was aligned and clear on the task and deadlines. I also monitored outstanding aspects of the project, and both promoted and facilitated spaces to discuss and generate ideas."
Katerina: "Our responsibilities were divided quite evenly in the team so each of us could be a part of any process that helped us to be on the same page. However, for creating deliverables, we used our strengths - I worked on graphic design with Ruchika."
Ruchika: "I come from a graphic design background and that came in very handy! Apart from the visuals, I contributed towards ideating and creating prototypes of our service. I also helped to test the prototypes with contacts that I made through the British Heart Foundation's forum."
Maria: "This MA is my first exploration of service design, and I joined the Challenge because I wanted to learn from real experience with a committed and passionate team - I wanted to breathe design thinking. I have a business background, so my role involved offering a business perspective to understand if we were delivering something that could actually be implemented."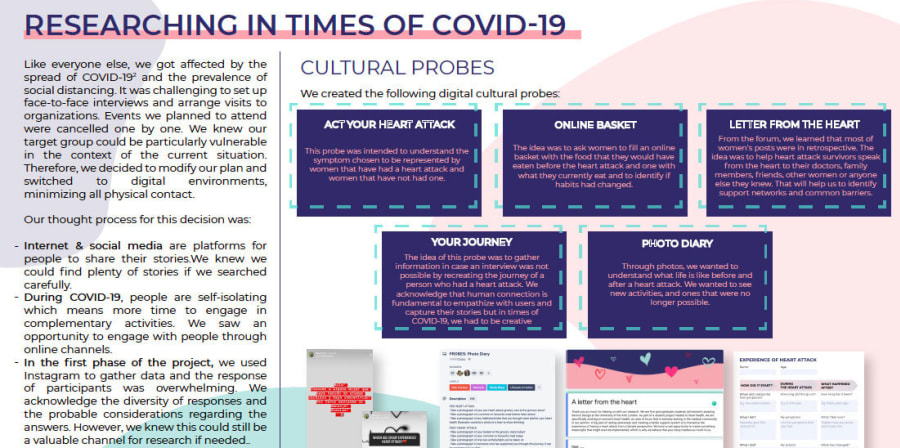 "The opportunity to add value to society and to shape the world I want to live in"
What were your highlights of the Challenge?
Angela: "The magic that happens with a truly collaborative and creative team who are eager to listen deeply, be respectful, and iterate on one another's thinking and ideas. Amidst the pandemic, we were able to prove to ourselves that we could pivot, reimagine new ways of working and still create something valuable, which will be an important lesson of resilience I will keep in the future."
Laura: "In this project, I was able to meet so many people with touching stories - I developed my understanding of the fact that we as women are underserved in so many ways, and this was motivation to give my best to help people, and for us to help each other as designers. I really believe we need more people working on meaningful projects addressing these kinds of 'wicked problems'.
"COVID-19 also allowed us to put our knowledge in practice while actually experiencing what service design practitioners have also been asking themselves: how do we research and design remotely? I'm thankful for that."
Katerina: "I had a priceless experience of collaboration with incredibly smart and creative teammates and learned a lot from them. Also, the insights about women's heart health has improved knowledge about my own health.
"I think the most interesting moment was on the second stage when the pandemic started, and it became clear that we needed to work in very new and challenging circumstances: we were in different countries and time zones, and our target audience was completely unavailable. We had a discussion on whether we wanted to keep on working or give up, and I'm proud that all of us decided to fight."
Ruchika: "We were resilient – we were able to work around challenges quickly and find creative solutions despite having to work in a pandemic across 4 different time zones. I enjoyed the team's collaborative spirit."
Maria: "Throughout this challenge, I appreciated having the opportunity to add value to society and to shape the world I want to live in – I was able to understand how powerful service design can be. I enjoyed having the opportunity to test what I've learnt in the MA and actually understand how things work in a real-life situation. It wouldn't have been possible to achieve this without any of us, so I also enjoyed our sense of teamwork."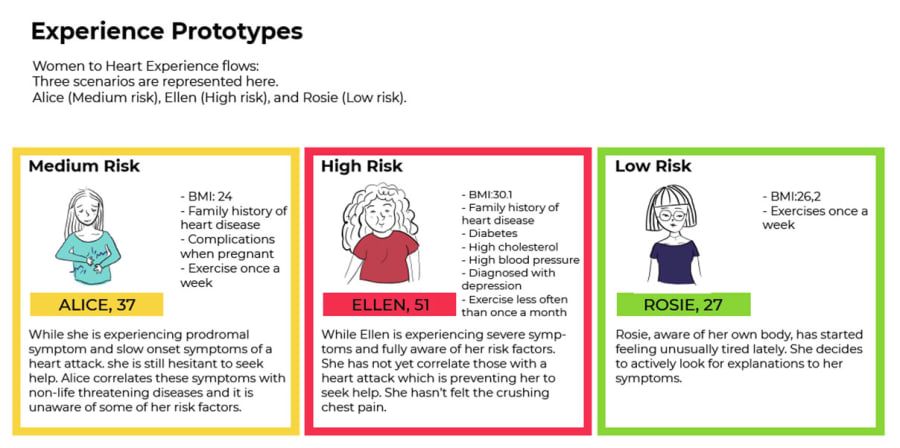 "Inspires, supports and pushes us to better versions of ourselves"
What have you most enjoyed about studying on the MA Service Design course at LCC?
Angela: "I've enjoyed how hands-on the work is and how embedded we become in the problems we're looking to solve. It has allowed me to broaden my ability to approach problems in a more holistic and human-centred way, and reminds me to constantly question assumptions and the value created by solutions. I've made some lifelong friends who inspire me to be a more creative and thoughtful designer every day."
Laura: "The MA has been a rollercoaster of experiences. I think being able to connect with people from different parts of the world has been something I've enjoyed in particular, and having studio-based learning is actually one of the things I've missed most in Lockdown."
Katerina: "I like the practice-oriented approach because I don't only get new knowledge through actually doing service design and learning from my classmates, but also professional self-efficacy. I'm happy to have our brilliant and supportive tutors alongside our Course Leader, Dr Silvia Grimaldi, who teaches, inspires, supports and pushes us to become better versions of ourselves."
Ruchika: "One of the most enjoyable things has been working in a multi-disciplinary team. It's taught me to share my skills and learn new ones to benefit our projects, my teammates and my own personal growth."
Maria: "I like that the College encourages you to learn by doing, which I believe is the best learning methodology. I've also enjoyed the opportunity to collaborate in real projects and generate real impact."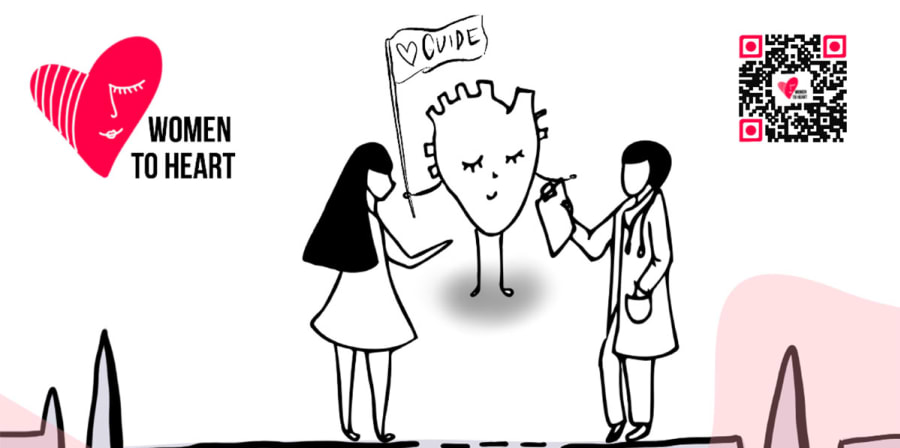 "Good design can help solve systemic problems [...] adding value to society and improving people's quality of life"
How has your time on MA Service Design helped to shape your future career?
Angela: "Throughout the course, I've learned a lot about myself, project management, empathy, and the design process. It's helped me to solidify my hopes for my career, and with the help of my tutors, I've expanded my abilities to break down projects and think broadly and reflectively about my work."
Laura: "As I don't come from a design background, the course has been fundamental for me to understand the discipline and approaches I wasn't aware of previously. This has broadened my perspective tremendously about what I can accomplish and how to do so. It has also allowed me to decide where my passions lie and what I can do to build a career in those areas."
Katerina: "I didn't know about service design before I came across it on the LCC website, and I was also new to the UK, so my time on the course has become a deep immersion into the field and British culture through connections with service design professionals, collaborations with stakeholders, and communication with all the generous people who participated in our research. While I can't say my future career is fully shaped yet, I can see how many opportunities there are."
Ruchika: "Our projects have reinforced my belief that most problems are interconnected and mainly arise from system failures. Through the course and working with our tutors and peers, I've been given the confidence that good design can help solve these systemic problems. As of now, I don't know where I'm headed after I complete my Master's, but I'm sure about working towards uplifting underserved communities through service design."
Maria: "I believe service design is a perfect complement to my career in business management because it helps you to open up your mind and understand users' needs instead of focusing on the business itself, which happens quite often.
"Sometimes, organisations are so focused on growing and delivering results that they forget who they're creating value for, and this is what makes service design the perfect complement. Now, I feel more empowered to help organisations to redefine the journeys of their customers and grow steadily, adding value to society and improving people's quality of life."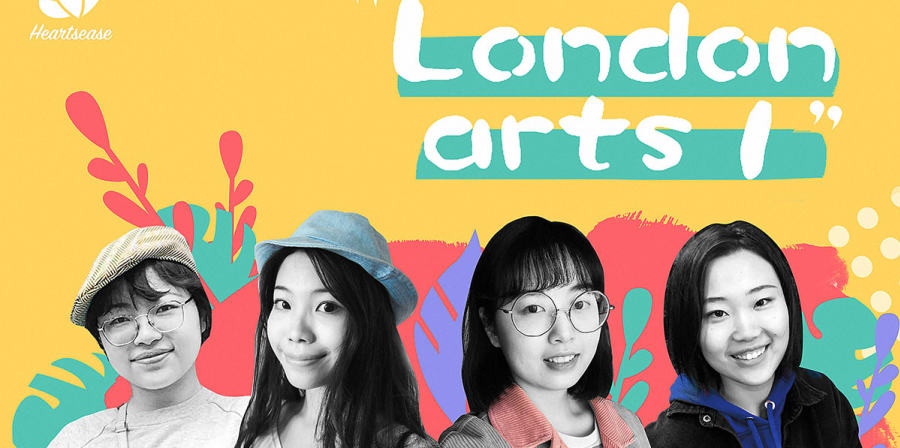 "All of the projects are thoroughly researched and well-developed"
Dr Silvia Grimaldi, Course Leader for MA Service Design, praised the achievements of her students who participated in the Challenge, as well as the ways they've demonstrated real flexibility and resilience when faced with the obstacles posed by Covid-19.
"The students have thrown themselves into the Challenge, doing it in their own time on top of coursework and in the midst of a pandemic. I'm very proud - not only of the teams who won first and third place, but also the other 5 teams who reached the final round," she said.
"All of the projects are thoroughly researched and well-developed, and show some amazing teamwork. Students really applied everything they've learned so far.
"The Challenge was organised really well, and the students had lots of support; not only from us as a course team, but also from the event's mentors and organisers. The students who participated have learned a lot from the experience, and we hope to continue taking part in the Challenge in future."
Related links: