London College of Communication provides great industry connections for our students to pursue careers after graduation in their fields of study. The Media, Communications and Critical Practice masters course focuses on exploring communications theory and creative practice, encouraging critical thinking and engagement with key theories in media, culture, and communication. Professional practice is central to the course, providing all students with the opportunity to undertake an industry related project or work placement.
Mariama chose to study MA Media, Communications and Critical Practice at LCC to enhance her career prospects and found plenty of support finding an internship from her tutors and student support groups. The college also hosts workshops and career advice throughout the year, Mariama took part in a recruiter session with the BBC World Service and landed a position as one of the six BBC Future Voices Trainees.
Mariama shares her story working at the BBC and how it shaped her outlook on a future career in journalism...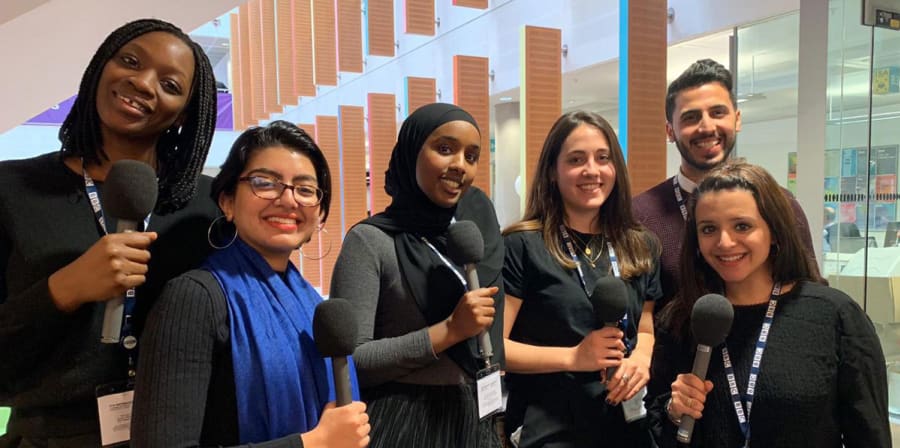 On my first day at the BBC I was so nervous that I wisely decided to fill up on all their free coffee in the office to calm my nerves. But I quickly warmed up to the office. Everyone was so kind, friendly and genuinely willing to help me and my colleagues become the best journalists we could possibly be.
I learnt so much during my time at the BBC. It was not the kind of internship where you're either so bored from getting everyone coffee and Facebook scrolling, or exhausted from doing a heavy load of admin work.
I discovered very quickly that the BBC World Service is a magical place.
The internship was six weeks long. During the first two weeks we were heavily trained in the BBC's best journalism practices via a back-to-back, jam-packed class schedule. I had a notebook full of notes on everything from presenting on radio and TV, to digital journalism and how to use multiple software.
During our last four weeks each of us spent time on attachments with the different BBC World Service language departments that we applied to intern in. As a West African fluent in both French and Pidgin, I spent two weeks learning how to produce videos for BBC Afrique and two weeks learning how to be a journalist at one of my favourite departments since childhood — BBC Focus on Africa.
I discovered very quickly that the BBC World Service is a magical place. It is a place that broadcasts top world news stories while specialising stories per region in more than 48 languages in over 100 locations around the world. It is a place looking for young, creative and talented journalists to change the traditional ways in which BBC News has been done in the past.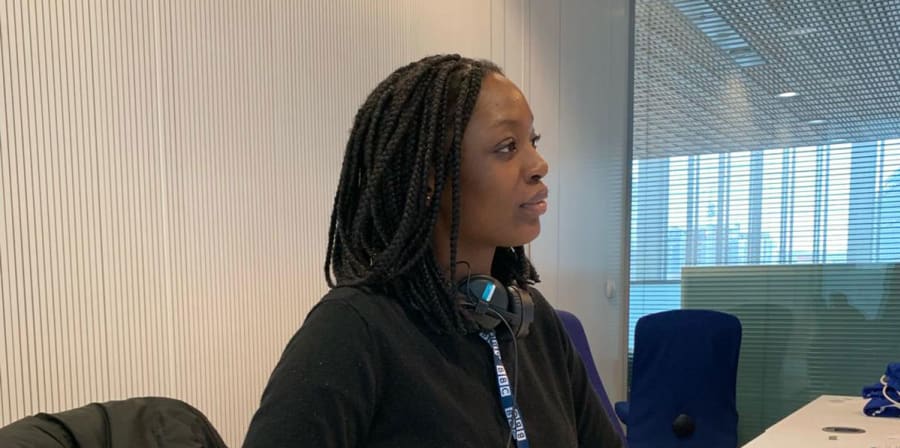 My studies at LCC provided me with the perfect experiences to enter this exciting space. During my first term at LCC one of my tutors, Dr Chiara Minestrelli, ran a workshop on gardening and Hip-hop pedagogies outside of class hours. The workshop was completely different from anything we were doing in classes — it connected us, an 80% international classroom body, to London. The fast-gentrifying, highly-capitalistic, full of first generation British-Somethings, booming with counter-cultures London!
I was able to draw on stories from the communities I explored in Dr Minestrelli's workshop in order to pitch story ideas to my department. As a result, one of my story ideas was commissioned by the end of my internship, and I was hired to go out and shoot it!
Now more than ever, I believe in the power of storytelling to connect and ignite communities, ideas, and sustainable positive change.
After my time at the BBC, I knew I had found a home! Since my studies are not over yet, as an international student in the UK, I cannot work full time. However, I am determined to return home to Sierra Leone after my studies and work for the BBC as a bilingual reporter all over West Africa — to continue sharing my region's stories with the world.
Now more than ever, I believe in the power of storytelling to connect and ignite communities, ideas, and sustainable positive change. I am currently still working for the BBC Focus on Africa team as a part-time journalist and will continue to do so until the end of my studies. I intend to learn all that I can from this remarkable place, before moving back home to work on my native soil under the sun.