MA Illustration and Visual Media Course Leader Charley Peters has worked with a leading national charity to install colourful artworks in a mental health unit for teenagers.
Charley worked with patients at Bluebird House, a secure mental health unit for 12-18 year olds in Southampton, through the charity Hospital Rooms, which commissions artwork to improve wellbeing.
Hospital Rooms was founded by artist Tim A. Shaw and curator Niamh White, after they felt that the hospital environment in which their friend was admitted was too cold and clinical and, in their view, not necessarily conducive to healing in its interior design.
Since its foundation, Hospital Rooms has undertaken projects in mental health settings in London, Norfolk, Devon, and Sussex and has been featured on the BBC and Channel 4.
Charley Peters' work was installed in Bluebird House, along with artists Simon Bayliss, Ryan Mosley, Yukako Shibata, Richard Woods and Hospital Rooms founder Tim A. Shaw.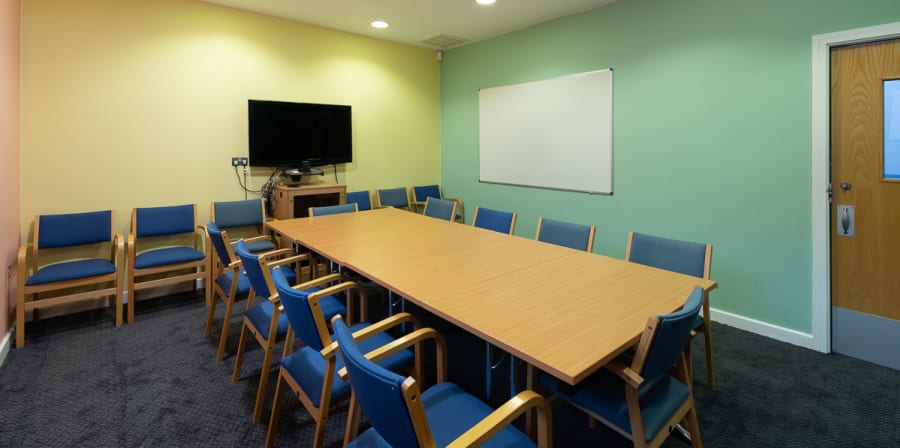 Charley Peters said: "Working with Hospital Rooms on this project has been a life-changing experience. I believe strongly in the emotive potential of painting to change spaces and impact on experiences of being. Hospital Rooms do so much valuable work in bringing the curative power of art to environments where it can make a real difference.
"I developed the wall painting in the Tribunal Room at Bluebird House from the workshop I ran with the young people and conversations with staff during site visits to the hospital.
"I wanted to make an artwork that suggested the good work being done in the unit to support those who live there, which was dynamic, warm, challenging and strong, while also making the room a more sensual and engaging space in which to spend time during what are often difficult circumstances."