At London College of Communication, our research community is home to world-renowned practitioners and theorists who make a vital contribution to our creative culture through a range of activities such as collaborations, partnership projects and doctoral work.
Our second doctoral work-in-progress exhibition, Unfolding Narratives 2, highlights 7 of our PhD students at various stages in their academic journey. Connecting conceptual thinking with practice through explorations of themes such as the body, culture, identity, gender, race, ethics and narrative, this exhibition aims to celebrate the emergence of new and compelling work while inviting wider audience engagement and feedback.
To mark the launch of Unfolding Narratives 2, we caught up with our exhibiting students to explore their practice, current projects, and creative journeys so far.
Elin Karlsson
Elin Karlsson works across sculpture, installation and writing in 'the language of DIY'. Her work enables her to 'author a sexuality', a process which centres on taking power, understanding banishment and reassembling the domestic to map out and rethink desire and domesticity.
Elin's PhD thesis is a manifestation of domestic space as a complex set of exchanges between powerful imaginaries and ideals that both impact and mirror sexuality - particularly female sexuality. This approach not only relates to the people who live in the space, but the capitalist exchange of objects which comprise the home itself. Her research responds to idealised concepts of the domestic, using language which pushes against the concept while seeking to address both the academic institution and physical environment through a place of exile beyond interior hierarchies.
We talked to Elin about multi-modal approaches to creative practice, exposing illusions of domestic connections, and expressing the nuance of what it means to be human.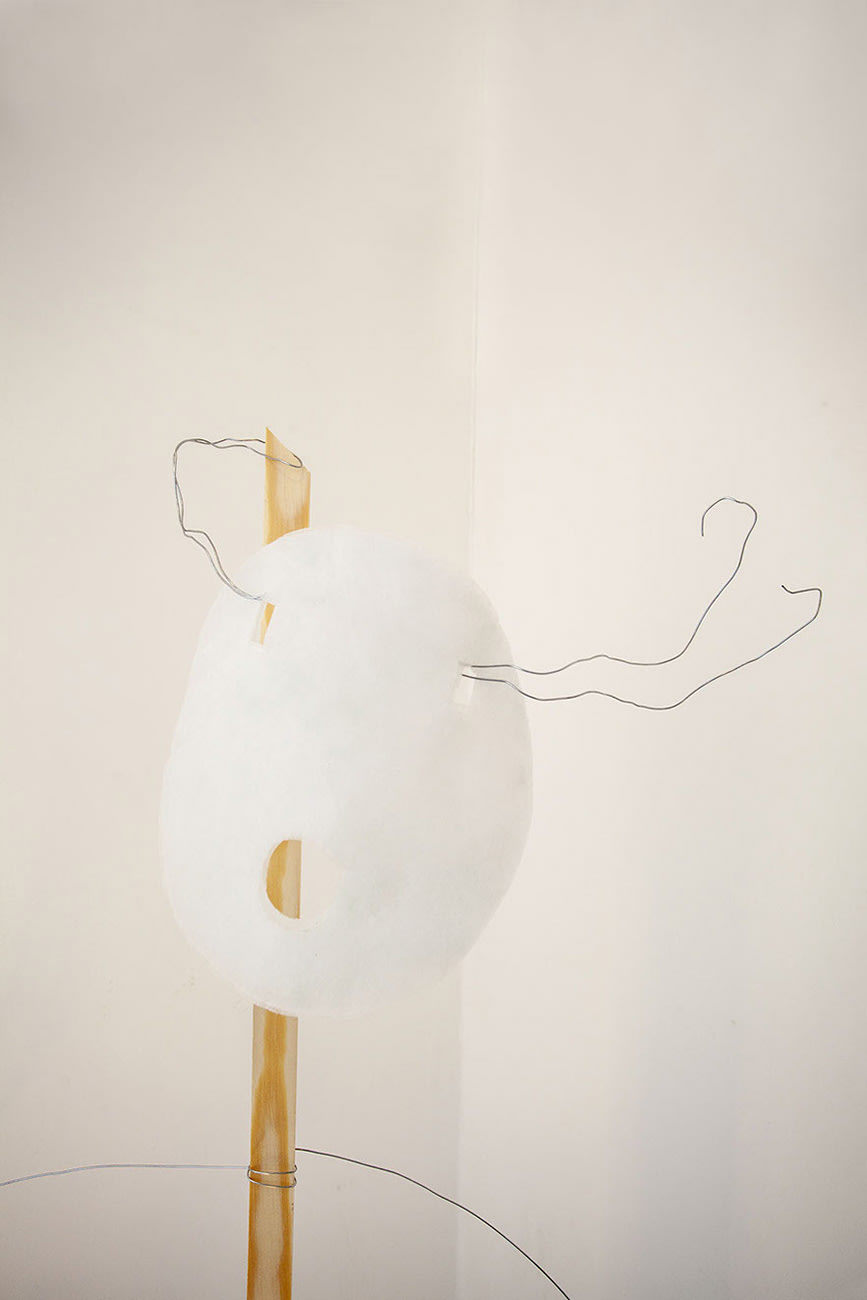 Have you always had a passion for your field of study, or is it something you gradually gravitated towards?
I've moved between photography, sculpture and writing over time.
Writing was my first creative media, and at university, I studied photography, but I started finding the photograph quite restrictive in its flatness and prescribed dimensions so was looking for a way out of that into something more fleshy, emotive and, actually, direct.
Although photographs are often thought of as an immediate medium, the process of making and exhibiting them sometimes isn't. I work quite multi-modally, but right now, writing is a large part of my practice, and that's to do with being restricted by time and a proper space to work in. In the last few years, residencies have become really important to me as they give me the time, space, and resources to work with my sculptures.
Is there a central ethos, theme or message to your practice?
My central theme is and has been the domestic. I take real pleasure in working within the cracks of failing illusions around perfect family life that, of course, do not exist. Women's bodies and sexualities are some of my other ongoing themes, and my work explores how they have been both situated and violated within this context.
Essentially, I work within the triangle of domesticity, sexuality and art. Different situations are mapped onto those themes, and I am looking to expand the conversations that happen between these 3 points.
DIY is also important to my work as it becomes a way to fix some of the rather twisting and fraught relationships that appear in these spaces. DIY was also the gateway for me into the practice I'm working through in my PhD, and it works as a methodology in my sculpting. I think it's a reference point that works to both the domestic and the idea of "fixing" - not thinking of DIY as home improvement, but instead as a way to solve an urgent problem around the expression of women's desires, experiences, and sexualities.
...Reassembling the lived-in space, the home and the gallery to manifest experiences of being a live and flawed person: a woman.
— Elin Karlsson
What inspired your doctoral thesis, and what do you aim to achieve?
In my PhD, I want to contribute to the conversation around female sexuality and desire. My work is inspired by a dissatisfaction and lack of language to express this. The term 'DIY' is used and defined to author this female sexuality and art practice as an idealistic, liberating, yet lacklustre experience.
I think of my thesis as reassembling the lived-in space, the home and the gallery to manifest experiences of being a live and flawed person: a woman.
How would you describe your creative process?
My writing is central to my work at the moment, and I have many ongoing diaries and places where I make notes that become poems.
When it comes to my sculptural work, I often have an idea of a material that I am interested in working with, like a curtain pole, dry cleaners' hanger and bag, or the shape of a sail. I try to find a way for those materials to assemble and find a form that can remain standing. There's a lot of bodging involved in that process, and it drives me to find solutions to make an assemblage stand up.
Why did you decide to undertake your PhD at LCC?
I met a team of supervisors that I wanted to work with, and that is what made me apply to the College. Because I have a background in photography, I felt I wanted to have some association to that still.
What have been the highlights of your experience so far?
In 2019, I had a residency at the British School in Rome and that was a really fantastic experience. I loved working in my studio there, amidst an incredibly creative and inspiring milieu.
Related links: