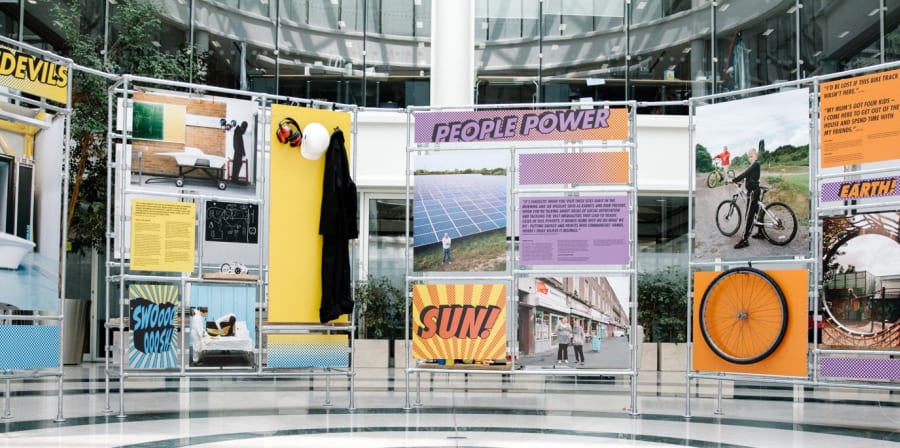 In 2018, Diploma in Professional Studies and BA (Hons) Graphic & Media Design students Stephanie Tan and Maxwell Fabiano Da Silva were involved in designing a pop-up exhibition on sustainability during their year of professional practice for BNP Paribas.
The 'Everyday Heroes' exhibition came from a professional relationship that LCC has built with the Corporate Social Responsibility (CSR) team at BNP Paribas.
The French bank approached the course, seeking out creative design students with an interest in sustainable communications and civic responsibility. This led to students from the areas of design, branded spaces, illustration, animation and photography working collaboratively on the exhibition at the bank's headquarters in London.
BNP Paribas's CSR approach focuses on promoting financial performance and stability, whilst combating climate change and building a sustainable future.
To further demonstrate their commitment, the bank signed the pledge at the Paris Climate Conference (COP21) to keep the planet on a path to limit global temperature rise to less than 2°C.
As communicators at the London College of Communication, we are very concerned by the negative and limited way that climate change is often portrayed; polar bears on shrinking islands and raging forest fires.
Participant Stephanie Tan commented about the experience: "We had not worked in a cross-disciplinary way at LCC before with other design students who cared about sustainability.
Nor such a great client. We learned how every specification needed to be carefully considered. Overall, the collaboration journey was one of the most vital experiences we have had at LCC.
Not only has this opportunity allowed us to build our knowledge and portfolios, it has hugely expanded our confidence as (sustainable) designers and communicators."
Find out more about:
BA (Hons) Design for Branded Spaces
BA (Hons) Graphic and Media Design