A new London exhibition of photography and video from award-winning artist Sara Davidmann reveals a personal story of trauma passed down through generations that began with the Holocaust – following the discovery of a family photo album and never-before-translated handwritten notes that revealed a dark family history.
'My name is Sara' opens on 27 August 2021 at Four Corners Gallery in Bethnal Green, London. It is accompanied by the launch of her book, 'Mischling 1', due to be published in September through GOST Books.
This photography and video exhibition weaves together the artist's contemporary responses to discovering a family lost in the Holocaust and her experience of living with inherited trauma.
Davidmann – a recipient of the 2015 Philip Leverhulme Prize in Visual and Performing Arts and Reader in Photography at London College of Communication, UAL – discovered a family album of photographs and handwritten notes in German (never before translated), that tell a story her father was never able to tell – of the German Jewish side of her family. Davidmann's father, Manfred, and his sister Susi survived the Holocaust by escaping from Berlin on the Kindertransport, arriving in Britain in 1939. The photo-album belonged to Davidmann's aunt Susi. Early photographs show a family life of seaside holidays, weddings and Berlin outings – a family Davidmann had not known existed.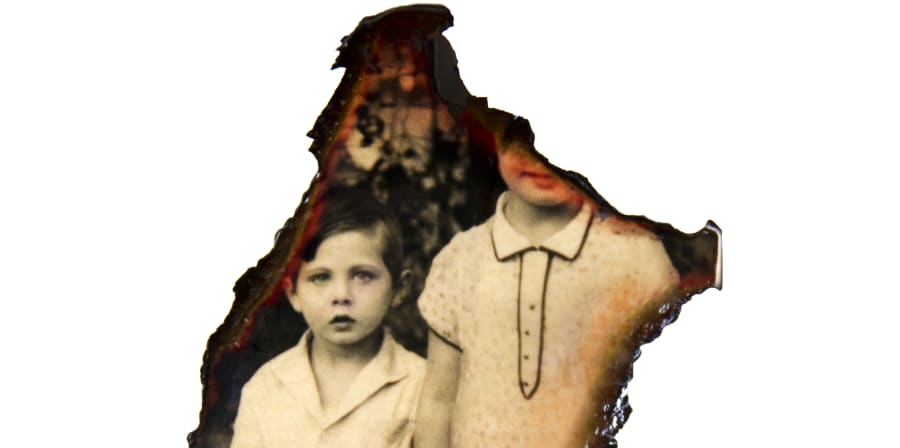 Realising that many of these people did not reappear in photographs taken after World War II she searched for traces of their lives. She uncovered over 130 pages of Nazi and official documents. These revealed that family members were deported to, and murdered in, concentration camps at Auschwitz and Theresienstadt. Others survived by escaping to Shanghai and France, and by living hidden in Berlin with false documents.
At the same time, parallel to making these discoveries, Davidmann used photography and video to make artworks using the material she was uncovering. Recognisable objects – hair, family photographs and Nazi documents – appear in the artworks, only to be disrupted by elements of fire and erasure. This is the first exhibition of this work.
Davidmann uses unique, experimental methods to engage with this history. Twelve vivid, abstract light boxes hang in columns from ceiling to floor, images of microbiological samples from the artists' and family members blood. The dynamic red/green contrasting colours are suggestive of the mix of Jewish and non-Jewish blood in the artist's family, and engage with the Nazi concept of Jewishness as a racial category. In other works Davidmann has reprinted family photographs using her own blood to create a physical connection with her past. Most tragically, viewers enter a darkened room in which 10 video projections show photographs of family members who were murdered or disappeared in the Holocaust slowly burning to ash.
Davidmann's book 'Mischling 1' is an investigation into the fate of the artist's family during the Holocaust. The book connects past and present, silence and story, memory and identity through family photographs, propaganda, artworks, texts, artefacts and documentation. These materials are interwoven to reveal personal and collective stories of great loss and survival.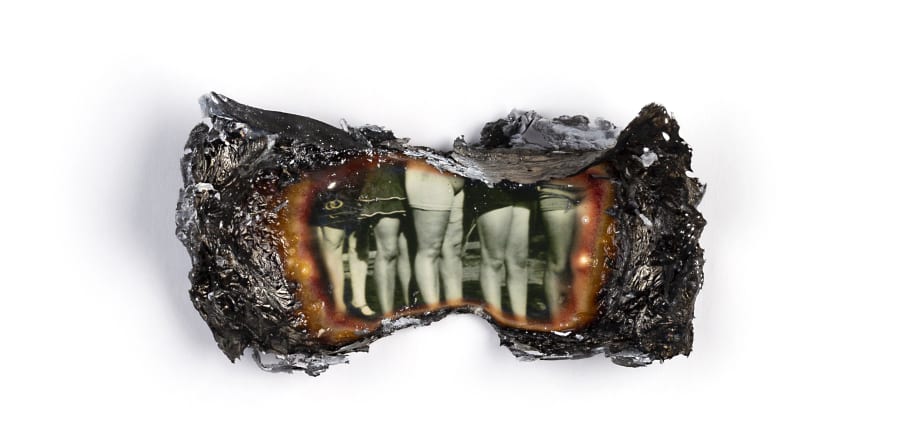 Sara Davidmann said:
"I hope audiences will be moved by the exhibition and book, and that the artworks will make people stop and think.
"Intergenerational impacts of trauma are not taken into account – yet they affect vast numbers of people.
"At times this was a difficult project to work on because of the subject matter but it addresses important issues that need to be recognised."
Philippe Sands comments on Davidmann's new book 'Mischling 1', whose publication coincides with the exhibition:
"To tread gently across these pages is to be reminded of that which lies below the surface, and courses through our very beings. These are spaces, or gaps, left within by the secrets of others and which haunt, as the Hungarian psychoanalysts Mária Török and Nicolas Abraham teach us. The pair devoted their collaboration to the understanding of transgenerational effects of trauma, driven by an interest as to how a horror perpetrated upon one generation may produce consequences in those that follow... I have been deeply touched by Mischling 1, Sara Davidmann's remarkable and deeply affecting pages. Words and images, artefacts and constructions, both a haunting and a creation."
A series of talks and events will take place at Four Corners and on-line during the exhibition. These include an 'In Conversation' with the exhibition's curator, Katy Barron, a talk for the Insiders / Outsiders Festival with Monica Bohm-Duchen and a collaboration with the Photography and the Archive Research Centre at London College of Communication, UAL.
About Sara Davidmann:
Sara Davidmann is an artist and photography who has achieved considerable national and international recognition. Her previous project, 'Ken. To be destroyed', featured in three events at the Victoria and Albert Museum, and was exhibited at Schwules Museum, Berlin, University of Victoria, Canada, Mumbai Photo Festival, India, Limewharf Gallery, London, Museum of Liverpool and Belfast Exposed, among other venues. Davidmann's artworks are published in books and journal articles. Press features and reviews include The Guardian, New York Times, International New York Times, Huffington Post, Art in Berlin. Davidmann has received numerous prestigious awards, including a Philip Leverhulme Prize, Fulbright Hays Scholarship, four AHRC awards, Association of Commonwealth Universities Fellowship and Wellcome Trust grant. She received a PhD from London College of Communication, UAL in 2007 and is now a Reader in Photography at the College.
Related links:
Exhibition 'My name is Sara' is open 27 August – 18 September 2021 at Four Corners Gallery in London
Book 'Mischling 1' is due to be published in September through GOST Books