Pre-degree international students from London College of Communication celebrated completing their one-year introduction course with an exhibition of work spanning the breadth of design, media and screen.
Friends, family, staff, and members of the public explored work in the launch for 'Fast Forward', presented by students from LCC's Level 3: International Introduction to the Study of Design, Media and Screen course.
The intensive programme of study prepares international students for undergraduate courses in a range of pathways through practical and theoretical approaches to study.
Workshop and studio-based learning gives students an introduction to BA courses and the opportunity to experiment and explore, with the majority of students progressing onto undergraduate study within LCC.
Course Leader Trudi Esberger explained: "The start of the course is exploratory and diagnostic to determine each student's inclination towards specialist areas across design, media and screen.
"The course helps prepare students in developing their portfolios and showreels for undergraduate study, and supports them in acclimatising to life in London and making them feel a part of the wider community of LCC and UAL.
"This year's cohort are ace. They have worked exceptionally hard and should be very proud of what they've achieved in such a short space of time!"
Maha Khan, BA (Hons) Journalism student, headed down to the exhibition launch for a chat with some of the students to find out about their work, their course, and their plans for the future...
---
Tom Huang
Progression: BA (Hons) Public Relations at London College of Communication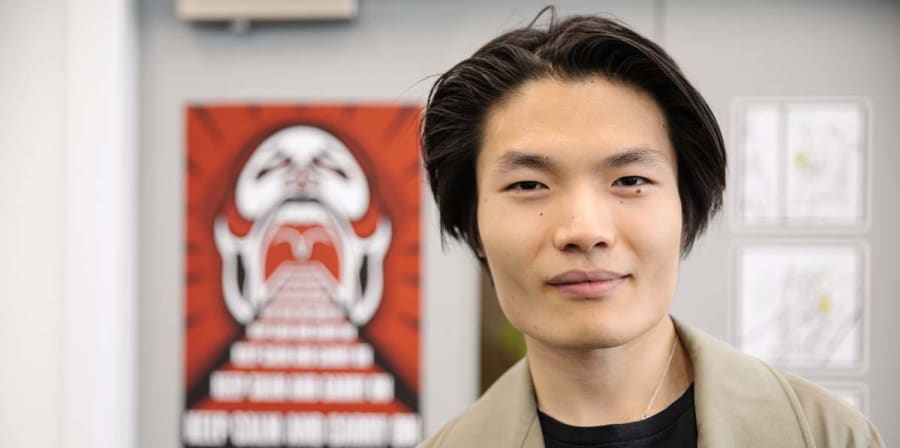 Did you know what you wanted to study before you started the course?
This course helped me a lot because I didn't know what I wanted to do... In the beginning I wanted to study advertising, but after taking this course and working with the tutors, they showed me another path I could take.
It helped me make a better decision by preparing me a lot and it also taught me how to explain my ideas and how to think creatively.
What was the most valuable lesson you've learnt this past year?
The most important lesson I've learnt is to communicate your ideas. I used to have trouble with that, but this course taught me to use techniques like drawing to express myself.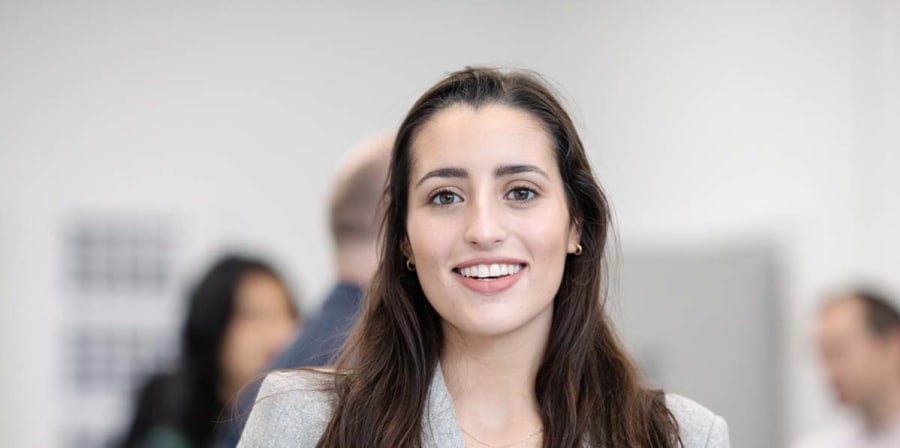 What have you made for the show?
For the show I made a one-minute split-screen video about the past, present, and future of growing up, and how we perceive time. It was very interesting to do!
How do you feel the course has prepared you for further study?
I guess it really gave me an arts-focused mindset, because previously I had studied math and science mindset from high school, so it was nice to change that. It was also fun to work and collaborate with people from different cultures and backgrounds.
---
Tatiana Dunenko
Progression: Postgraduate Diploma Design for Visual Communication at London College of Communication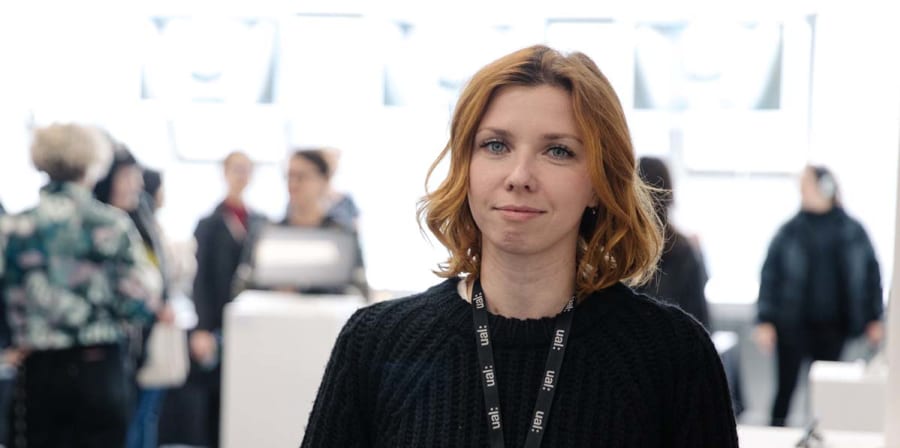 How did you find this course?
I'm a mature student as I studied Computer Science in Russia and I have a lot of experience in IT software. This course was very useful and completely changed my perspective and point of view.
What are you planning to do next?
After this course I'm going to do a postgraduate diploma for Visual Communication, and after that I'm planning to do an MA in Data Visualisation, both at LCC.
---
Chisa Kubota
Progression: BA Graphic Communication Design at Central Saint Martin's
What was the best part about the course?
The workshops really helped me make my decision for what to study at BA. I didn't know anything about screen-printing or letter press, and doing so many workshops made me think differently and develop new skills.
Before this course I was planning on doing photography because that was the only thing I knew, but now I have changed my mind... This course has really helped me make a more informed decision!
---
Anna Holub
Progression: BA (Hons) Public Relations at London College of Communication
How did this course help you decide what to study next?
After this course I plan to study Public Relations at LCC. I came here wanting to study screen, to be a film director, but after this course I realised I wanted a more academic education, so I decided to go into PR to learn about society first, and then I will continue on to MA.
What will you take away from this course?
The most valuable lesson I found was to not be scared to try. I'm glad I took this course and that I met the friends I have made! I think that trying new stuff is important, because when I came here, I had no idea how to use software like Photoshop and the Adobe suite.
---