This year, leading digital platform ARTS THREAD and iconic magazine i-D launched their first online Global Design Graduate Show (GDGS) as a celebration of 2020's art and design graduates.
Working across categories as diverse as visual communication, photography, fashion and architecture, applicants were invited to 'curate their creative personality' by sharing their ideas, creative skills and technical processes through innovative digital formats.
With a focus on the ways creativity can be used to navigate strange and uncertain times, graduates were able to introduce their work to the world while connecting with independent experts and the wider creative community for invaluable feedback.
Recent London College of Communication (LCC) graduate Mariana Leal was named the 2020 Animation Public Vote winner in recognition of her stop-motion film, A Anatomia de Uma Montanha, or The Anatomy of a Mountain, which explores the poignant themes of ageing and depression. Told from the perspective of a young girl, Mariana's film focuses on the relationship between a daughter and her mother, and considers the ways in which children decipher complex issues through imagination and analogy.
We caught up with Mariana to chat about her passion for moving images, the inspiration behind her winning work, and some of the things she most enjoyed about studying on BA (Hons) Animation at LCC.
"Figuring out how to create the illusion of movement"
How did you become interested in animation, and why did you choose to study the subject at university?
My passion for animation developed from a place of curiosity - figuring out how to create the illusion of movement is what sparked it up. The more I understood how to make images move, the more I wanted to find new ways to make them move, whether using different materials, combining techniques or borrowing ideas from paper-folding or photography.
When I was looking into BA courses, I was interested in filmmaking, but also in illustration and theatre. I wanted to learn from as many different art forms possible, so I decided to apply to BA (Hons) Animation so that I could explore where my interest gravitated towards the most.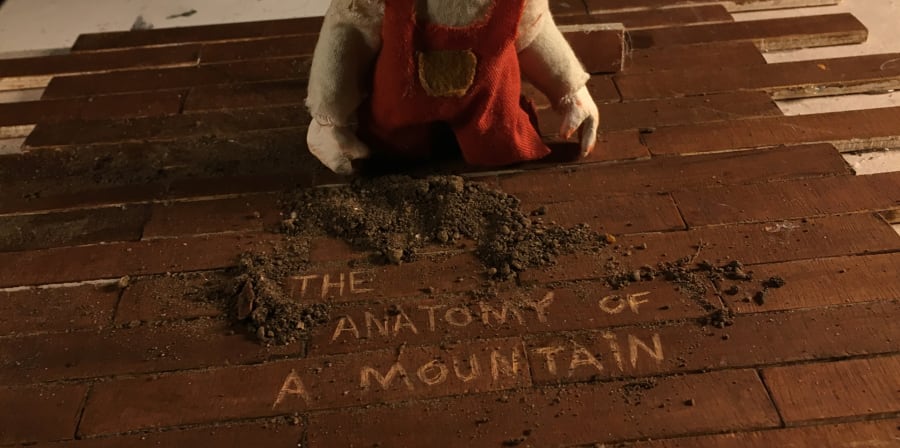 "Each story should be told through its own medium"
Tell us a little bit about your practice - what techniques do you most enjoy using, and are there any major themes running throughout your work?
My work stretches from animated short films to physical and online interactive installations; not only for projection mapping and animation festivals, but also for theatre and concerts.
In my practice, concept and story come first, followed closely by materiality. I enjoy using different techniques ranging from stop-motion to 2D digital or analogue, depending on which works best with a particular concept.
I think each story should be told through its own medium: for example, my short film, The Anatomy of a Mountain, mostly used materials like wood, leaves and paper because the story is rooted in nature metaphors and symbolism.
When did you first hear about the Global Design Graduate Show (GDGS), and how did you get involved?
In the summer, I was contacted by the GDGS team at ArtsThread because they saw my work on the UAL Graduate Showcase and thought it could do well in the competition. Since my latest film, In Excelsius - a collaboration with a sound designer and other animators at LCC - is still in production, I decided to apply with my another of my short films, The Anatomy of a Mountain.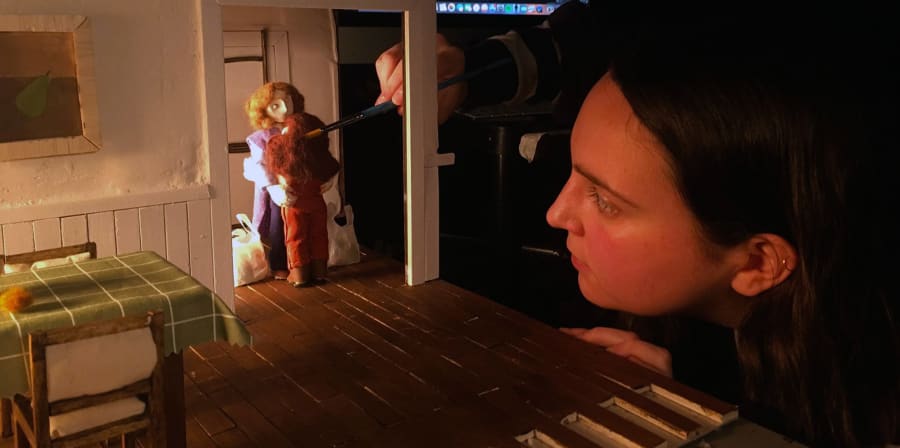 "Helped me get to the core of my idea and the essence of my characters"
What inspired your winning work, and how did you create it?
I made The Anatomy of a Mountain on my BA as a personal project. It began as an exploration of the dynamic between two characters, a mother and a daughter, and like most of my stories, started in written format, because I like to draw inspiration from words at the first stages of pre-production. After a few revisions during the script editing phase, it transformed into a short analogy about ageing and the ability to change ingrained habits and mechanisms.
The script and concept were written and revised with insightful help from my tutors - both the creative writing lectures with Jane Hankin and personal tutorials with Su-Lynn Tan and Markos Kay helped me get to the core of my idea and the essence of my characters.
I animated the film in stop motion, and most of the models and props were made either by myself or Stanley Maskell and Christy Chiu, who were in First Year at the time and assisted me on my project. For the beautiful music score, I asked Alistair Nichols, who also studied BA (Hons) Animation, if I could use one of his compositions. Lastly, the voice actress Beatriz Frazão was kindly recommended and recorded by Cláudia Cadima.
Even for an animated short film, the list of collaborators can easily reach the length of a 1-metre-long papyrus scroll, so I am very thankful to everyone who had a hand in it.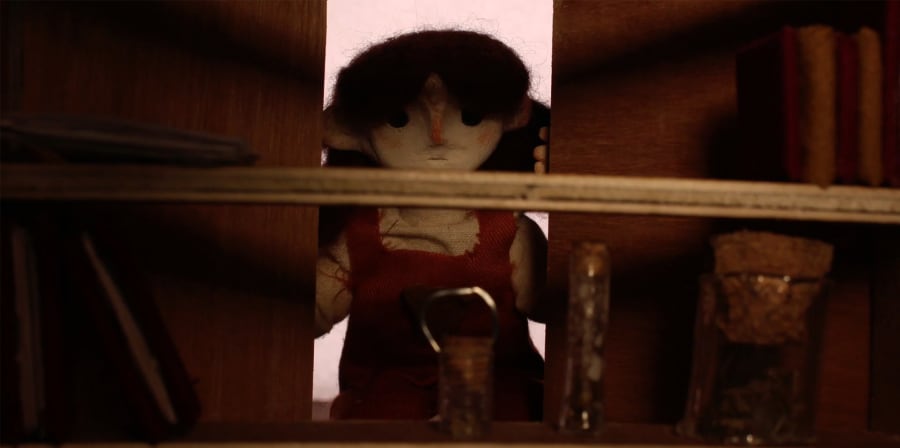 "The idea of change and whether anyone ever stops being capable of it"
What story or messages did you want to tell through The Anatomy of a Mountain?
It's an introspective narrative told from the perspective of a little girl who sees her mother battling with the phenomenon of getting older and the struggles of depression. I wanted to explore the idea of change and whether anyone ever stops being capable of it.
I also wanted to explore an adult theme like ageing that doesn't usually mean the same to a child, and through a child's perspective. Would they maybe understand it more like a fable? Would they use their imagination to explore something that they can't quite grasp yet?
Overall, I wanted to ignite a little spark of doubt around whether children's immediate feelings and responses really do mean that they aren't the ones who know best. A child is full of possibility through the eyes of an adult, but through the eyes of a child, an adult is just as full of possibility as themselves.
"I really look forward to learning from others and bouncing ideas off the artists I collaborate with"
What have been the highlights of your time on the BA (Hons) Animation course at LCC?
My highlights included our opportunities to work for clients such as the Barbican and the British Library, as well as being able to collaborate with students from all kinds of disciplines ranging from sound and game design to screenwriting.
I also liked that my time at LCC made me aware of other ways to use animation besides on the screen.
How has studying at LCC helped to shape your career goals?
Studying at LCC helped me develop the skills needed to adapt to new teams and collaboration modes more quickly and efficiently since a lot of our work was done in collaboration.
During my studies, I developed a better understanding of what it means to think and speak in terms of images, but also of how to translate it into sound or writing. I really look forward to learning from others and bouncing ideas off the artists I collaborate with, so it was really interesting to see how different people from different areas of expertise thought and explained their ideas.
Related links