Summer Study Abroad - Digital Photography Portfolio
Develop a portfolio of photographic work, gain new skills in digital photography and grow your existing knowledge of the history, theory and practice of photography. Explore street portraiture, studio portraiture and the urban landscape.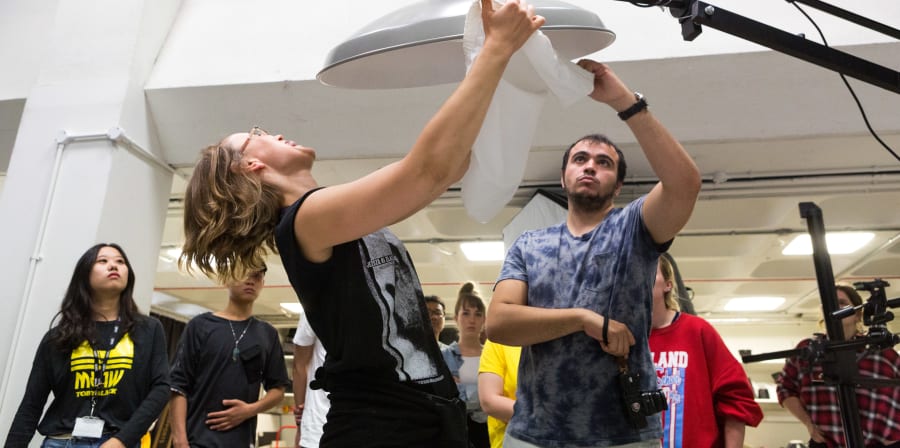 Gain new skills in digital photography. Develop a portfolio of strong photographic work. Grow your existing knowledge of the history, theory and practice of photography. Explore a wide range of photographic genres such as street photography, portraiture, photojournalism, conceptual photography and fashion photography.
Throughout the course you will be given lectures by photographers who have created specialized work in their areas. Course lecturers have worked in fashion, editorial, advertising and fine-art photography. The assignments will enhance your creative camera control as well as develop your conceptual awareness. You can work individually, or with your fellow students. You will produce visual responses to the brief. You will be coming together at the end of the week to share your results with your tutor and the rest of the class.
In week one you will start by having peer to peer portfolio reviews. This will give you the best individual support throughout the course. After this, you will be out testing your skills. You will be shooting briefs on subjects such as street photography, portraiture, conceptual photography and photojournalism.
Week two will begin with an introduction to lighting on location and lead on to a series of guided assignments in the LCC studios. Here, your group will be taught how to execute a photographic vision. This will be achieved via brainstorms and mood-boards before getting expert practical advice on how to use a top end photo studio.
In week three, with what you have learnt from the first two weeks, you will now focus on building your portfolio. You will have 1 to 1 tutorials helping to galvanise your ideas in how to create a body of work that is at the core of who you are and how you want to work in future. You will have technical workshops editing your work for print.You will take advantage of the diversity and richness of London's galleries and museums. You will also engage in discussions about the practice of photography.
By the end of the summer school, you will have generated enough photographic material to create a hard copy portfolio. Portfolios will be assessed by your tutors. We will present your portfolio to your friends and family. This will be done in a mini-exhibition alongside work by students from Animation, Contemporary Photography Practice, Graphic Media Design and Filmmaking summer school students.
During the three week course you will develop enhanced skills in creative camera control; digital workflow; digital retouching skills; shooting in a studio and lighting on location; digital printing skills; portfolio development; and presentation skills. See further course information below.
Course Aims
To develop a defined photographic style across a number of photographic genres that will eventually lead you to create your own printed photographic portfolio. You can use photographs from the workshops, assignments and your own photography projects to build this printed portfolio in the final week.
Learning Outcomes
Improved understanding of DSLR.
Heightened comprehension of visual style and aesthetic in photography.
An awareness of developing an idea (concept) photographically.
Developing your own brand/aesthetic/self
Follow On Courses
Once you have taken this course you may be interested in MA Photography.
Course credits
If you need any additional supporting documentation to convert this into credit for your home university we can provide that for you. This summer school is based on classes from BA Photography courses at London College of Communication.
Georgia Metaxas
Georgia Metaxas is a London based photographer. She balances her time between working in the Museum Sector, teaching as an Associate Lecturer at Coventry University and London College of Communication and on personal and commissioned projects.
Her work sits within a documentary framework, aspects acknowledging her interest in documentary photography and the tension found between 'artistic' intent and documentary purpose. Portraiture is at the core and is examined predominantly through universal rituals and gestures. Metaxas employs a considered and deliberate approach, a conceptually inspired rendering drawn from the chaos of reality.
Metaxas has exhibited throughout Australia and abroad, including China, Germany, Spain and the United Kingdom. Her work is held in several public collections in Australia including the National Gallery of Victoria. Residencies have included the Fundacion Botin Residency Award facilitated by photographer Paul Graham in 2011, and FATHOM15 artist in residency at Four Corners in London UK in 2015.
Alex Wojcik
Alex Wojcik currently works as a Specialist Photography Technician at London College of Communication and is a Photographer for the Tate Gallery.
Her work has been exhibited in museums and galleries across London such as Somerset House, Victoria House and The Photographers Gallery.
Her projects have been shortlisted for several competitions including among others; Sony Professional Awards and Saatchi New Sensations as well as being nominated for and awarded prizes in Magnum Showcase and The Royal Photographic Society.
The main subject of her practice is developing her own unique visual language within the context of fine art and documentary.
Summer Study Abroad Entry Requirements:
Academic - This course would benefit you if you are a beginner to digital photography or a more experienced digital photographers wishing to explore aspects of their practice further. It is suitable for you if you are a designer, artist, or communications major looking for new photographic outcomes, resulting in the development of a photographic portfolio. If you have an existing portfolio of photography and want to explore new techniques, digital and analogue, you may be more suitable for Summer: Contemporary Photography Practice. If you have questions about your academic background, please make an enquiry to the UAL Study Abroad team.
English - You should be proficient in written and spoken English and be able to participate in group discussions and make presentations. As a guideline we would expect you to have an IELTS score of 6.0. The Language Centre at University of the Arts London offers English courses for overseas students.
Please bring with you:
A DSLR with a lens you like to shoot at, preferably including 35mm, 50mm, 85mm/100mm focal lengths. A good 24-70mm telephoto is fine, but prime/fixed lenses are better.

A notepad and paper / Laptop.