Encouraging local cycle use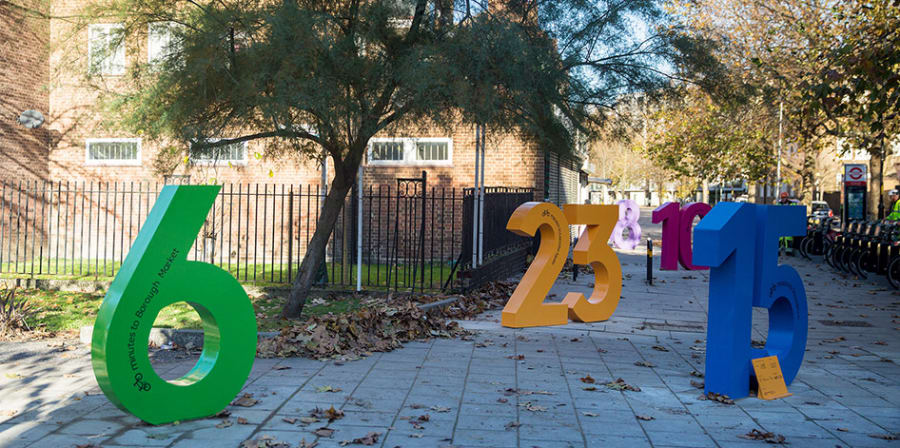 Graduates from both the Postgraduate Certificate Design for Visual Communication and Postgraduate Diploma Design for Visual Communication courses at London College of Communication created an installation for Southwark Council to encourage local people to use the Santander Cycle Hire docking station on Harper Road, Elephant and Castle.
The docking station on Harper Road was underused compared to others in the area and Southwark Council turned to LCC graduates to design an innovative way to encourage local people to use the bikes.
Graduates from both courses along with Fiona Board, Fiona Gather-Stammel and Yael Tur-Shalom, conducted research into the barriers to usage of the docking station. They focused their designs on demonstrating numerically how quick cycling can be to destinations that local people usually drove to or took public transport.
The designers illustrated this with Superdigits – large colourful numbers that surround the Santander Cycle Hire docking station. The numbers are now in place and can be found at the corner of Harper Road and New Kent Road.
The Superdigits were fabricated at London South Bank University's Digital Architecture Robotics Laboratory. The project was funded by the Eco-Innovation Initiative of the European Union.
Interested in connecting your business with students or graduates at LCC?
Contact
Ben Walter
LCC Business and Innovation
Email: b.walter@lcc.arts.ac.uk
Tel: 07793 777055