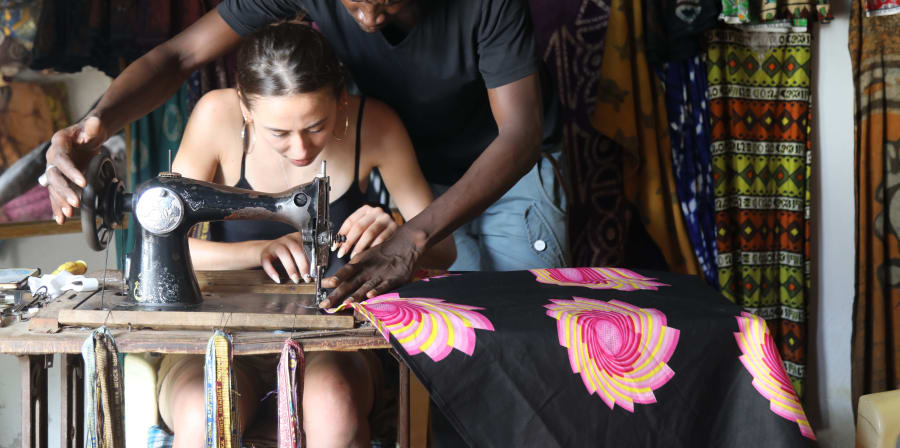 'Route-Artlantique' is a unique, yearly opportunity for students and academics from across Europe to engage in a cross-cultural experience orchestrated to explore design thinking and innovation from an international perspective.
Managed by BA (Hons) Interaction Design Arts course leader Joel Karamath, 'Route-Artlantique' is offered as an experience to students from BA (Hons) Interaction Design Arts, as well as from all other courses accross LCC.
Utilising a series of workshops, set across two weeks in July, students travel through three coastal regions (four Cities) of Senegal, West Africa experiencing first hand traditional arts and craft as utilised on an everyday basis by local practitioners.
Students work alongside contemporary Senegalese artists and designers, challenging the prevailing hegemony, reflecting the diverse international make-up and global development of the subject area as championed by the London College of Communication in its manifesto statement that "innovation comes from the margins".
Upon their return for their final year of study, the outgoing students benefited not only in terms of the breadth of skills gained but also the knowledge and cultural experiences informing their practice, much of which they have been able to disseminate amongst their peer group relating to the diversity of design culture and education.
Building upon the continued success of previous years, 'Route-Artlantique' (2018) operated as a springboard from which to contact a number of organisations and educational institutions from across Senegal who will now operate in collaboration aiding the evolution of 'Route' into a more sustainable entity.
Find out more about:
BA (Hons) Interaction Design Arts