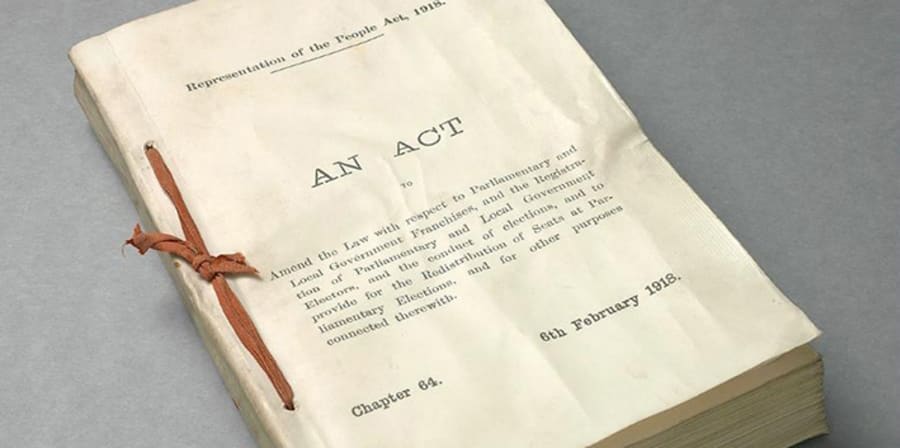 5 – 26 April 2018 | Window Gallery
9 – 20 April 2018 | Lethaby Gallery
One hundred years after the Representation of the People Act 1918, which extended voting rights to some women, issues of gender, race, access and inclusivity are back at the centre of public debate and turbulent global politics have reinvigorated engagement, fuelled participation and normalised dissent.
Taking the ideas of representation – and misrepresentation – as a starting point, this exhibition brings together creative practitioners who challenge established norms, offer alternative perspectives and seek to bring about change.
-
Window One
This display featured eighteen examples of printed material from the CSM Museum and Study Collection on the subject of women's suffrage documenting acts of protest, provocation, solidarity and control.
Window Two
This display acted as a counterpoint to the historical material in Window One, with eighteen works and projects by students, staff and alumni from the Art, Culture & Enterprise, Drama & Performance and Graphic Communication Design programmes at Central Saint Martins.
Spanning the personal and political, individual and collective, these works showed range, depth and sustained engagement with issues of representation, agency and power across our communities of practice.
-
Lethaby Gallery
Throughout the exhibition, the gallery was treated as an evolving workshop space open to the public and aims for a wider exploration of issues around representation, misrepresentation and dissent.
-
Exhibitors included:
Art
Sarah Cole (Senior Lecturer)
Kerry O'Connor (Alum)
Rebecca Hancock (Student)
Harriette Meynell (Student)

Culture and Enterprise
Rahul Patel (Associate Lecturer)
Brontë Cordes, Fiona Costelloe, Weiyan Liu, Farah Piriyeva, Huixian Su, Ziqiao Wang (Alum)
Unknown Quantities: the normal issue (MA Graphic Communication Design x MA Culture, Criticism and Curation)
Daniel Sachon, Jade Prelac, Maria Ponce De Leão Jané, Esther Pitoun (Students. Tutor: Andrew Marsh)

Drama and Performance
Performance: Design and Practice group project
Fié Neo (Student)
Liberty Antonia Sadler (Alum)
Graphic Communication Design
Anoushka Khandwala (Student)
Ruth Sykes (Associate Lecturer)
Sisterhood (Rachita Saraogi & Rebecca Thomson) (Alum)
Kelly Walters (Visiting Practitioner)
-
This exhibition was originated by Graphic Communication Design, with participation from Art, Culture and Enterprise, Drama and Performance, with many thanks to the CSM Gallery Advisory Group and the Museum and Study Collection.