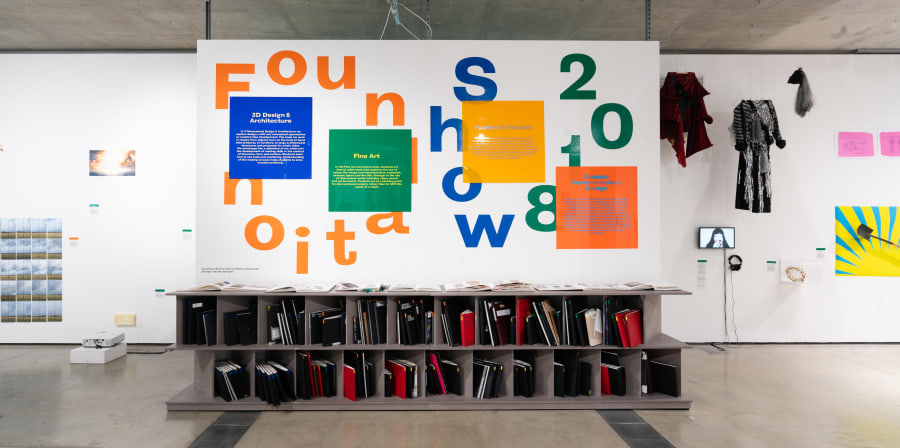 Each year the Foundation Diploma in Art and Design final exhibition showcases work from students across the four curriculum areas: 3-Dimensional Design and Architecture, Fashion and Textiles, Fine Art and Graphic and Communication Design.
The Foundation Show 2018 exhibited the work of over 270 works and spanned the Lethaby Gallery and Window Galleries. It was curated by Foundation Fine Art curriculum Associate Lecturers Emma Tod and Gary Colclough. Over three days the exhibition welcomed more than 3,300 public visitors.
Although the course is taught in specialist groups, the students are part of a much wider community of makers and thinkers, and the 2018 Foundation Show highlighted striking overlaps in their practices and concerns.
"We wanted to open up conversations between various disciplines, highlighting shared concerns and allowing new and unexpected readings of the works to emerge while respecting the uniqueness, integrity, identity and function of each piece." - Emma Tod and Gary Colclough
View the gallery and news stories below for a snapshot of the exhibition:
Foundation Show 2018 stories
Foundation: In Pictures

The Foundation Show 2018 featured final projects from over 500 students who have spent the last academic year studying the Foundation Diploma in Art and Design at Central Saint Martins. […]

Foundation: Paolina Stefani

Our Foundation Diploma in Art and Design is divided into four curriculum areas: 3-Dimensional Design and Architecture; Fashion and Textiles; Fine Art and Graphic Communication Design. Each of these areas […]

Foundation: Hannah Billett

Our Foundation Diploma in Art and Design is divided into four curriculum areas: 3-Dimensional Design and Architecture; Fashion and Textiles; Fine Art and Graphic Communication Design. Each of these areas […]

Foundation: Nusra Nijimbere

Our Foundation Diploma in Art and Design is divided into four curriculum areas: 3-Dimensional Design and Architecture; Fashion and Textiles; Fine Art and Graphic Communication Design. Each of these areas […]