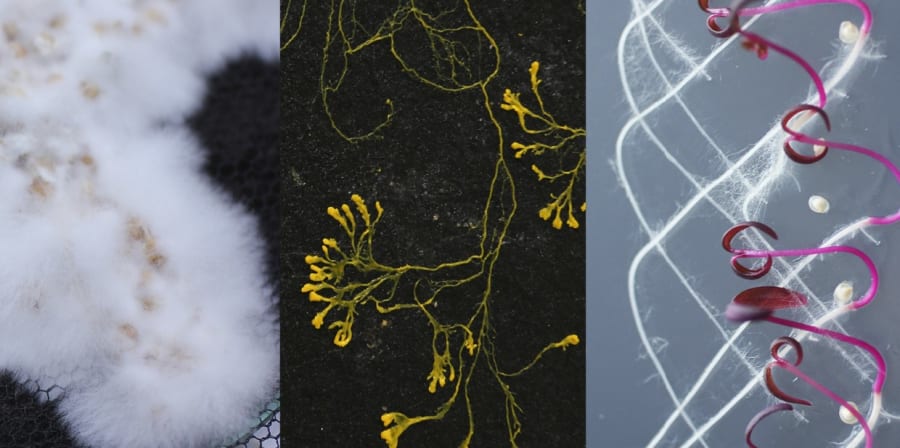 The Living Systems Lab explores the inherent properties of biological living systems to develop new knowledge in the field of ecology via creative practices in art, design and architecture.

The Living Systems Lab Research Group is structured into two interconnected strands:
The design Living Systems Lab focuses on developing bio-informed design strategies as a disruptive driver for sustainability
The art Living Systems Lab focuses on artistic research exploring the interrelationships within complex ecologies and networked systems
About this group
The (design) Living Systems Lab research group is directed by Carole Collet, Professor in Design for Sustainable Futures:
Bio-informed design research as a disruptive driver for sustainable innovation
The dLS Lab explores the intersection of biological sciences and design to develop new sustainable materials and forms of production for the future. By researching and referencing modes of fabrication found in nature, we can incorporate biological principles (cyclical, solar, local) into the design process. Within biodesign, research methodologies can be radically altered by the notion of working with dynamic living systems as opposed to inanimate matter and designers have begun to expand their roles from scripting the form-shaping of materials, to creating and growing new biological materialities. The lab explores alternative bio-informed design protocols, which navigate the realm of the hand-made, the man-made and the 'grow-made' as an inquiry into future making.
The (art) Living Systems Lab research group is directed by Heather Barnett:
Artistic research exploring the interrelationships within complex ecologies and networked systems
The aLS Lab explores the interrelationships between artistic research and living systems, developing novel interfaces and artworks that question our relationships to nonhuman entities and examine the relationship between biological, technological and social systems. Within a broad field of bioart the lab supports practice-led artistic research working with living systems as material, model and metaphor. Questions of authorship, co-creation and control are investigated and hybrid methodologies - combining artistic, new media and biological approaches - are nurtured through a creative and critical lens.
Group members
Research students
Elena Brebenel - Can biomimicry help design furnishings for the domestic environment that improve air quality? (DOS: Professor Carole Collet, 2nd supervisor: Professor Janet McDonnell).
Amy Congdon, - Tissue Engineered Textiles; 'Can the integration of textile craft with tissue-engineering techniques lead to the development of a new materiality for future design applications? (DOS: Professor Carole Collet, 2nd supervisor: James Swinson 3rd Supervisor: Professor Lucy Di Silvio, Kings College London).
Miriam Ribul - Material Activism: The role of design research in the scientific development of regenerated textiles in a circular economy. (DOS Dr Kate Goldsworthy, Chelsea College of Arts UAL, 2nd supervisor: Professor Carole Collet).
Lesley-Ann Daly - Critical design examination of the ethical development and use of Sensory Augmentation technology (DOS: Professor Carole Collet, 2nd supervisor, Dr Jamie Brassett).
Loula Mercedes - Exploring how circular design systems could develop new sustainable textile fibres from agro-industrial waste of cacao and coffee in Colombia. (DOS: Professor Carole Collet, 2nd supervisor Dr Kate Goldsworthy, Chelsea College of Arts UAL).
Dr Aurelie Mosse - A PhD jointly supervised by CITA, Royal Danish Academy of Fine Arts School of Architecture, Denmark and the Textile Futures Research Centre at UAL - Gossamer Timescapes: Designing Self-actuated Textiles for the Home.
Dr Jane Scott - Programmable Knitting
We are seeking potential candidates working in bioart or biodesign interested in pursuing doctoral studies in connection with the Living Systems Lab. We are currently looking for PhD candidates who wish to conduct laboratory based artistic research working with living systems; research can be in conjunction with other areas such as bio-media, bio-printing or imaging technologies as well as conceptual areas such as eco-philosophy and post-humanities scholarship. The Grow Lab facility can support BSL1 biological research with microorganisms and plant systems.
Activities and outputs
Heather Barnett and colleagues are hosting a Scientist in Residence project in the Grow Lab inviting art and design students to interrogate and reimagine contemporary cardiovascular research. Hacking Hearts will take place in November 2019 involving visiting researchers from Tokyo Institute of Technology and Queen Mary's University, London. 4-8 November 2019.
Carole Collet showcased on-going Mycelium Textiles research in the Saint Etienne Design Biennale, France. 20-03 / 20-04 2019.
Carole Collet and Heather Barnett exhibited as part of La Fabrique du Vivant, Pompidou Centre, France. 20-02 / 15-04 2019.
Heather Barnett's ongoing 'collaboration', The Physarum Experiments, working with an intelligent slime mould.
Heather Barnett was awarded funding from Innovate UK, Audience of the future: design foundations for The Realm: Immersive Entropy, an immersive experience exploring collective behaviour phenomena.
Carole Collet exhibited the complete Biolace project at the Biolace exhibition, Museum of Texture, Kortrick, Belgium. July 2018-March 2019.
Heather Barnett was selected to participate in the remote Finnish art/science residency Field Notes 'Ecology of the Senses', Bioart Society Finland. September 2018.
Selected conferences 2018-2019
Heather Barnett, invited speaker Collective Intelligence Conference, NESTA. 16 October 2019
Carole Collet, speaker: The Living Architecture Systems Group Conference. Toronto. 01-03 March 2019.
Carole Collet, speaker and guest curator: Design Marabout n6: Biotextiles and fashion- Pompidou centre.06-12-2018
Carole Collet, speaker, Tricky Design: Design Ethics for a Complex World. Design Museum, 07-06-2019
Carole Collet co-curator: Future Factory symposium, Future Factory, Design Museum in collaboration with Kieren Jones/Material Futures. 30-11-2018.
Heather Barnett, speaker: Multispecies Storytelling Conference, Vaxjo, Sweden. 23-25 January 2019.
Heather Barnett, invited speaker: Species Intelligence Conference, Harvard University, 17-18 November 2018.
Selected publications
Barnett, H (2019) Being Other Than We Are, in Public 59: Interspecies Communication.
Barnett, H (2019) Many-Headed: Co-creating with the Collective, in Slime Mould in Arts and Architecture (ed. Andrew Adamatzky). River Publishers.
Collet, C (2019) Essai: Le Biodesign, un catalyseur d'innovation ecologique pour l'industrie textile. Exhibition catalogue: La Fabrique du Vivant, Brayer, M.A and Zeitoun, O (eds), Hyx publishings.
Collet, C (2019) Essai: Botanical Fur. Resurgence of Organiscism, Sarah Bonnemaison (Ed). Riverside Architectural Press | Dalhousie Architectural Press. Curation
Alive, New Design Frontiers exhibition 2013, EDF Foundation, curated by Carole Collet. The first international biodesign exhibition that cirticly evaluate and situates biodesign within a sustainable context.
Menagerie of Microbes, Bio and Beyond, Summerhall, Edinburgh, 25 March – 13 May 2016. Curated by Heather Barnett and James Howie (ASCUS Lab).
Recommended courses
Related links and resources