On 1 November 2018, Central Saint Martins BA Fine Art student Ashton Attzs was awarded the Evening Standard Art Prize. Their painting Don't Stay in Ya Lane was selected from more than 1,000 entries by a judging panel which included writer Olivia Laing and painter Chantal Joffe. Here, we speak to Attzs about the prize-winning work, the awards ceremony and their upcoming projects, including commissions for Disney and Adidas.
Can you tell us a bit about the painting Don't Stay in Ya Lane that won the Evening Standard Art Prize?
The painting is part of a series called Queering the Quotidian that I've been working on for the last seven months or so now. It stemmed from me wanting to make joyful, colourful work that was still political. For me, colour is a way to captivate your audience – they will look when the work is bright, vibrant and vivid. With these works, I am representing the unrepresented, I am celebrating people who aren't usually celebrated and the use of colour is a way to honour this celebration.
The concept behind Don't Stay in Ya Lane is quite specific, I was looking at transgender – particularly transmasculine people. For anyone who isn't aware of this term, it refers to people who are assigned female at birth and are transitioning to male. So, I was looking at that sort of identity and also non-binary people, genderqueer people, anyone who experiences gender dysphoria. The painting is of a swimming pool and people swimming. All of these people may look the same at a distance, but if you look closely they have different skin colours, some have freckles, some have blonde hair, brown hair, some are black, some are white, some are brown – they are individual people. But they are all wearing either chest binders or tape, which are garments sometimes worn by transmasculine people to flatten one's chest.
The painting is essentially a celebration of people who would normally not want to go swimming due to their dysphoria. I wanted to say that no matter what body issues you have, enjoy life, keep, swimming. It's an ode to trans people and queer people but it is also a representation of everyone in life who has struggled. The pool is a metaphor for life in the deep end and being stuck or having to keep afloat, but it's a celebration of the good times in life as a collective body.
So the theme of the prize was progress and as you describe the work it's quite clear how it relates to the theme. But this was a piece you were already working on?
Yes, I started the work very recently – about three months before the prize. But when I read the brief and the concept was progress it just spoke directly to my work as that is exactly what it is. I didn't have to find something to weave in or find a way for it to link. Everything in my practice contains some element of progress because I'm looking at people who are marginalised or unrepresented. So by giving people like myself a platform, that in itself is progress. It was kind of a miracle really to have a prize which was so on par with what I'm looking at.
Were there any other works or any themes or links to progress that you thought were really interesting?
I have to say, I love all the works in the exhibition. When I received the paper, I was so amazed to see such talented work from all the artists. And for me, seeing so many people of colour in that prize was great. I happen to know one of the other artists – Sola Olulode – and her painting looks at friendship, turning into sisterhood and that's progress to me. Another artist, Tomi Olopade, looks at the misrepresentation of black masculinity in the media and society. His painting is of two black men in a barber shop surrounded by a floral embellishment in the corners. I think any painting or any artist who is looking at intersectional identity in such an accessible platform is great progress. On the whole, I think there were so many interesting ways of tackling the same theme.
How did the prize ceremony go for you, did you enjoy it?
It was an incredible evening. Just getting off the bus and walking to the National Gallery and thinking my work is in there somewhere was a great feeling. I loved getting to meet the other artists and see the other works. When William Moore, the Evening Standard Arts Editor, announced the winner he said all of the artists have explored progress in their own unique, and often political, way, but the winning artist had managed to not only produce a very political piece but one that is also very joyful. This was an emotional moment for me. The topic that I have been looking at is niche to some extent because I'm exploring an intersectional identity – particularly looking at non-binary, transmasculine people who are poorly represented in the media. I wondered whether it would be something people are going to really understand or appreciate. But they did and I was blown away really. It was a fantastic evening and I feel very honoured.
What happens next as part of the prize?
The prize itself is £10,000 with a lifetime National Art pass and a year's art insurance from Hiscox, which is great because I'm always carrying my work on the tube! I have an interview coming out in the Evening Standard and they are a huge platform. In general, I've just been working on a commission from Disney to celebrate 90 years of Mickey Mouse – this will be on view from 16–18 November with Creative Debuts in Shoreditch. In early December I will be working on a collaboration with Adidas in their Shoreditch store. They are partnering with artists and some of my work will be made into prints and sold in store for a month. In April 2018, I was also commissioned by Tottenham Hotspur for their new stadium – where they will have a gallery space. Last year I lived in Tottenham and they got in touch. It's three panels, celebrating everyday life. These are all the big projects I'm working on at the moment – I'm just really keen to continue my painting and this series of work.
Apart from your paintings, does your work ever take on different forms?
When I started on the Fine Art XD pathway, I was producing totally different work. I remember the first day I came in, we had to show a piece we had made over summer. I brought in an installation-type work made out of silk-screen material. I'd interviewed people I'd met out and about on the streets and asked them to submit something that they felt they couldn't share, which I then stitched into bits of fabric. I quickly gravitated towards painting but it was a very different style – textural, it was definitely more naturalistic. I also do spoken word poetry and have done a lot of open mic nights. In December 2017, alongside Ella Clifton-Gould and Mia Dawn Stoces-Brown, I performed some poetry at Late at Tate Britain: Flux – which was all about gender and identity and celebrating young, queer artists.
Right now, I'm very set on the style of work that I'm producing. I don't want to change because it's going so well. I'm aware that the art world is temporary and fickle and things don't last forever. If something is successful you should run with it while it's there, so right now, I'm determined to push this kind of work and the vision of this series forward. However, I'm also fully aware that it's good to keep an open mind. I do also want to make my work more accessible – T-shirts, earrings, things people can wear. I just really want to make it something that can exist anywhere.
Is there ever any crossover between your writing and painting – do your painting titles ever have any links to the poems you write, for example?
My poetry and my paintings can be a catalyst for one another. Sometimes I'll make a painting and then I'll write a poem a bout it. Sometimes I'll write a poem and then make a painting. The piece I showed at Late at Tate Britain was a poem about suppression and more of a feminine energy, which I had for a while. The poem was called Blue and then the painting was called Blue. I would love to see how I could tie them together a bit more in the future.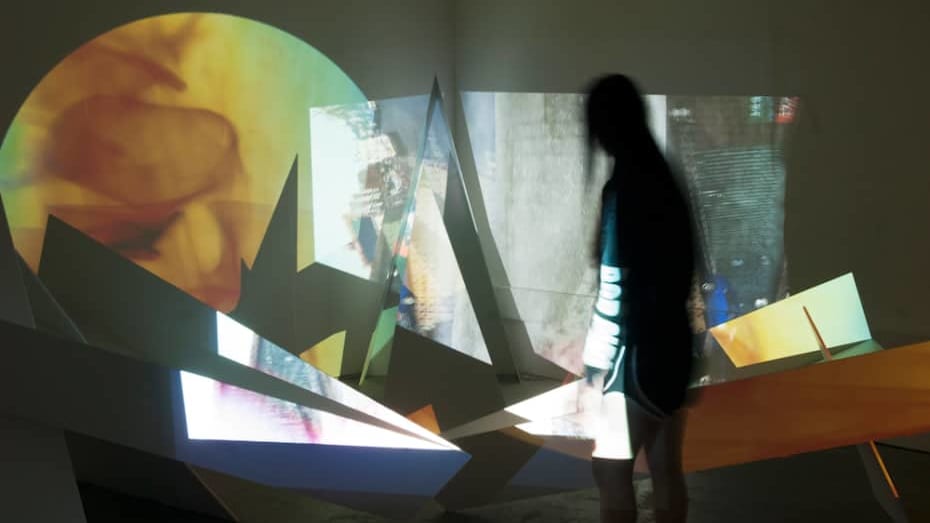 BA Fine Art