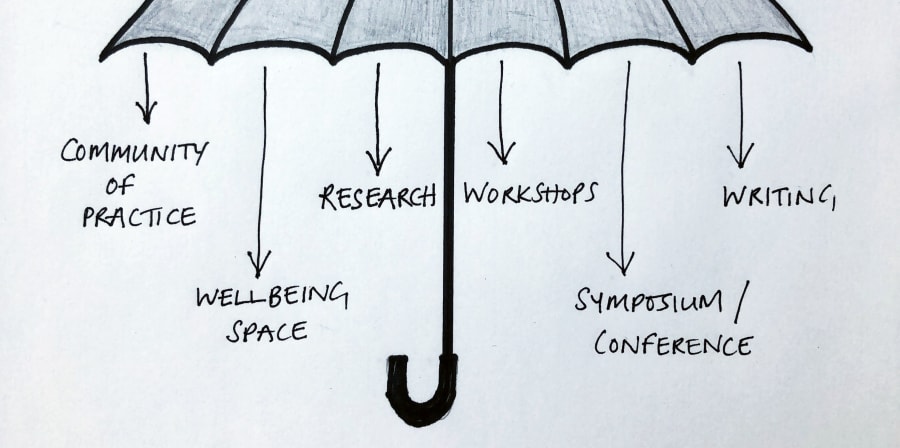 Principal Investigators: Dr Joanne Morra is Professor of Art and Culture. Judy Willcocks is Head of Museum and Study Collection at Central Saint Martins and a Senior Research Fellow.
Project summary
The Creative Practices, Education and Wellbeing Research Network is a four year trans-disciplinary project that began in 2019. The network aims to address health and wellbeing through art and design practices, pedagogy and cultural engagement.
Recognising that health, particularly mental health, has become a pressing concern within Higher Education, and that there is a growing body of evidence that arts, culture and creative engagements can help promote wellbeing, this research network brings together museum professionals, artists, designers, writers, curators, pedagogic scholars and therapists to more deeply understand how and why this is the case. Taking a trans-disciplinary approach, this research network involves participants from the creative arts, humanities and social sciences so as to enable a better and multi-faceted understanding of the relationship between creative practices, education and wellbeing. By bringing together a community of practice from inside and outside UAL, the network explores the therapeutic potential of making, engaging with culture and teaching art and design practices.
While creative practices and cultural engagements are known to be a useful tool in the health and wellbeing toolkit, what is meant by creativity is often vague or based on a superficial engagement with creative practices. At the same time, little has been written about what is actually going on during those engagements (so what is happening to engineer the improvements to mental health and wellbeing) and about the role of art and design pedagogies in arts for health settings, or, indeed, within the academy. This research network will attempt to address these questions and concerns through its activities and publications.
The Creative Practices, Education and Wellbeing Research Network includes a series of events (seminars, workshops and conferences), a unique pop-up wellbeing space exploring how making and cultural engagements can support wellbeing within HEIs, and related publications.
This project has been generously funded by Knowledge Exchange at Central Saint Martins, and Central Saint Martins' Research Visibility Fund.