As the Lethaby Gallery welcomes the world of Tatty Devine for a major retrospective exhibition, we talk to founders Harriet Vine and Rosie Wolfenden about the history of their jewellery brand and the power of creativity.
You met each other at Chelsea College of Arts, but Harriet, you did your Foundation first at Central Saint Martins?
HV: The careers advice was so bad at my school, I was told I could be an art teacher or a costume mistress. That was it. I had no idea there were so many jobs in the arts. So, I came to Foundation with a completely open mind. I was one of those students who always did the holiday homework.
It wasn't local but I wanted to go to what I'd heard was the best college in the country. My Dad was working in London at the time so I applied and got in. He used to drop me off at 7am on his way to work, it was so early that the College building wasn't open so I'd spend my time trying to find the cheapest cup of tea in the area while I waited.
You met while studying painting at Chelsea. Did you both want to be artists?
HV. Yes. Our tutors were Turner Prize winning artists so it made sense to us.
RW: There wasn't a pressure for you to have a career immediately. We trusted ourselves that we wanted to do our own thing. I didn't have a sense of what I wanted to be apart from following my heart and that was painting. But we were there at College 9am to 6pm every day and then in the bar from 6pm to 11pm…
When did you begin collaborating?
HV: Well, we didn't have the money to buy clothes and we didn't really want to look like anyone else. It was the 90s there was a minimal Calvin Klein vibe that wasn't really us. So, we made our own stuff. People would say: "I love what you're wearing, who made it?" And we put the College party together, so we knew we could work together.
When did the jewellery begin?
RW: Harriet found bin bags of leather and made wristbands. We sold them at Camden market – that was 20 years ago last Saturday. The receipt for £8 for the market stall is in the exhibition. Then we did Portobello and Spitalfields. We didn't even have a name yet. The first cabinet in the exhibition goes from July '99 to Christmas '99 and by that time we were in Vogue.
HV: It was the right time and the right place. A lady came in to the shop Rosie worked at and asked her about something she was wearing. Rosie said: "my company make it" (rather than I found it!) and that lady happened to work at Vogue and she requested it for the Millennium issue. That was our first piece of press.
RW: We made a complete collection over that weekend. Off the back of that we got a sense of confidence to talk to shops, soon we were in Whistles, London Fashion Week, Harvey Nicholls. Those first few months were ridiculous but it's never really stopped. That's what keeps us going, you don't really know what's going to happen next.
How does it feel to look back over those two decades with this retrospective exhibition and book?
HV: Altogether there are 4,000 things in the archive. It's been such a piece of work but it's made us so grateful. The process of selecting for the show was torture – how can we not show that? How can we not show this?
RW: it's getting more overwhelming as it all comes together. I put the receipt from Camden market on Instagram and realised that the test of time is such a profound thing. You can't fake it. We've achieved a lot and I feel like we're still 20.
You've created a collection with the Crafts Council called the Campaign for Creativity. Where did the idea for that come from?
HV: You can get so angry about the state of creative education, the lack of funding, there is a lot of negativity. How do we make sure that our jewellery stays upbeat and is about the joy of creativity. You can't measure what creativity really brings to this country in GDP.
RW: I think of the money invested in the arts when we were starting out, and now we see arts in crisis in education. The Crafts Council has its Make Your Future project going into schools and helping them work with the equipment that they have. It's such a practical and impactful solution. The collection came out of wanting to support that. Jewellery really communicates ideas and expresses political views, what people are passionate about.
What advice do you have for people starting out in the creative industries?
RW: Love what you do. It can be really hard work and if you're not into it then it won't be any fun at all. You need to be dedicated and if you're selling stuff, it's much easier when you love the work. It's basic but you need to give it your all.
Misshapes: The Making of Tatty Devine, a Tatty Devine and Crafts Council exhibition, is at the Lethaby Gallery, Central Saint Martins, 20 July – 11 August.
Staff and students from BA Ceramic Design have been working with eight local schools, as part of the Crafts Council's Make Your Future programme. See more of the project in our Window Galleries, 6-28 July.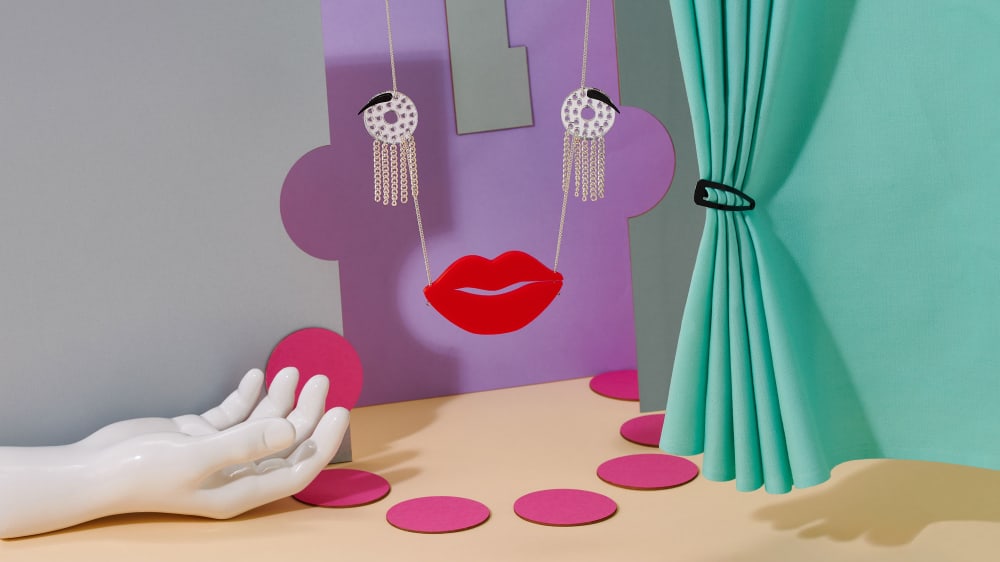 Lethaby Gallery