As our 2020 Foundation students head to the next stage in their creative education, we catch up with them (and their tutor) to hear about their final projects and look back over a year unlike any other.
"All our students have shown immense resourcefulness, enthusiasm and commitment despite restrictions imposed on them by these challenging Covid times," says Karla Newell, Curriculum Area Leader for 3-Dimensional Design and Architecture, "wherever possible they just got on with things right up to the end of the course."
Sihan Liu, Second Life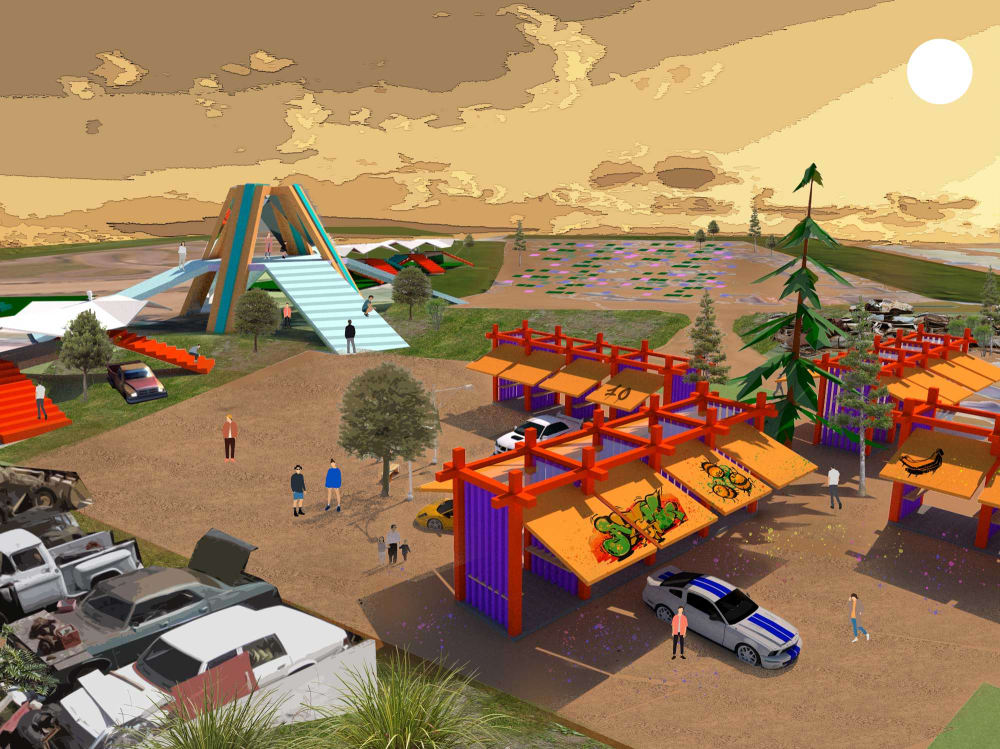 Inspired by watching Demolition Derby, Sihan Liu designed a site for purposefully crashing cars. This project gives salvaged cars a second life with facilities including a bar, auditorium and – most importantly – a workshop to service the local car community.
"Crashing in a traffic accident on the highway may be a bad thing, but there is a niche group in the world who believe the car crashing is a form of entertainment. They refit the salvaged car for racing. In this context, salvaged cars are given a second life on the track."
Sihan Liu will be studying BA Architecture at Central Saint Martins next year.
Ayaka Kanzaki, Manufacturer of Fear
"Our imagination creates fear of the unknown. Hence, we are manufacturers of fear." This is where Kanzaki's project begins. The resulting object is a performative piece of jewellery comprising a copper sphere holding ice. It delivers a cold, numbing sensation on the back of the neck, where it cannot be seen by the wearer. "It symbolises our hidden human vulnerability," says Kanzaki, "in contrast to what we portray, ultimately challenging what we see in others."
"Jewellery is a work of expression that uses the body as the landscape. When worn, there is a connection that is made between the wearer and the work. My work focuses on the 'exposure' of hidden aspects of individuals that we do not see on the surface. I decided to focus on fear to convey the inner imperfections of human beings. I am here to challenge the view on jewellery – changing from the medium of beauty to the medium of truth and reality."
Ayaka Kanzaki will be studying BA Jewellery Design at Central Saint Martins next year.
Mariia Ivanova, Restoration/Renovation
This project proposes the reconstruction and modernisation of a historic building in the centre of Saint Petersburg, Russia. It is an interpretation that combines two styles: Art Nouveau and Constructivism.
"Often projects are focused on inventing something new, moving into the future. With the push for sustainability in all spheres of society, it seems to me that the preservation of cultural heritage corresponds to a reasonable approach to life.
"I wanted to increase the contrast between the two styles already used in the building, so that the difference would be visible at the first glimpse. I was also interested in the fact that styles differ not only in appearance, but also in the philosophy behind each of them. For Constructivism, the main element of 'decoration' (to put it roughly) is a form that has a certain function. Here, the form has a single function – decoration – which is a fundamental part of Art Nouveau."
Bespoke is about a specific personality. Shum wanted to create a piece of jewellery for a small, playful client. The circular shapes are inspired by playful places such as playgrounds and theme parks. The form offers the wearer additional visual impact while the texture is a physical way to transfer feeling directly to the body.
"Jewellery is an extension of the body. The idea that weight and volume can be added to the body (both physically and visually) interests me and I want to use oversized jewellery as a way to make the wearer seem bigger and more powerful."
Next year, Ling Yin Shum will be studying BA Jewellery Design at Central Saint Martins.