With coronavirus disrupting their education and their lives, our students and graduates voice their anxieties and respond to unfolding events with creative pragmatism.
As universities began closing their doors, i-D spoke to fashion students about their concerns. Talking about the closure of the College, Conner Ives, a student on BA Fashion, commented: "In the face of a pandemic, fashion is probably one of the most disposable things. It was such an appropriate decision to make. At the same time, it's an artist's job to lessen the numbness we feel towards daily news or life events, to challenge the status quo in some way."
Meanwhile 10 Magazine interviewed students from art schools across the UK. Among them was Abbie Lilley and Lili Phillips who are both studying BA Graphic Communication Design at Central Saint Martins. While without access to College facilities, and physically disconnected from their cohort, the pair have repurposed Nearly, their virtual publishing house, to give a platform for their fellow graphic design students. As well as an Instagram account, Lilley and Phillips have created a website for a live archive, documenting the work coming out of their course community.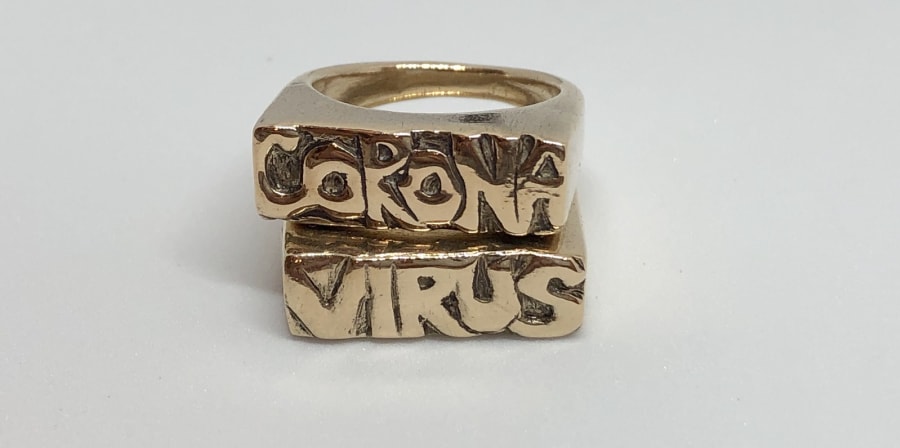 Lilley and Philips aren't the only students responding to the current climate through their creative practice. The Face introduced the world to Immie Spilsbury's coronavirus-themed jewellery. A current student on BA Jewellery Design, Spilsbury has created a collection including a tap-shaped signet ring and a virus-shaped pendant. Speaking to the magazine, the designer said: "My work is often inspired by changes in the human condition and the adversity we are confronted with. I react to current issues that are sometimes controversial or uncomfortable to deal with but cannot be ignored. I like my jewellery to evoke emotion."
"If we can't laugh, we'll cry," says George Serventi about his Instagram project #HomeCouture. Vogue reported on the tongue-in-cheek home crafting series instigated by BA Fashion Communication: Fashion Journalism graduate that sees people create homages to fashion looks made with materials lying around the house. The results include duvets turned into a Viktor & Rolf look, masses of cardboard transformed into Galliano for Martin Margiela and tissue paper masquerading as a Molly Goddard dress.
Speaking to Vogue, Serventi said:
"I thought I might provide some fashion-inspired comic relief during this stressful period when everyone is bored and stuck at home... The challenge is all about bringing people together online seeing as we can't physically hang out. It's an opportunity to get creative and celebrate our fave fashions while connecting through humour."
Recent BA Graphic Communication Design graduate Pablo Di Prima has shared his isolation photo diary. From lockdown in Barcelona, he talked to i-D about how he the restrictions now placed upon him were offering a paradoxical sense of creative freedom: "Being static could maybe give us a sense that we are wasting our time. Normally it can seem like an obligation or pressure to be super productive. It's fine to stop, breathe and allow yourself to not always keep busy... The advantage we have now is that we have so much time to talk with friends and collaborators to incubate new ideas. Like when a baby is growing in the belly – it is a nurturing process that will bloom later on."
Salomé Bazin, MA Industrial Design alum and founder of Cellule Studio, has collaborated with manufacturer Batch Works on the design and production process for a face shield for frontline workers in the UK. Having raised £15,000 through crowdfunding, the team expects to be able to make over 20,000 face shields with delivery to London hospitals beginning just before Easter weekend.
Also responding to the need for protective equipment, Phoebe English (MA and BA Fashion alum) launched the Emergency Designer Network alongside Holly Fulton and, London College of Fashion alum, Bethany Williams. Speaking to AnOther, English said:
"We all felt a collective sense of responsibility to do what we could... The skills are all there, with some assistance we found the correct specification and worked directly with the Royal Free Hospital to cut a pattern and have the prototype signed off. The infrastructure is all there in terms of UK manufacturing, it just needed to be utilised."
Returning to those currently studying, Vogue caught up with five students on our fashion courses to talk about how they're adjusting to working in physical isolation. "The whole experience has forced me to rethink how I work," says Jamie Sutherland, "Run out of thread? Just use dental floss! It's odd being back in my childhood bedroom and the garden I looked at every night, dreaming about life at Saint Martins. This is where it began, and I where have returned."