Students from BA Product Design worked under the guidance of academics from the Design Against Crime Research Centre to improve prison cell furniture.
At Show Two: Design, visitors were invited to step into a prison cell. The environment was a testing ground for furniture created through a collaborative project between final year BA Product Design students and Design Against Crime Research Centre. The ambitious brief was to create cell furniture that is not only robust and sustainable but increases wellbeing for both prisoners and prison staff.
The rise in UK prison numbers over the past two decades has seen the prison population double; UK prisons are overcrowded. Prisoners are poorly served by the cell furniture with which they currently live. Is it possible to design furniture that improves inmates' wellbeing while also addressing safety issues such as increased instances of violence, self-harm and suicide? New furniture cannot fix a broader broken system but could design make a difference?
"One of the reasons we made the prison cell as an immersive, empathy experience is because students need constant access to a realistic cell environment, which obviously is not practical in an actual prison. Our staff and students have been inside HMP Pentonville and HMP Stanford Hill, and have spoken to prisoners as well as read their accounts. Having access to the replica cell has allowed them to use empathic experience to help understand the information that was revealed through prisoner interviews."
Professor Lorraine Gamman, Director of DACRC
"From the outset we were clear that the best sustainable design solutions would come from a collaborative approach and that this 'co-design' work must fully engage prisoners – as after all they would be expected to live with it, as well as prison officers, Prison Governors and the manufacturing team. Central Saint Martins is one of the world's most renowned academic institutions and it has been a pleasure working with them."
Jason Swettenham, Head of Prison Industries at HMPPS
Sloot, Alfred Low Wei Leong
Sloot aims to improve the cleanliness and hygiene of the cell. In a confined space which lacks proper ventilation, smell is one of the biggest concerns according to inmates, followed by lack of seating. Sloot is a piece of furniture that acts both as a toilet bowl cover and a leisure chair. The key feature is the integrated active carbon upholstery, recycled from old fire-retardant bedding and covered with Kevlar, a reinforced fabric that withstands cuts and tears. In addition, the mainframe of the chair is made of heat-treated aluminium to ensure high durability.
Occam Pack, Ana De Pellegrin, Hafeez Dawood and Pietro Fareri
The Occam Pack is a comprehensive interior redesign of a HMP cell environment. Adopting a holistic approach allowed us to be in control of the interactions between all the objects within the cell, and therefore limit the potential for misuse and abuse of the furniture. The redesign aims to accomplish three things: introduce equality in designated space, allow for interchangeability and customisation of components, and incorporate a sense of daily structured routine through the use of the furniture.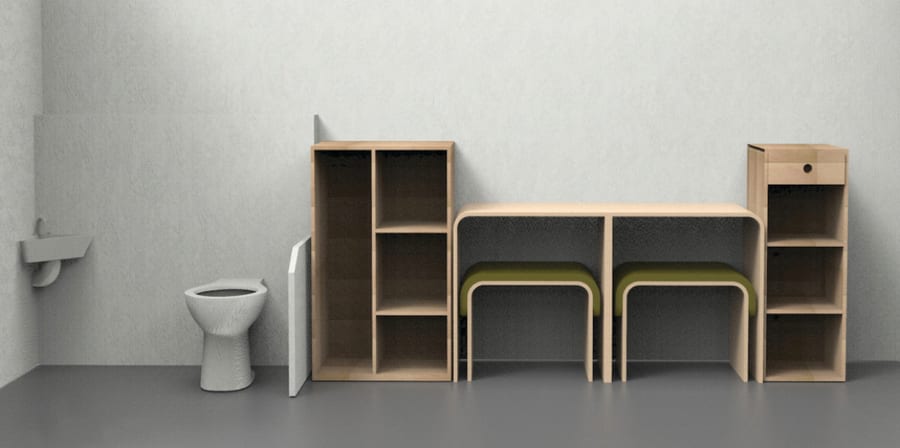 A|PART, Asl Kaygusuz
In the prison context, having to share furniture in a cell can create conflicts and arguments between cellmates as ownership of furniture is a contentious issue. A|PART is a modular furniture set that allows inmates to feel the individuality of using furniture, by giving them the option to separate elements and to position them in various ways depending on the task. Through the use of birch plywood and organic shapes, A|PART aims to decrease the austere feeling of cell furniture by bringing natural characteristics into the prison context.