In the UK, two people every hour are diagnosed with Parkinson's, a progressive neurological condition. Patterns of Perception is a cross-disciplinary collaboration to help us better understand life lived with this disease. In this ongoing project, a group of individuals with Parkinson's collaborated with practitioners from Central Saint Martins and English National Ballet, neurologists from University College London and artist Ruairiadh O'Connell.
Patterns of Perception explores the impact of dance and visual arts on those with Parkinson's as well as the power of arts to articulate and share those personal experiences. "Many people are aware of individuals with the condition, but really have quite a catastrophic view of the illness whereas the lived experience is very different," explains Dr Christian Lambert of the Wellcome Centre for Human Neuroimaging, University College London.
Over three weeks in 2019, a series of workshops took place to explore and understand the experience of living with Parkinson's. With a focus on being truly interdisciplinary, the project wove together science, dance and visual arts. Activities were fluid, stretching from visually responsive ballet and collective textile painting to constructing a new visual vocabulary.
Participants were asked to keep visual diaries of their experience throughout the project. Their responses ran from cartoons and calligraphic typography to intricate paper folding. They were then asked to present and talk over what they'd made, opening up a collective conversation about their everyday lives.
While the diary work was intensely personal, other parts of the project focused on collective creativity. Through discussion with the group, O'Connell and Anne Marr, Director of the Jewellery, Textiles and Materials programme at Central Saint Martins, isolated recurring words – for example "distortion", "chaos", "humour", "resistance". They then allocated each word a symbol to create a visual vocabulary. This language of symbols formed the foundation for collective painting sessions, presenting the group with a possible starting point and removing the daunting effect of the blank canvas. The resulting textile banners formed the backdrop of the project's eponymous exhibition, shown in the College's Window Galleries.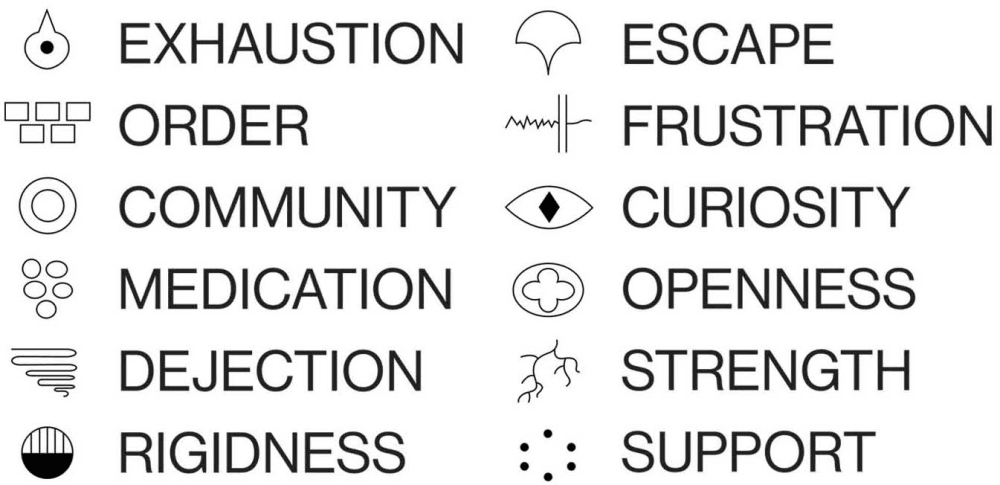 While the English National Ballet's initiative Dancing with Parkinson's is based on the evidenced therapeutic connections between movement, music and degenerative neurological disease, the same connections are little explored for visual arts. For Marr, it was key that the visual aspect of Patterns of Perception was experimental and open: "My own vision was to do something quite contemporary, exploring new things with the participants. A little bonkers perhaps, but with parameters."
While the plan was to keep participants anonymous, it became clear that they were proud of the work they were producing. "Many were adamant they wanted their names on their work and in the film," says Marr, "that was incredible. We didn't expect that at all."
"It gave me the feeling that we can tell a story and we can show people. There's so much that we can do. We don't need to feel that just because you've been diagnosed with Parkinson's that it's the end of the world, because it's not."
Margaret Stone, participant
In this first iteration, Patterns of Perception won the Outstanding Public Engagement Project at The Wellcome Centre for Neuroimaging's Public Engagement Awards, but this is just the beginning. There is hope among the collaborative practitioners to develop a deeper interdisciplinary platform that could form an online resource, sharing what it's like to live with Parkinson's. "It feels like we're scraping the surface of what we could do with this project," says Kate Hartley Stevens, Associate Dance Artist of English National Ballet.
Patterns of Perception was made possible by funding from the UCL HEIF Knowledge Exchange Fund.