How can migration influence what we design for the home? We catch up with alum Ella Bulley who is tackling this question as part of her residency at the Design Museum.
Since May last year, the MA Textile Futures (now MA Material Futures) graduate has been in residence at London's Design Museum. Each year, the Designers in Residence programme invites four practitioners to respond to a theme. The 2018 theme was Dwelling – giving the designers a chance to reflect on how our concept of the home has changed as we adjust to new technologies, politics, economies and lifestyles. Over seven months, the residents shared a studio in the museum, which was then opened up to a public, collective showcase on view until 24 March 2019.
Let's start at the beginning – why did you study at Central Saint Martins?
I originally studied BA Fashion and Textile Management at Nottingham Trent University, which is where my interest in textile science began. Fiona Fairhurst gave a lecture – she invented the shark skin Speedo swimsuit – and this was my introduction to Textile Futures. So, I decided I wanted to study on a course that was a mixture of textile science and textile design, and I came across MA Textile Futures at Central Saint Martins. The course wasn't limited in scope, which initially felt a bit overwhelming but, looking at it now, it gave me the opportunity to make freely across disciplines and materials.
Did your experiences on the course prepare you for the future?
The way we were taught and the workshops we had access to definitely set us up for when we left the College. Working on the design residency has involved researching, making, installing, photographing and documenting the work, as well as working with the press team and producing an exhibition publication – which are all things I first learnt at Central Saint Martins. Caroline Till, who was Course Leader when I joined in 2012, has her own practice – Franklin Till. She prepared us to that industry standard – something we carried through into our own practice. We also had a range of opportunities, such as visiting a stem cell research centre in Paris with Nelly Ben Hayoun, so we were always crossing different disciplines; it was just a given that design wasn't limited to one area.
Can you tell us a bit about your student projects – Extreme Sugar and Saccharum – which both use sugar?
We were told to select a material and look at it "extremely". So, I began to research sugar and its history. I translated sugar into a speculative society where it was no longer used for consumption but for other means, such as a form of demolition material. In this society, sugar would also become medicinal – so marshmallows are made out of sugarcane and hibiscus, which is known for lowering blood pressure.
This research developed into my graduate project, Saccharum. For that, I looked at how craft could transform devalued materials. Sugar was once a valued material but now it's become a staple household product. I worked with a sugarcane factory, a sugarcane breeder and sugarcane researcher, as well as a mineralogist who was studying the effects of sugarcane charcoal – how it affects the body and the land. It's so different coming from Ghana, where we just leave everything to grow. We don't even have a sugar production, we would rather eat the fruit than manufacture sugar.
What are your main interests in your practice?
Material is always raw and ready for manipulation. As a material designer, I enjoy unlocking this through exploration, or by manufacturing an end product. By experimenting as a method of inquiry, or by altering, revising and exploring a substance until it is transformed, I can challenge the audience's perception of that material.
Why did you apply to the Design Museum's residency programme and can you tell us a bit about the way it works?
When the open call came out last year, I'd just got back from Ghana, where my family is from. I'd begun sketching an idea – exploring how remnants and memories can become functional souvenirs. This happened to fit the theme of Dwelling so I applied.
For the duration of the residency, we were assigned practitioners who mentored us. I worked with Seetal Solanki, who also studied Textile Futures and currently teaches at the Royal College of Art. She has her own material design consultancy called Ma-tt-er. She was great at helping me with research experiments, dissecting my processes and helping me figure out which direction to go in. We also had group crits, where we presented our project to external designers and curators – including Sebastian Conran, Anya Hindmarch, Ambra Medda and Michelle Millar Fisher.
Describe your residency project inter-Patria.
Advances in travel and technology have resulted in an increased movement of people, ideas and experiences – people with nomadic lifestyles, repats and global travellers are on the rise. My project examines how these people adapt to new dwelling places. From my initial research, I identified and interviewed two social groups: Ghanaian expats living in the UK and expats who have returned to Ghana after living elsewhere ­– also known as repats. I also spoke to children of expats who were born outside Ghana but are interested in returning. I began with memories, transforming them into tangible, functional objects designed to help people adapt.
My display in the museum is split into three sections. Each one has a different object and a scent, produced in direct response to the experiences of the Ghanaian expats and repats. I am interested in how these groups evolve – how people may come to live in the UK and then move back, and what objects are involved in their adjustment. The first object on display is a mixology tablet, which is a range of equipment and vessels. When an expat arrives in a new country, changes in climate, time zones and access to ingredients can also mean a change in their own processes. The most significant of these often relate to food, cosmetics and medicine. The mixology tablet is designed to help them maintain and adapt these traditions.
The next room has an oware games table, which is a traditional game believed to have originated in the Asante region in Ghana. The name oware dervised from "he/she marries". The tiles which make up the table are decorated with symbols that represent things encountered as part of everyday Ghanaian life – a goat or a lizard, for example. The design of the tiles references symbols of kente cloth but I've created it with a split colour palette: the deep blue references expats who came to the UK, and the light blue references the repats, going back. The different shades reference where they have lived, so it becomes a composite table, combining how varied experiences can bring communities together.
The final object is inspired by expats who arrived in the 1970s and 80s, who transported their goods in suitcases without wheels. Most of the people I spoke to, when they returned home, they shipped their items ahead of arriving. So, when they first get back, they often just have a suitcase and inflatable mattress. I've designed a trunk that can be transported and then turned 90 degrees to become a cabinet, so they have immediate storage. It's made out of the same tiles and also cedar wood. Although repats are living in Ghana, they might come back to London for a few months or they might go travelling for long periods. So the cabinet is designed to provide enough control, in terms of storage and also leaving their clothes unattended – as cedar wood acts as a deterrent to moths.
Designers in Residence 2018: Dwelling is on view at the Design Museum until Sunday 24 March. Keep an eye out for any updates about Ella Bulley's upcoming public programme events.
More: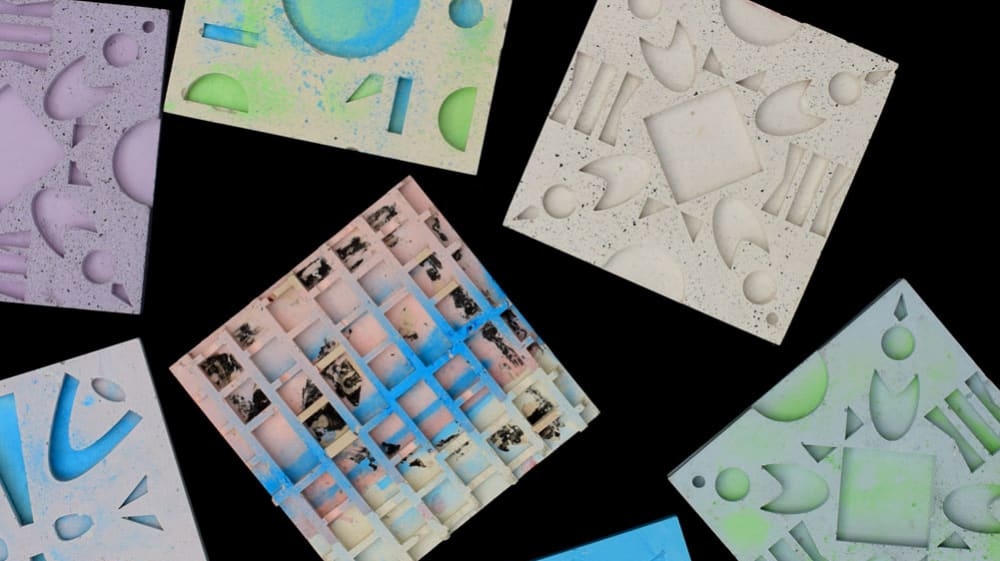 Visit Ella Bulley's website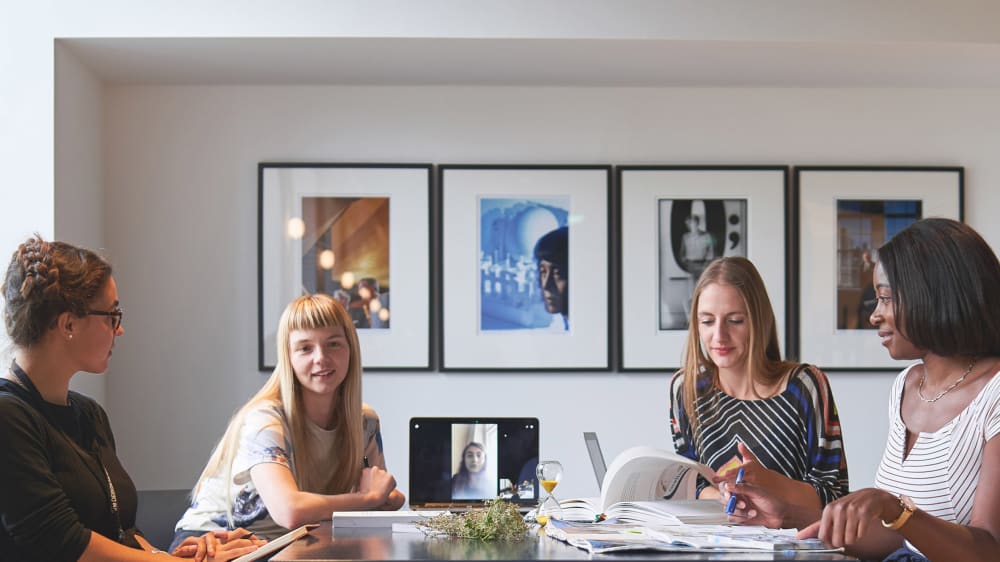 Read about the Design Museum's Designers in Residence programme.