Each year, our second-year BA Fashion Communication: Fashion Journalism students shadow a final-year BA Fashion designer, documenting and writing about their collections. For 2020, we have gathered together a selection of their articles, showcasing the diverse range of skills within our Fashion programme. Begun in the College and finished during lockdown, these profiles give an in-depth insight into the work and inspirations of a selected designer. Here Brittany Newman profiles BA Fashion: Fashion Design Womenswear student Violette Villeneuve.
Traces of the past
Everyone has a story; every object has a past. Using these narratives, Violette Villeneuve's collection externalises the internal.
As you battle against the wind from Regent's Canal on your hurried walk to Central Saint Martins, you can't help but notice the normality which lays on the aggregate concrete: crushed beer cans, crumpled receipts and cigarettes stubs. "Who did they belong to?" you begin to wonder. Perhaps the receipt was found lifeless at the bottom of a bag recently rediscovered by someone's grandmother; could the cigarette possibly have locked lips with a criminal in his lead up to fleeing the country?
Layers, traces and marks. "Everything and everyone has a story, a past" Central Saint Martins Womenswear student Violette Villeneuve tells me as she slices strips of denim with no time to spare. "I want to transmit the raw energy of the essence of self ­– which is formed of lots of different puzzle pieces. We should dive more into the complexity of who we are rather than just the surface and we should let ourselves go" she says, shaking her bleach blonde pixie cropped hair into place.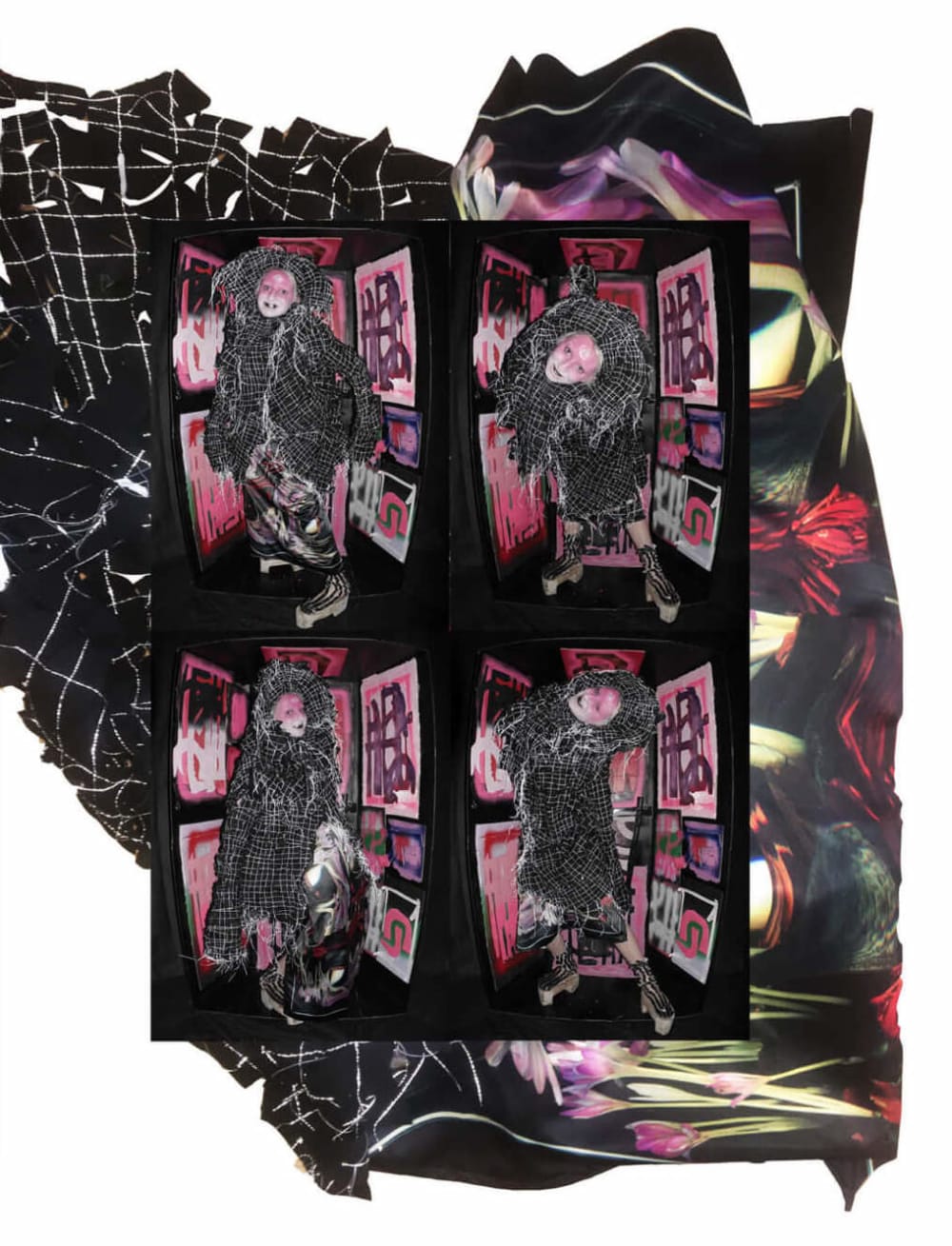 Across the course of our conversations, Villeneuve slowly drops her guard, beginning to reveal her attraction to human layers. She gushes and crushes on the thought of anybody who has multiple layers, whether it be a new alliance or a budding love affair. "I don't love things that are only one layer, but I think that could be seen as a psychological analysis of myself" Villeneuve says before commencing to dissect her own character.
"Do you believe in your talent?" I ask her, noticing her self-critical nature. Engrossed deep in thought, as if her head were in the clouds, she responded with hesitation: "I deeply believe I have something to share, my hands and brain want to create but am I talented? I don't know...I guess if I'm here, yes I might be" she finally recognises. Although this would usually come across as modesty, talking to her through the screen, I am able to catch sight of some truth within her self-doubt.
Quickly, Villeneuve switches to confessing how far she has come, having never taken a seat at a sewing machine before arriving at Central Saint Martins. While learning pattern cutting and sewing, as well as getting to know the industry itself, Villeneuve spent the last three years creating garments in only grey or black fabrics. "I guess I was scared, I didn't know anything about myself and my relationship to fashion…I mean I knew, but I didn't know what I was capable of or where I could go. I had a lot in my head and didn't know how to express it." But after completing garments for Liam Hodges' AW19 show and becoming Rick Owens' first intern in Paris, Villeneuve arrived back for her final year with a burgeoning confidence for colour.
"Colours also tell a story, whether they are faded or dirty ­– colours that look like they have had a life and were used a lot somehow."
The colour palette of her graduate collection is certainly possessed by previous lives. It is plastered across fabrics sourced by emailing various studios for their surplus fabric; running around charity shops; and receiving donations from different environmental companies. This is all in addition to her well-deserved Swarovski scholarship. Villeneuve has reincarnated these fabrics, transforming them into her collection ­– the character of which reflects on raw, kinetic energy inspired by Keith Flint of The Prodigy.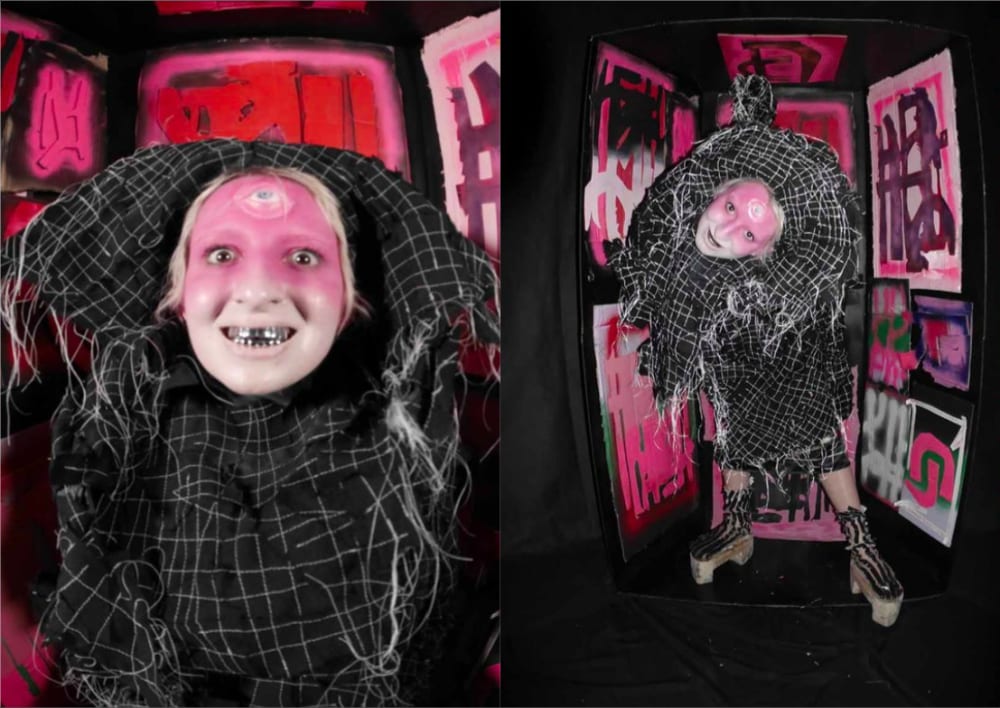 Sustainability might seem like the new throwaway buzzword. But for Villeneuve it isn't about being "down with the kids", nor a response to the current pandemic. The 23-year-old is attracted to a rough and rugged look in place of pristine, polished garments. Since her foundation course back in her hometown in the suburbs of Paris, reworking, redrawing or repainting has always been her forte.
While we grapple with the reality of Central Saint Martins' doors being closed due to COVID-19, the notion of scrimping and saving is no longer a choice for many across the world. Villeneuve was lucky enough to not be creatively disrupted by the world's issues. Instead, she was able to scratch her brain and push her concept further: "I can think even more about what I can add and what I can use. I could even add another layer of 'trace' because this period is a roller coaster for many, which will change people's way of life." While experiences ­– both painful and cherished – are visually carried in her collection, the situation of graduating during COVID-19 was carried by Violette Villeneuve herself.