Graduating from M ARCH: Architecture, Lois Innes shares her final project which radically rethinks the UK prison system. Closer from Home, presented in graphic novel format, outlines a local decarceration programme through community-based rehabilitation and crime desistance.
Tell us about your final project and why you chose that subject.
"My project explores the unethical prison and criminal justice system here in the UK, although these issues certainly exist worldwide. I've set out an alternative future for individuals and communities who are disproportionately affected by the damaging cycle of crime and incarceration.
I am deeply disheartened by the statistics: we lock up more people here than in any other western European country and disproportionately those from BAME and lower socio-economic backgrounds. On top of this, I think we also fail to be critical enough about architecture's role within the judicial system, relying on centuries-old typologies time and time again with little success. I strongly believe that confinement, solitude and invisibility should not be the design tools we extol in prison redesign.
I focused on HMP Brixton and its associated area and speculated on an alternative and largely decarcerated penal model. Closer to Home proposes a series of interventions to provide greater social infrastructure to disadvantaged neighbourhoods, such as the provision of youth centres, community recreational facilities and assisted housing. The focus is on integrating offenders back into their communities, as well as exploring the ways in which architecture and policy can reduce the culture of crime at the root of the problem."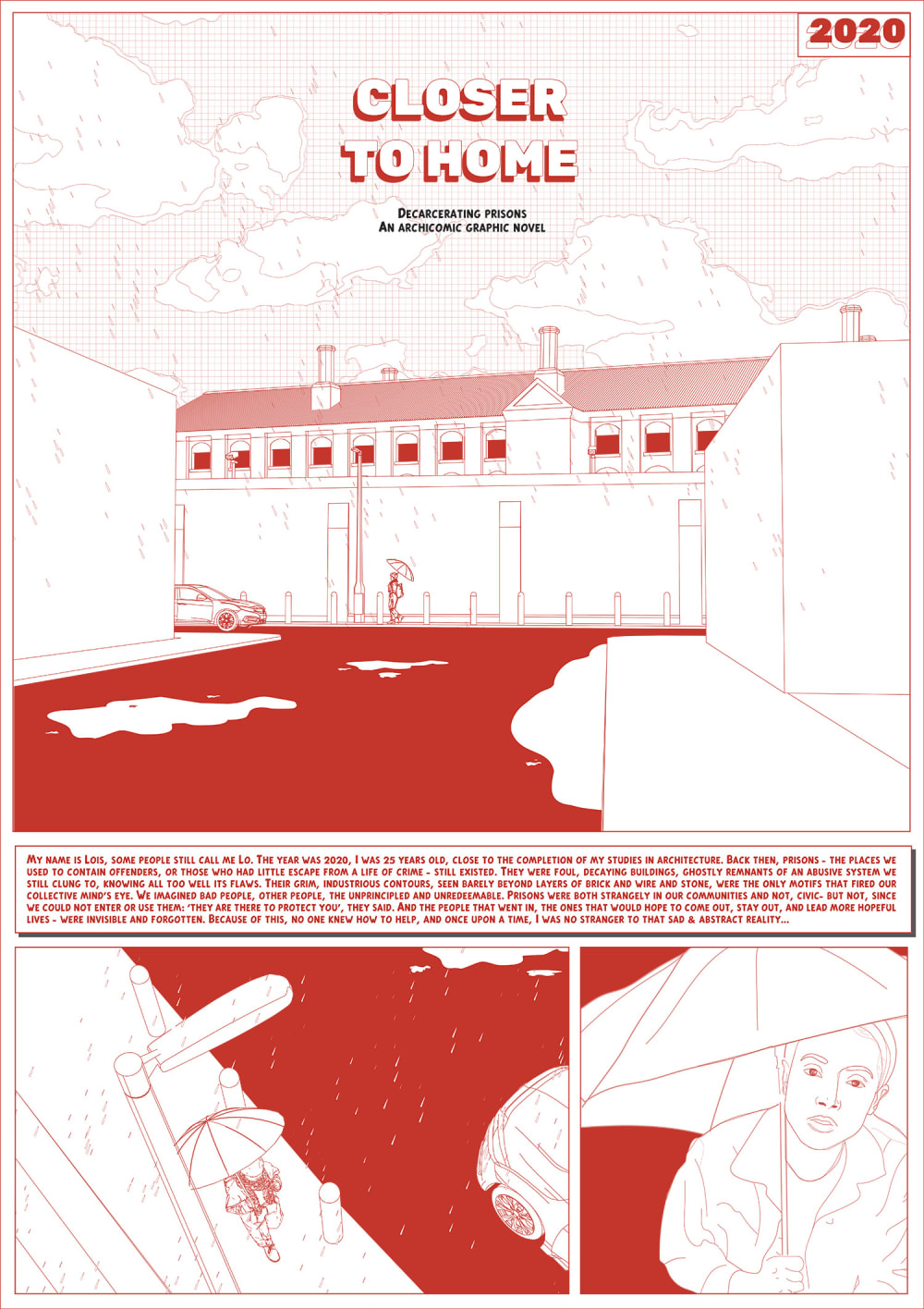 Why did you choose the medium of a graphic novel to present your work?
"Well for one, I just really enjoy comics! My favourite cartoonists are a Belgian duo called Benoît Peeters and François Schuiten, who are most famous for their Les Cités obscures graphic novel series. Each comic focuses on a fictional, counter-earth scenario and the detail in their imagined city-scapes is unreal.
I think comic representation is suited to architecture: both tell stories about cities, buildings and people, with the values of these imagined societies articulated through that interplay. That was really what I was trying to achieve with my project as there's no real existing context for a prison-free society. I wanted to strike a balance between fantastical and plausible, telling the story of a future that's not yet fully situated in our collective mind's eye.
Comics are also a great format to combine two of my key interests – design and writing. The written element allows me to tell a compelling narrative which conventional architectural drawings alone sometimes struggle to do. I also enjoy the limited colour palette of many comics, I was less distracted by the embellishment of my drawings and concentrated more on their content."
How did coronavirus and the lockdown impact your practice?
"Initially it was difficult. Even though we were all underway with our independent projects, the course is underpinned by a spirit of collectiveness. We've worked collaboratively, finding thematic links or crossovers within our work to tie up the similar fields of interest. Going from that symbiotic dynamic to a solitary one was tough, but I'm confident that we've made lasting personal (and hopefully professional) relationships to see us beyond lockdown.
From a production perspective however, I tend to do a lot of desktop, written or digital-based work, so was able to work quite comfortably from home. Perhaps more surprisingly, there were moments when I appreciated the unique introspection and decelerated pace of life that lockdown bought. I also found that I cared less about grades or performance, and just wanted to enjoy the remaining months of my project without the usual anxiety I'd experience otherwise. That kind of liberation really opened my creativity in new ways – so for that, I've got lockdown to thank."
What does it mean to you to be part of the "Class of 2020"?
"I guess the sentiments will be similar to those had by the pre-recession 'Class of 2009': fear of finding work, having to make career compromises and being able to support ourselves and our loved ones. But the main difference is Brexit which I think will have the worst effect on creative industries over any other projection.
That being said, I do feel as though I am part of a historic graduating class. So many urgent global events have happened in the past year that it's hard not to feel like we're on the brink of radical and exciting change. Equal to our collective frustration over recent events – from Black Lives Matter to social inequity to the failures in addressing climate change – is a commitment to make meaningful and lasting change across all creative disciplines. It's important that we as graduates maintain that optimism and momentum despite the incoming challenges."
Moving forward, what changes do you hope to see in your discipline?
"Both the disciplines I work in – architecture and journalism – perform badly in the areas of representation and diversity. From a percentage perspective, we're seeing more practices and employers increase the diversity of their workforce but the barriers are frustratingly persistent. I think we should finally understand that tokenism alone won't get us very far and that whatever we make of diversity ­­­­– whether that's in employment or the types of work we pursue ­– it will mean very little if not supported by a culture of inclusion too.
I'd like to see a review of the profession at its early stages, particularly in education. At university we're still predominantly exposed to Western architecture and design, have reviews with predominantly white or male panels, and are still encouraged to use outdated modes of representation. I think here is where the knock-on effects of workplace exclusion begin because there's been no system of allyship put in place for underrepresented groups from an early start. (Huge credit to my M ARCH course for actively bucking the status quo!)
From an ecological perspective, our discipline needs to wake up to its responsibilities: construction accounts for nearly half of the UK's carbon emissions. There should be much tougher restrictions placed on new builds and I'd like to see adaptive re-use projects become the norm."
Thinking about your fellow students, whose work should we take a look at next?
"Definitely check out my course-mate Cameron Bray's Matter out of Place project. He's proposed a Civic Waste Facility in a major existing refuse and incineration plant in south London. The project explores the often-mystified relationship we have with domestic waste and its afterlife, proposing a less harmful approach to refuse handling in light of the climate crisis.
What I think is exciting about this project is its human scale and civic consideration, for example, excess heat generated from the plant is directed to an on-site swimming pool and sauna for community use. I think it's really commendable how Cameron took on such an impenetrable site which totally obstructs the concept of rubbish being a valuable civic resource. Cameron also has a really playful, illustrative way of drawing, which somehow makes a hefty, industrial piece of infrastructure somewhere you'd want to go!"
Lois Innes won a Spatial Practices Prize and is nominated for this year's MullenLowe NOVA Awards. Explore the full list of NOVA Award nominees.