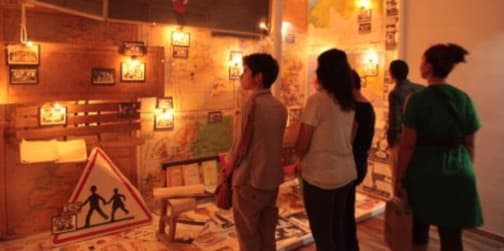 TRANSFORMER is a multifaceted, two-year project that builds relationships between the Maltese artistic context and international cultural networks through a series of border-crossing curatorial and artistic exchanges.
Principal Investigator: Mick Finch
Project summary
Focusing on the dynamic generated by Artist Run Organisations (AROs) in Malta and their engagement with contingencies of the present, the project engenders artistic discourse via site-specific artists-based research activities.
TRANSFORMER includes curatorial research, artist residencies, public talks, workshops, an online platform, and a multi-site exhibition in spaces across Malta during the European Capital of Culture 2018 and beyond. The activities are a collaboration between project partners from Malta, the United Kingdom, Spain, Morocco and Greece, with the aim of building a network which will help develop AROs and the contemporary art context in Malta. TRANSFORMER institutes a ground-up, grassroots, sustainable and long-lasting interchange, nurturing, developing and extending the activity of the Maltese contemporary art scene, widening its sphere of influence, and embedding it within European and international communities of practice.
Transformer is created and organised by Blitz Contemporary Gallery in Valetta, Malta, and Central Saint Martins, and is supported by the Arts Council Malta, Valletta Design Cluster, and the British Council, and is part of the European Capital of Culture Programme.
Participating artists and AROs
Kosmas Nikolaou (3 137, Athens, Greece); Ro Caminal (CeRRCa, Barcelona, Spain); Laila Hida (Le 18, Marrakech, Morocco); Mohamed Fariji (L'Atelier de l'Observatoire, Casablanca, Morocco); Fenêtreproject – Dustin Cauchi, Francesca Mangion (Blitz, Valletta, Malta).
Transformer sites
Villa Bologna, Attard; Spazju Kreattiv, St James Cavalier, Valletta; Valletta Design Cluster Water Fountain, Valletta; Pjazza San Pawl & Hamrun Scout and Girl Guides headquarters, Hamrun; Blitz and the MUŻA collection, Valletta. Visit transformermalta.com for more details and open times.
Related links