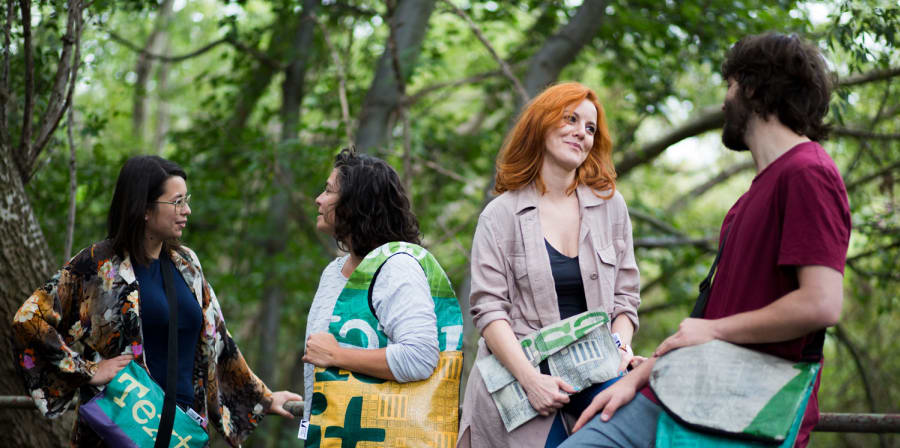 Design Against Crime takes design-thinking into Thameside prison to develop resilience and empathy among inmates and create a collection of anti-theft bags in the process.
The Design Against Crime Research Centre at Central Saint Martins first set up Makeright in 2015 – a ground-breaking design course for prison inmates. The first results, a series of bags with inmate-designed anti- theft components, were sold at Sue Ryder's shop in Camden with all profits going towards hospice and neurological care.
Makeright is unique not because it utilises the making skills of prison inmates but because it combines making and design skills. Over eight weeks, students create anti-theft bags from beginning to end with user pro les and initial concepts through a series of iterations and prototyping. "Design unlike art, doesn't allow you to design just for yourself, you're designing for another, it requires communication and empathy" says Lorraine Gamman, Director of Design Against Crime.
There is a sense of restorative justice in convicted criminals designing anti-theft objects, but it goes much beyond that. The inmates have natural creative talents even though such skills may have put to questionable use previously. Visitors to HMP Thameside pass a cabinet of makeshift weapons that have been confiscated from inmates. Makeright's challenge is to redirect that creativity and resourcefulness into something more positive. "What isn't displayed are the ingenious things they make to hold their ID cards, to arrange their photographs or unpick the television aerial to get more channels," says Gamman
Through initial collaboration at Unbox India with Praveen Nahar of the National Institute of Design in Ahmedabad, the idea of the prison as a 'creative hub' was conceived. Success in getting funding from the Arts and Humanities Research Council (AHRC) followed and the first Makeright course took place at Thameside in 2015, with the subsequent educational materials tested at Sabarmarti Jail the following year, to confirm the programme could be successful in other prisons.
The Makeright programme is co-delivered by two Central Saint Martins alumni, Erika Renedo Illarregi and Pras Gunasekera alongside support from design graduate volunteers to facilitate workshops. Gunasekera, a graduate of MA Industrial Design says: "I'm interested in how we can use design to stimulate debate. I'm not interested in making products but in the process and what collaboration does for people." Gunasekera and Illarregi made their home at the textile workshop, becoming part of the everyday landscape at the prison.
In terms of process, Makeright emphasises the value of iteration. Inmates are asked to create several ideas, to be flexible and open to the challenges that come along. Within the sessions it is this openness and resilience that is hardest to nurture, but it is crucial to each inmate's progress and is one of the most constructive skills for a life beyond the walls of the prison. "It's a labour of love," says Gunasekera, "you have to be with them, you have to get them to let go." The process of revisiting and reworking designs is, for Gamman, a metaphor for something broader:
"The notion that nothing is finished runs through Makeright: your life isn't finished, you can change it. That, to me, is the crux of it."
As leader of prison industries at HMP Thameside, Keith Jarvis says: "Makeright is a breath of fresh air… Working with offenders on employment skills is not exactly revolutionary. But what is different with this course is that inmates learn design skills and knowledge that can be transferred to many aspects of their lives, not only for employment."
Across three prisons and two continents, Makeright has taken many hours and many hands to bring into being. With the first cycle nearly complete, from design and prototype to production and sale, now is the time to celebrate its achievement and build on it for the future. Lorraine Gamman says:
"My plan is not only to democratise innovation and encourage inmates to work with their creativity, but also to take new types of people into prison. As Einstein said 'We can't solve problems by using the same kind of thinking we used when we created them.' We have to take in different types of people and different types of thinking. It's part of a slow revolution to change it."
Makeright is now underway in HMP Doncaster. In 2017 it was awarded second prize at N.I.C.E Award. In 2016 it won the British Council India-UK Excellence Award under Innovative Partnerships for Collaborations in Higher Education, and Sublime Magazine's 2018 Best Design initiative.