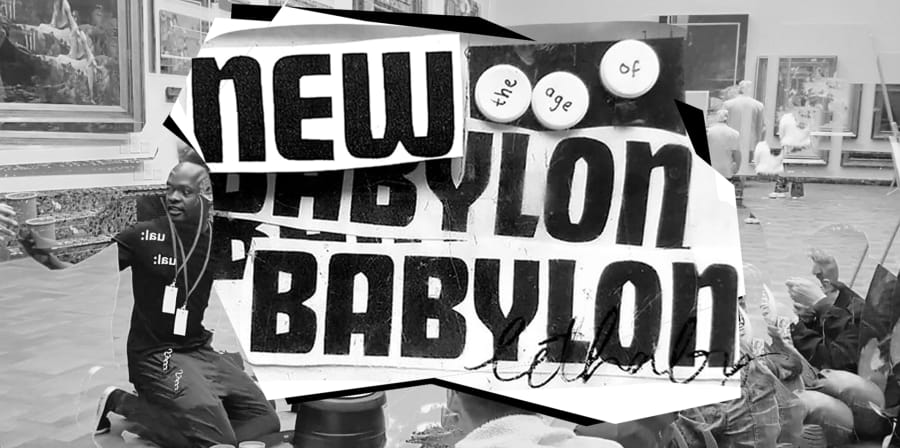 The Age of New Babylon
23 November–12 December 2018
The Age of New Babylon is the Lethaby Gallery's first student-led exhibition.
Through a series of actions and interventions, this evolving exhibition examines notions of 'otherness' through the lens of difference and seeks to go beyond the frame of images. Curated by Central Saint Martins alum Samboleap Tol and final-year student Sara Gulamali, the exhibition features the work of 22 artists, including students and graduates from colleges across London.
Featured artists: Yemi Alade, Moza Almatrooshi, Grace Black, Imann Gaye, PAPRIKA Collective*, I-M Jerome & Jannat Hussain, Sid and Jim, Mati Jhurry, Alaa Kassim, Yili Liu, Maria Mahfooz, Abondance Matanda, Zeinab Saleh, Hannah Smythe, Samboleap Tol, Damilola Ayo-Vaughan, Neale Willis, Abbas Zahedi.
*PAPRIKA Collective presents: Boram Moon, Eunjung Kim, Helen Davison, Panic Attack Duo (Emilia Demetriou, Naz Balkaya), Chloe Nili, Demelza Toy Toy, Ada Hao.
This exhibition is the result of a College-wide open call and was developed with the support of Central Saint Martins staff.
Opening times
Tuesday to Friday: 10am–6pm
Saturday: 12–5pm
The Age of New Babylon will be accompanied by a programme of public events, including a panel discussion on 24 November. Please see the schedule below for more details.
Public Programme
Thursday 22 November, 6–9pm
The Private View will feature live works, performances and social gestures including:
Abbas Zahedi, The Boulevard
Alaa Kassim, Mother Other
Samboleap Tol, The Babylonians
Paprika Collective, INFLUX, REFLUX, EXFLUX
Friday 23 November, 2–6pm
Performance: I-M Jerome and Jannat Hussain, Red Through Red, 2–3pm
Performance: Yemi Alade, Unity, 5–6pm
Saturday 24 November, 2–4pm
Panel Discussion: Of Other Futures
Artist Abbas Zahedi will host Of Other Futures, a panel discussion exploring the potentiality of otherness within the scope of contemporary art practice. Zahedi will be joined by curators Paul Goodwin, Annie Jael Kwan and Cédric Fauq.

Tuesday 27 November, 1–3pm
Performance: Alaa Kassim, Mother Other
Wednesday 28 November, 2–4pm
Talk: Distributed Spaces 04: On the Move Part 2

Central Saint Martins academics Liz Wright and Anthony Davies have invited educationalists and activists Sheyla Maria Alves de Melo and Priscila Mastroroso to talk about the "New Babylon" of the favelas and occupied housing struggle in Brazil. Wright and Davies will reflect on their work with Melo, Mastroroso and others in São Paulo as part of the Distributed Spaces model. They will focus on the efficacy of offline communications in supporting community led self-representation and struggles of resistance.
Friday 30 November, 1–3pm
Performance: Alaa Kassim, Mother Other
Tuesday 4 December, 1–5pm
Performance: Alaa Kassim, Mother Other, 1–3pm
Workshop: Raju Rage, From other to another, 1-5pm
In this workshop, artist Raju Rage will invite participants to devise a performance or artwork using the concept of the body as a living archive. This workshop is free to attend and open to all.
Wednesday 5 December, 7–8.30pm
Talk: Cédric Fauq, Curating for the Age of Blackness
In this talk, Cédric Fauq delineates the historical relationship between blackness and exhibitions to better unlock their common potentials. The ambition is to instigate new thought around exhibition-making as "in and through" blackness rather than about it.
Friday 7 December, 1–3pm
Performance: Alaa Kassim, Mother Other
Tuesday 11 December, 1–3pm
Performance: Alaa Kassim, Mother Other
Please note: A full schedule of events will be announced during the exhibition run. Please check the exhibition and Central Saint Martins social media channels for up-to-date details.
Sign up to the Lethaby Gallery's newsletter.