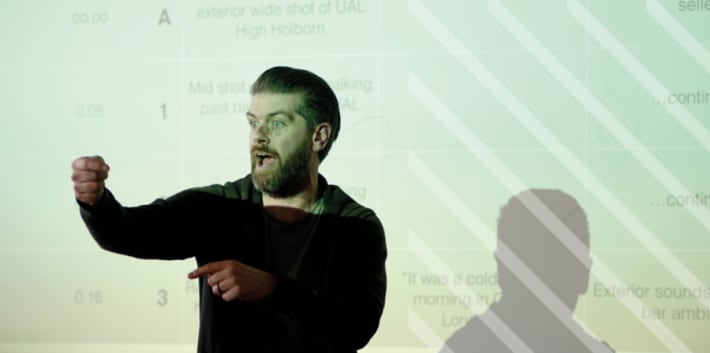 The MA Academic Practice in Art, Design and Communication is designed for staff who have completed the PgCert Academic Practice or an equivalent course, and who wish to pursue academic practice themes in more depth. The course encourages further study into one of the same 3 areas of academic interest - education, academic leadership or researcher development.
The course is structured to enable the same flexibility of engagement as the PgCert Academic Practice, and usually involves spreading units over 2 or 3 years. All participants begin by taking one of 2 research skills units depending on whether they intend to pursue practice-based or text-based approaches to their learning. The research unit is completed alongside an optional unit before progressing to a sustained study in the form of an independent or collaborative dissertation.
Please refer to the Study Pathways Diagram (PDF 279KB) to review possible routes through the course and take a look at the full list of unit descriptions.
What are the benefits of the MA Academic Practice?
Develop a chosen area of academic practice further.
Learn in a specialist arts university context.
Refine practice-based or text-based approaches to research.
Benefit from the flexible and blended modes of learning.
Learn alongside a committed group of professionals.
Enhance your professional practice.
What does the course involve?
First, you will develop your selected interests by enrolling onto one of 2 40-credit research methods units, alongside a second elective unit.
The Research through Practice unit enables you to formulate and develop a research idea through practice and a written proposal, while the Research Methods for Arts Higher Education unit achieves the same end though text-based approaches only.
As well as unit seminars, tutorials and independent study, you'll be required to attend a specified number of Teaching and Learning Exchange open research methods seminars, which include topics such as narrative inquiry, visual research methods, and ethnography.
Following the same pattern as the PgCert Academic Practice, you will also complete a second elective unit from the following list:
The MA Academic Practice culminates in the completion of an independent study in the form of a dissertation (60 credits).
How much work is involved?

Each 20 credits equals 200 notional learning hours. This includes between 15 and 30 hours of taught time per 20 credit unit alongside independent, collaborative or work-based study.
You can look at all the scheduled teaching time for units for this academic year by downloading the MA Academic Practice Timetable 2019-20 (PDF 113KB).
Entry requirements
To apply for a place on the MA Academic Practice you must meet the following entry requirements:
PgCert Academic Practice Art, Design and Communication, or comparable academic credit accrued within the last 5 years (AAC) or prior experiential learning (APEL).
IELTS 7.0 with a minimum of 6.5 on each element or equivalent (if you have not completed your secondary or higher education in English).
Find out more about AAC or APEL
Speak to your College or department coordinators
If you are applying from UAL, get in touch with your College or department coordinator to discuss the course in more detail.
If you are an external applicant, contact the Teaching and Learning team at academicpractice@arts.ac.uk.