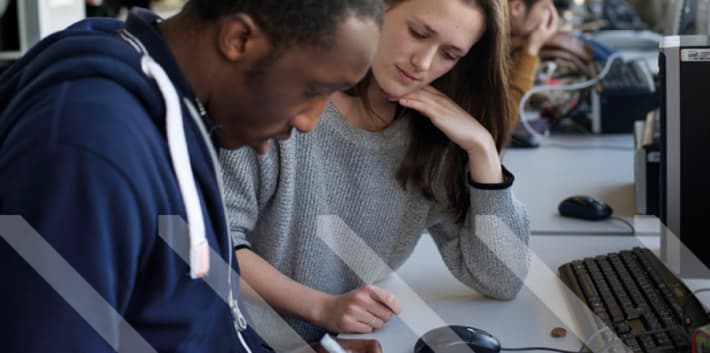 Are you ready to apply for your PgCert or MA Academic Practice? Use this guidance to check, including answers to some common questions about applications to our courses. Both internal and external applicants should then download a form for signature before you apply online.
Before you apply
Before you apply check that you:
If you have completed the PgCert and would like to enrol on the MA Academic Practice you will need to submit a new application. Your credits from the PgCert will be transferred to the MA.
Make an application
All applications are now closed, except for Supervising Research Degrees. For this unit only please contact academicpractice@arts.ac.uk.
Come back in May 2021 when applications will reopen.
Internal applicants
There are 2 steps to the application process:
Step 1. Complete the authorisation form
If you are employed by UAL your line manager and staff development contact need to agree you can apply to study. You can then download the internal authorisation form and apply online.
Step 2. Complete an online application
You will need to create an account using an external (non-UAL) email address and upload the following documentation:
A copy of your passport
A copy of your highest level qualification
A copy of your completed authorisation form in the reference section.
External applicants
There are 2 steps to the application process:
Step 1. Complete the reference form
If you are external to UAL (or self-funding your studies) please complete a reference form and ask your line manager to sign it.
Step 2. Complete an online application
You'll need to upload:
A copy of your passport
A copy of your highest level qualification
A copy of your English Language qualifications (if applicable)
A copy of your completed Reference form in the reference section.
English language requirements
If your secondary or higher level of education was not conducted in the medium of English, you will need to attach evidence of your English language ability to your application. The minimum requirement is an IELTS score of 7.0, with a minimum of 6.5 in each element, or an equivalent qualification such as TOEFL, or the Cambridge Advanced exam.
English language courses are available at the Language Centre. For English language test exemptions, please visit the English language requirements page.
What happens next?
You will receive an automated email once your application has been submitted. Once a decision has been made on your application you will be notified by email.
Questions?
Can I receive credit for any previous experience or qualifications?
It may be possible to receive credits for previous courses (admissions with academic credit, or AAC) or for experiential learning (Accreditation of Prior Experiential Learning, or APEL). You need to identify the units you are claiming credit for and complete an AAC or APEL application form. You'll need to demonstrate that you've achieved equivalent learning outcomes in your previous course of study, or through experiential learning.
For full criteria and the number of credits that you can make a claim for, download the Guide to AAC and APEL (Word 21KB)
Disability and dyslexia support
UAL is committed to diversity, individuality and equality. We support all students, including those who have dyslexia, long term health conditions, mental health issues, physical or sensory impairments or autism spectrum disorders. If you have, or think that you might have a disability, please contact the University Disability Service as soon as possible to discuss your support needs in confidence.
Contacting the Disability Service in good time means that the right support can be put in place for you should you need it.
Disability Service: +44(0)20 7514 6156/6157 or disability@arts.ac.uk
Questions about your application?
Application deadlines
Places are limited, so it is best that you apply as soon as possible.
If you have missed the deadline, please email the admin team academicpractice@arts.ac.uk to see if we are accepting any late applications.
Enrolling on the MA Academic Practice after completing the PgCert
You will need to submit a new application to continue on to the MA. Your credits from the PgCert will be transferred to the MA. Visit the MA section for application forms.
Choices of study day and elective units
If your first choice of study day (cohort) and elective unit are full when we receive your application, you will automatically be enrolled on your 2nd or 3rd choice. The Wednesday cohort and some elective units are more popular.
How long do I have to complete the course?
The maximum registration period for the PgCert is 3 years, with a further 3 years for the MA. However, we recommend that you aim to complete each course within 1-2 years to allow enough time to resubmit coursework if necessary.
Questions about attendance and timetabling?
Timetables
The course timetables for the PgCert and the MA Academic Practice can be found on the Academic Practice website. Please ignore the CELCAT timetable and enter the dates into your Outlook calendar manually.
Technical Inductions
The PgCert technical inductions are compulsory. It is important that you know how to set up blogs, for example, before the first classes. In November you will be asked to select one of the technical induction dates.
Attendance
All of the face-to-face sessions are compulsory unless stated on the timetable. If you know you cannot attend some of the dates (particularly the first session of a unit) you should consider delaying your application.
Am I entitled to remission (time off for study) on the PgCert?
UAL staff can find the University policy on remission (time off for study) outlined on Canvas. For more information and to apply for remission please speak to your College Staff Development contact.
Questions about certificates?
Higher Education Academy (HEA) certificates (PgCert participants only)
After the exam board have approved your grades and you have successfully met the criteria for Associate Fellowship/ Fellowship, we will pass your details to AdvanceHE. AdvanceHE will contact you by email with information on how to claim your certificate.
UAL award certificates
After the exam board has approved your grades and if you are eligible for an award you will be contacted by the UAL Awards team. You can opt to have the certificate posted to you or to collect it at the Awards Ceremony taking place in July. Email awards@arts.ac.uk for more information.