Have you been isolating from art recently?
Are you creating work but don't know how to present and document?
Are you getting bored with the standard online exhibitions?
Do you want to share your work and ideas on live stream video?
It's time to exhibit your work and yourself!
---
Join in our LIVE STREAM ONLINE SHOW! We are inviting artists and designers from UAL who want to talk about their working conditions, share their project ideas, work in progress, studios and final works over a live stream video on July 10, 2020 Friday) at 11:00 AM (UK time). Each broadcaster will have a five-minute time slot to broadcast over zoom. All candidates will meet over zoom before the show and an instruction package will follow in June.
Our purpose is to create a pop-up event as a response to the current global isolating condition and the boom of live stream video as a way of communication. All artists will come together as broadcasters. We will combat isolation over this live stream online show as a way to exhibit and document your life and work.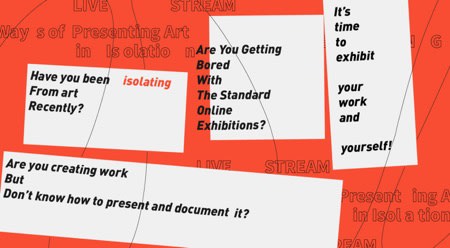 LIVE STREAM:Ways of Presenting Art in Isolation is the second event of the CLAYPLUS project. In March 2020, we held a site-specific workshop at the Story Garden. In this workshop, we invited a group of UAL post-graduate students to explore and experiment with the potentials of clay, using clay as a medium to convey ideas. You can learn more about the project in the catalogue.
Clay is a key ingredient in the material world we are living in. It is a natural product from the earth and the most common and fundamental matter of human creativity. Clay tablets were used as a writing medium throughout the Bronze Age and well into the Iron Age. Text embedded into clay tablets took the forms of myths, fables, epic poetry, laws, proverbs, and animals, allowing individuals to record who and what was significant at the time. Once written upon, many tablets were dried in the sun or air, remaining unfired. They could be soaked in water and recycled into new clean tablets. Other tablets, once written, were fired in hot kiln making them eternal.
The upcoming CLAYPLUS online live stream is generated from the idea of the clay tablet as a way of documentation. In considering the boom of social media and the efficiency of the internet dissemination, messages have been transformed into and documented as the visual images and moving images over the internet. The rapid development of video applications are changing our ways of communication and documentation. During this special period of COVID-19, we will invite artists and designers to live stream their works, studios or work-in-progress, as a way of documentation and sharing ideas, and at the same time, 'exhibiting' artworks and themselves over zoom.
Application Deadline: 30 June, 2020
If you are interested in participating in the LIVE STREAM: Ways of Presenting Art in Isolation event, please contact Post Grad Community: pgcommmunity@arts.ac.uk.
For more information, contact Manqiao Fang.
Please include the following information:
Your Name
Your Program
A few sample images or a few sentences about what do you wants to share during the five-minute time slots
Hosted by CLAYPLUS team: Manqiao Fang, Yang Li, Qinming Feng, Chuan Qin, Ke Wang, Catarina Neves, Sally Yang, Rikki Henry, Eliza Colin, Yu Leng, Simin Zeng, Dorisluming
Supported by UAL Post-Grad Community
---
This project was funded by the Post-Grad Community Project Fund makes funds available to UAL postgraduate students to organise events, projects and cultural interventions that bring together postgraduate students from different disciplines, courses and colleges.