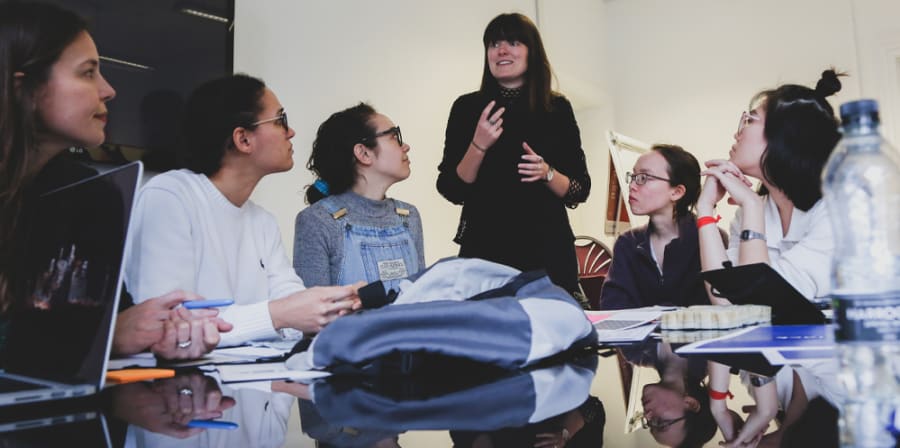 UAL Post-Grad Communityprovides both MA and PhD students with opportunities to enhance and compliment their student experience with co-curricular activity, networking and individual promotion/support.
The PhD focus this academic year is developed by Laetitia Forst and endorsed by the Post-Grad Community team. Laetitia is a PhD student in writing up phase and has been appointed to a 12-month contract to assist the Post-Grad Community team with enhanced focus to the specific needs of PhD students to encourage cross-college and discipline collaboration and a richer sense of community and individual well-being amongst research students. Get in touch to discuss how your PhD experience can benefit from Post-Grad Community support.
Biography
I am a PhD student at Chelsea College of Arts with the Centre for Circular Design, currently writing up my thesis on the topic of textile design for a circular economy. I also co-run Circular Design Lab(CDL), a Post-Grad Interest Groupwhich brings post-grad students (taught Masters and PhD students) from across UAL together around questions of sustainable and circular design. This platform is supported by Post-Grad Community and hosted by the Centre for Circular Design.
As of October 2019, I have been working with Post-Grad Community on a part time basis to develop the programme's offer for PhD students. This 12-month mission is a pilot year to test formats and content that can best benefit the PhD community at UAL.
My background
I come at this position having myself been supported as a PhD student in developing co-curricular activities which have hugely benefited my own research journey. It was a steep learning curve: developing a web presence, articulating what we wanted to discuss and offer, curating the programme. My aim as a Post-Grad Community team member is to enable other PhD students to develop their own activities with support through these stages. I hope to be able to transfer my experience to facilitate new projects.
Why I think co-curricular activities can benefit student experience
Running a Post-Grad Interest Grouphas been a great way to draw an audience of likeminded people around the themes that I have been researching. This meant having conversations that allowed to take some of the themes further, or even gathering an audience for workshops that fed directly into my research. This gave me experience in facilitation, speaking and teaching which directly feeds into my work.
In addition to the Circular Design Labinterest group, I also co-organise a yearly symposium. This follows the same themes as the interest group but is open to the public as well as to all of UAL staff and students. I also successfully applied to the Post-Grad Community Project Fundto assist with the costs of the event. This has been an incredible experience which has broadened my network. The symposium has been a great opportunity to invite speakers that I have then worked with on my PhD.
Beyond the professional experience and the platform that this work has provided to support and disseminate my research, it has also been a great personal experience. It has allowed me to meet other students and researchers in my field, it's given me the opportunity to work collaboratively which has offered a welcome change from the normally quite solitary PhD journey. Even though it was extra work to add on to the PhD studies at times, it has benefited my research so much that I think it might have made me save some time in the end!
How can other PhD students benefit from Post-Grad Community support?
The PhD community is very diverse, with students studying full or part-time, within or without research centres, based in London or studying remotely, and all at a different stage of their careers… The Post-Grad Communityprogramme aims to offer support which is adapted to each student so that all get the benefit of being part of a vibrant university such as UAL.
The programme I have developed as part of this pilot year comprise a mix of activities for different levels of student engagement from workshops which I organise to provide opportunities for students to meet around similar research interests, networking events, or support in organising your own content, whether this is through digital or physical presence in the university. These are pilot events – testing grounds to see what works. If you have an idea for event get in touch!
The Post-Grad Community strategy
This pilot year in enhancing the Post-Grad Community offer towards PhD student is based on a 4-point approach which will be appraised and revised at the end of the 12-month period to become a durable programme.
Aims of the programme:
Help PhD students to feel supported through making their activity and research more visible and accessible at UAL;
To be able to celebrate our PhD student projects and share them across UAL's platforms and give them support for promotion and building new audiences to their work;
Connecting PhD students with common research interests to enhance their personal networks and foster collaboration opportunities;
Make practice central to the research conversation;
Highlight Research Centres and UAL Institutes as places for PhD involvement; and
Build a better understanding of the PhD community's needs as a whole and just as importantly for individuals.
These aims will be achieved using the existing structures for activities developed in the 6-year experience of Post-Grad Community and adapting these to the requirements of the PhD cohort. In conversations with individual students, with academic staff, organising test events and workshops, the aim is to offer support which can enhance the PhD experience for students across the university.