Closed: Hauser & Wirth Somerset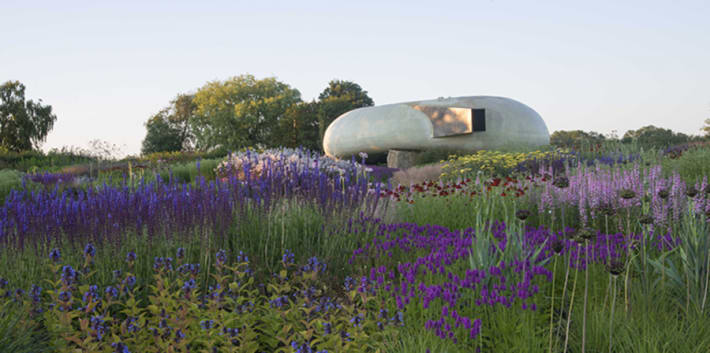 Applications now closed
Annabel Duggleby was selected for AER 2017 Hauser & Wirth Somerset Residency.
About AER
The Art for the Environment International Artist Residency Programme (AER) was launched in 2015 by UAL Research Centre for Sustainable Fashion and UAL Chair of Art and the Environment Professor Lucy Orta. AER provides UAL graduates with the exceptional opportunity to apply for a 2 to 4-week residency at one of our internationally renowned host institutions, to explore concerns that define the 21st century - biodiversity, environmental sustainability, social economy, and human rights.
AER 2017 Residency at Hauser & Wirth Somerset
Hauser & Wirth Somerset is a pioneering world-class gallery and multi-purpose arts centre, which acts as a destination for experiencing art, architecture and the remarkable Somerset landscape through new and innovative exhibitions of contemporary art. A landscaped garden, designed for the gallery by internationally renowned landscape architect Piet Oudolf, includes a 1.5 acre perennial meadow, which sits behind the gallery buildings.
Centred around a core belief in conservation, education and sustainability, this residency proposal should respond to the surroundings at Hauser & Wirth, in particular its landscape and community.
2017 AER Resident at Hauser & Wirth Somerset - Annabel Duggleby
Annabel Duggleby is a recent Fine Art: Print and Time-Based Media graduate from Wimbledon College of Arts and has been selected for this year's Art for the Environment International Artist Residency Programme (AER) Hauser & Wirth Somerset Residency.
Annabel's practice revolves around issues related to landscape and power, and deals with themes of mobility, land use, globalisation and post-colonialism.
Read more about her successful residency proposal
Working with the perennial meadow at the Somerset gallery, planted by renowned garden designer Piet Oudolf, Annabel utilised the residency opportunity to work through ways in which to combine moving image and three-dimensional objects inspired by Piet Oudolf. She created compositions with acrylic panels, wood and real plants that mirrored the structure and colour palette of the perennial meadow using the on site library's archive of agricultural film footage.
Half way through Annabel's residency the Postgradaute Community Team arranged a coach trip for postgraduate students from different UAL courses and colleges to visit the space and see how she was getting on.