Story
Art for the Environment: Conversations
Written by

Post-Grad Community

Published date

11 January 2021
Share story

Launched in 2015 by Professor Lucy Orta, the Art for the Environment International Artist Residency Programme AER has been providing UAL graduates with the exceptional opportunity to take part in fully funded residencies in partnership with our internationally renowned host institutions, to live a unique experience while exploring concerns that define the 21st century: biodiversity, environmental sustainability, social economy, and human rights.
---
While the residencies are currently on pause due to the Covid-19 restrictions, Art for the Environment – Conversations aims to offer a platform in which ideas and experiences are exchanged. Within the current climate emergency, AER partners, residents and UAL alumni come together to reflect on the impact and legacy of their practices and to reflect on their creative role in envisioning a world of tomorrow.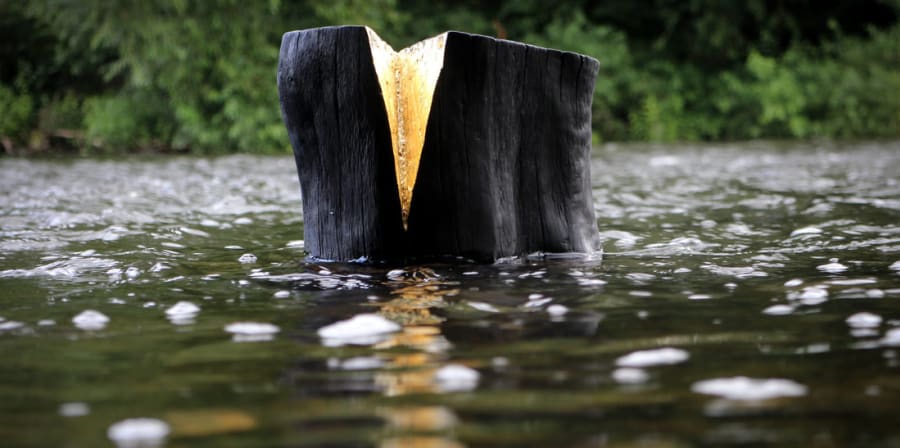 Art for the Environment – Conversations Programme:
20 January 2021 (5pm) Event has passed.
Brandy Dahrouge, Director at Visual Arts at Banff Centre for Arts and Creativity with Rachel Bacon, artist, UAL alumna and former AER resident at Banff and Lucy Orta, UAL professor of Art and the Environment and founder of AER.
27 January 2021 (lunch time 1pm) Event has passed
Simon Beckmann, co-founder and curator of Joya: arte + ecología in conversation with Matt Parker, sound artist and researcher and Stephen Bennett, artist, UAL alumni and former AER residents at Joya, Spain.
3 February 2021 (lunch time 1pm) Event has passed.
Mathias Schwartz-Clauss, Director at Domaine de Boisbuchet, Design Architecture Nature, Lisa Pettibone, artist, UAL alumna and former AER resident at Domaine de Boisbuchet and Laetitia Forst, textile designer, UAL PhD student and selected resident for AER 2021 at Domaine de Boisbuchet, France.
10 February 2021 (lunch time 1pm) Event has passed.
Matthias Persson, Artist Residencies Director and French Office Director at The Josef and Anni Albers Foundation with Annie-Marie Akussah, artist, UAL alumna and former AER resident at Thread and Joao Maraschin, fashion designer, UAL alumnus and selected resident for AER 2021 at Thread, Senegal.
17 February 2021 (lunch time 1pm) Event has passed.
Guy Robertson, Curator & Co-Director, Mahler & LeWitt Studios with Ranura Edirisinghe, textile designer and Cecilia Ceccherini, artist, both UAL alumni and former residents at Mahler & LeWitt Studios, Italy.
24 February 2021 (lunch time 1pm) Event link (session will go live at time of the event)
Lilian Fraiji, founder of Labverde in conversation with Naomi Bailey-Cooper, fashion textile designer and Yifeat Ziv, sound artist, UAL alumni and former AER residents at Labverde, Brazil.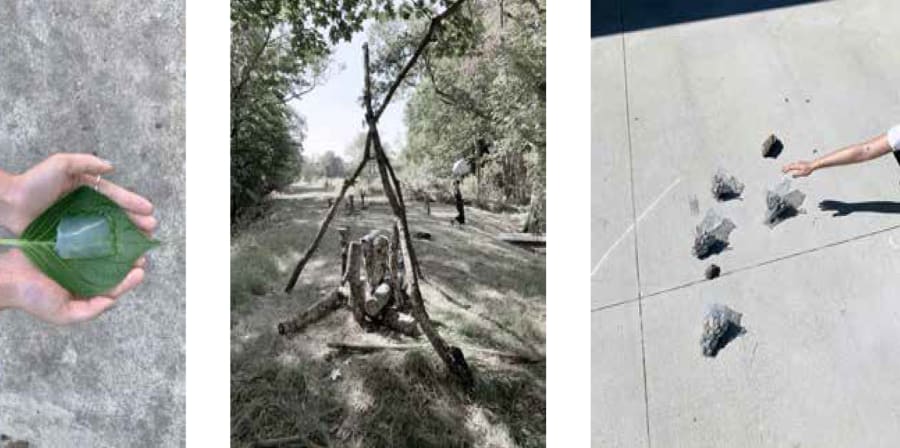 Speakers Biographies
Brandy Dahrouge is the Director, Visual Arts at Banff Centre for Arts and Creativity where she is responsible for leading the vision and implementation of all visual arts programs. At Banff Centre she has led the design of several visual, digital, and media arts programs that respond to both current and future trends in art practice and curatorial education. Prior to Banff Centre, Dahrouge worked with several organizations including University of Calgary, Mount Royal University, and the University of New South Wales.
Rachel Bacon is an artist exploring a shared methodology between drawing and mining. She has exhibited her work internationally and realized several public art commissions in the Netherlands and in New York City. Recent exhibitions and projects include: How the Land Lies at Sirius Arts Centre, Cobh, Ireland (2020); Drawing Research Forum – Autumn 2019 Session, Drawing Room, London, UK (2019); Unfolding Landscape, De Cacaofabriek, Helmond (2018); Independent Residency Banff Centre for the Arts, Canada (2017). Rachel received her BFA from Pratt Institute in Brooklyn, and MA Drawing from the University of the Arts London.
Lucy Orta is a visual arts practitioner addressing key social and ecological challenges through making and collaborative working, employing a wide range of media to visualise relationships between the body and our natural and urban habitats. Lucy has been a Professor at London College of Fashion since 2002. She is a member of the Centre for Sustainable Fashion and as Chair of Art and the Environment. Professor Orta founded the Art for the Environment International Artist in Residency Programme at the University of the Arts London.
Simon Beckmann is co-founder and curator of Joya: arte + ecología / AiR, a residency for international artists and writers in the heart of the Parque Natural Sierra María-Los Vélez in the north of the province of Almería, Andalucía, Spain. He is a researcher, activist, artist and designer. He studied Fine Art at Manchester Polytechnic, and received his MFA at The Royal Academy Schools in London.
Matt Parker is a Sonospheric Investigator; an artist researching the resonances between things. His research engages with sound studies, media ecology, field recording and geohumanities through a critical and spectral art practice. His PhD from the London College of Communication, UAL investigated the relationship between Internet infrastructures and the Anthropocene. He is currently a Research Fellow at Oxford Brookes University.
Stephen Bennett is an artist and policymaker whose work explores the interaction between art, science, and politics. His work explores whether art can bridge the gap between science and public decision-making. Data visualisation and maps are points of departure, taking information from electronic and relatively inaccessible data repositories and presenting it in analogue, tangible and interactive formats. He works in a participatory and interactive way increasing agency and engagement in evidence. Stephen holds an MA Art and Science from Central Saint Martins, UAL.
Mathias Schwartz-Clauss is an art historian and curator. He studied art history and philosophy at Universität Trier and Ruhr-Universität Bochum, Germany. From 1992 until 2013 he was curator at the Vitra Design Museum in Weil am Rhein, Germany, and in charge of numerous internationally travelling exhibitions and catalogues such as The World of Charles and Ray Eames, the first Ron Arad retrospective, Frank Lloyd Wright – The Living City, Living in Motion. Since 2013 he is responsible for workshops, exhibitions and the architectural park at Domaine de Boisbuchet in France. His special interests are aimed at the human condition and the intersection of design and art.
Lisa Pettibone's art practice questions how the world is put together in terms of energy, forces and form as filtered through human perception. Exploring through materials, she creates installation and sculpture (glass, fabric, paper, plastic) and uses photography and printmaking to investigate areas where man and nature intersect. Projects often incorporate research into scientific concepts, collaboration, or site-specific work. She was artist in residence at Mullard Space Science Lab (UCL) in 2019 and has an MA in Art and Science from Central Saint Martins, UAL.
Laetitia Forst is a multi-technique textile designer whose practice explores the tension between technical challenges and creativity in sustainable design for textiles. Laetitia trained as a textile designer at ENSAD Paris before working as a freelance textile designer for fashion, interiors and consulting in eco-design. She carried out her PhD research about textile design for disassembly in the context of design for recycling at the Centre for Circular Design at Chelsea College of Arts.
Matthias Persson is Artist Residencies Director and French Office Director at The Josef and Anni Albers Foundation. As an artist in his own right, he has won several awards and residencies, he is also a curator and highly experienced arts project manager.
Annie-Marie Akussah is a contemporary multidisciplinary artist who works with painting, sculpture and film. Born in Ghana and based in London, Annie-Marie explores through her work issues on identity, belonging and the authenticity of identification documents regarding African immigration. Her work was included in the Bloomberg New Contemporaries 2018. Annie-Marie has a BA Fine Art, Wimbledon College of Arts, UAL.
Joao Maraschin is a London-based Brazilian designer who launched his eponymous brand, following graduation from his master's degree at London College of Fashion. His debut collection was called "Foreigner Traveller" and enhanced the power of fashion by tackling concerns around sustainability in several agendas. Through many collaborations, the brand aims to preserve traditional handmade techniques as much as stands for equality of rights and fair share. The collections are based in creating narratives informed by art, critical theory, craftsmanship and innovation processes.
Guy Robertson is a curator and writer based between London and Spoleto, Italy, where he is co-director of the Mahler & LeWitt Studios, a programme of artist residencies and special projects. With the Mahler & LeWitt Studios his aim is to provide a platform for artists of all disciplines, as well as writers and curators, to develop new work. Guy's recent curatorial projects include: General philosophy... Luka Savic, SKUC, Ljubljana (2020); Ex-voto: Julie Born Schwartz, Mackintosh Lane, London; Allison Katz: Traforati, Torre Bonomo, Spoleto; Hodgkin and Creed: Inside Out, Kistefos, Norway; and Sol LeWitt and David Tremlett: Keeping Time with Gavin Bryars, James Cave, Adam Gibbons, Babatunde Doherty, Lina Hermsdorf, Hiba Ismail, Lydia Ourahmane and Keef Winter, Cappella del Barolo, Piedmont (all 2019). He is co-editor of the forthcoming Howard Hodgkin catalogues raisonnés and has worked with the artist's studio and estate since 2012.
Ranura Edirisinghe is a textile and knitwear designer. Born in Sri Lanka and brought up in the U.K, his work looks towards heritage craft and process, often working with artisans in Sri Lanka. He completed a BA Fashion Knitwear at Central Saint Martins, UAL supported by The Samsung Fashion Design Fund Award and is currently completing MA Fashion at Central St Martins as the LVMH Grand Prix Scholar.
Cecilia Ceccherini's practice intersects design with conceptual art. She is interested in revealing the relations that humans entertain with the other living beings through art practice and design. After studying Decoration at the Albertina Academy of Fine Arts in Torino Italy, in 2019 she completed an MA in Textile Design at the Chelsea College of Arts, London UK, where she specialised in weaving. Here she started working with textiles and tapestries that, as everyday objects, also have sculptural and pictorial qualities, effectively combine her aesthetic and scientific approaches.
Lilian Fraiji is an independent curator and producer based in Manaus, Amazon, Brazil. She is the Co-Founder of Manifesta, an organization devoted to developing multidisciplinary contents involving Arts, Architecture, and Politics and the founder of the LABVERDE, a not-for-profit organisation based in Brazil with a mission to explore the connection between science, art and the natural environment. Fraiji received her degree in Communication from the Superior School of Marketing, a post-graduate degree in Cultural Policies from Barcelona University, and she holds an MA in Curating Arts from University Ramon Llull, Barcelona.
Naomi Bailey-Cooper is a fashion textiles designer, artist and researcher exploring values that could shape ethical and long-lasting fashion. Her work places an emphasis on the sensory tactility and aesthetic appeal of unconventional natural materials. Naomi received a funding award from the Victoria & Albert Museum and London College of Fashion for her PhD by practice where she pioneered embellishment alternatives to fur and exotic animal materials (2019). Naomi is a Fellow of the Royal Society of the Arts, a Climate Reality Leader, and is listed in the Crafts Council Directory.
Yifeat Ziv is a vocalist, a composer, a free improviser and a sound artist. She combines voice, electronics, field recordings and text to create interdisciplinary sound works that derive from her research of the human voice, technology, acoustic ecology and listening practices.
Her album "Amazonian Traces of Self" that explores the intersection of voice and environmental sounds from the Brazilian Amazon rainforest will be released in November 2020 on Flaming Pines record label. Ziv holds an MA in Sound Arts from London College of Communication, UAL.
Partner Institutions
Banff Centre for Arts and Creativity is a learning organisation built upon an extraordinary legacy of excellence in artistic and creative development. What started as a single course in drama has grown to become the global organisation leading in arts, culture, and creativity across dozens of disciplines. From their home in the stunning Canadian Rocky Mountains, Banff Centre for Arts and Creativity aims to inspire everyone who attends our campus – artists, leaders, and thinkers – to unleash their creative potential.
Joya: arte + ecología is an art led field-research centre and not for profit arts organisation based at the farmstead of Cortijada Los Gázquez. The residency offers an 'off-grid' experience in the heart of the Parque Natural Sierra María-Los Vélez in the north of the Provincia de Almería, Andalucía. The family-home environment of Joya aims to facilitate, through production and collaboration, artists whose work manifests a discourse with the environment and sustainability.
Domaine de Boisbuchet. Design Architecture Nature integrates innovative architecture and design into the splendid setting of a 19th century French country estate, offering a unique creative and collaborative environment for people of all cultures to share. Boisbuchet's intensive workshop programmes invest deeply in cultures that respect the past and build for the future, at the same time stimulating research that promotes a more sustainable relationship between the natural and the man-made.
Thread is a residency program and cultural centre that allows local and international artists to live and work in Sinthian, a rural village in Tambacounda, the south-eastern region of Senegal. It houses two artists' dwellings, as well as ample indoor and outdoor studio space. A project by the Josef and Anni Albers Foundation and le korsa, Thread posits that art, culture, and architecture should be supported in tandem with agriculture, education, and health, co-supporting one another. As such, they mobilize the same tenets of inclusion and intersection that made the Bauhaus such a creative success.
The Mahler & LeWitt Studios, sited in the old town of Spoleto, makes use of the former studios of stone sculptor Anna Mahler and conceptual artist Sol LeWitt, as well as a medieval tower known as the Torre Bonomo. Spoleto is an ancient hill- top town strategically situated on the foothills of the Appenines, at the head of a broad valley in Umbria, central Italy. Mahler & LeWitt Studios residencies value personal space for creative reflection whilst also encouraging in-depth and dynamic working relationships to evolve between peers and an engagement with the region.
LABVERDE: Art Immersion Program in the Amazon was created to strengthen the limits of art through a broad array of experiences, knowledge sets and cultural perspectives involving art, science and nature. The program's main goal is to promote artistic creation through a constructive debate about environmental issues supported by theory, data and life experiences in the Amazon rainforest. The LABVERDE Program is a Ten-day immersion in the Amazon Forest to be inspired by nature and to produce cultural artwork, mediated by a team of specialist.