The Art for the Environment International Artist Residency Programme (AER) provides UAL graduates with the exceptional opportunity to explore concerns of the 21st century. One UAL student was selected to visit one of our partnering institutions; Waltham Forest.
Making for Change: Waltham Forest comprises a programme of community engagement, educational and design research activities grounded on the themes of makers, fellowships, and radicals, using fashion as catalyst for change in the borough, with long-term legacy.
In this report, Harriette Meynell at Central Saint Martins shares an artist statement post residency: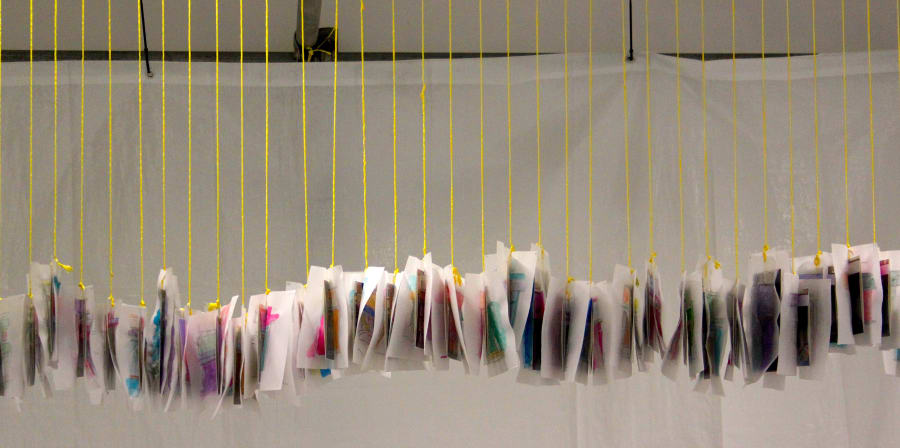 Artist's Statement
To conclude a six-week Arts in the Environment residency at Arbeit Studios I (re)constructed Leyton High Road - from the bus garage to the E10/E17 boundary with the Lea Bridge Road - within a site-specific sound installation that gathered together the voices of local shopkeepers.
Colour is associated with redevelopment and gentrification. Paint has names such as Glass Houses and Royal Mews Gold. A general painting-over occurs, with a pastel aesthetic. The installation invited the viewer to listen, look and touch what is lost, perhaps, when this process happens. The voices talk of community, the sad and funny times, and time spent in the immediate area where twenty pence fuses, henna trays and toy lions are on sale.
Scaffold is at the front line of the alterations. When the tarpaulins come down a new and different façade comes into being. The installation used scaffolding as the frame for the installation and brought the prospect of redevelopment into the Arbeit Studios themselves. A physical embodiment of the changes happening to so many London high streets.
I would like to thank all the shopkeepers that contributed to the project and their generosity of time and openness to my questions. I have laughed with, and cried at, some of the stories they shared. So thank-you Mohammad, Salma, May, Shabbir, Mohamed, Muhmmad, Vince, Gideon, Jordan, Danny and Serdar (for putting me in touch). Thanks also to Waltham Forest Council and London College of Fashion for awarding me the residency and the opportunity to make work about the area.
---
More about Art for Environment Residency Programme
In 2015, internationally acclaimed artist Professor Lucy Orta, UAL Chair of Art for the Environment - Centre for Sustainable Fashion, launched the Art for the Environment Residency Programme (AER), in partnership with international cultural institutions.
Open to UAL students and recent graduates (within 12 months), applicants can choose from a 2 to 4 week period at one of the hosting institutions, to explore concerns that define the twenty-first century - biodiversity, environmental sustainability, social economy, human rights - and through their artistic practice, envision a world of tomorrow.
Through personal research and studio production time the residency programme provides a platform for creative individuals working across various disciplines, to imagine and create work that can make an impact on how we interact with the environment and each other.