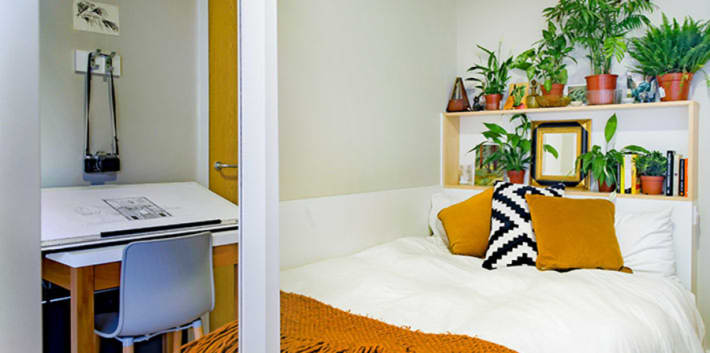 As a Study Abroad student, you will be guaranteed a place in one of the Halls of Residence below, if you apply by the Study Abroad application deadline.
UAL's self-catered halls of residence can be found across London. The majority of rooms have a shower and toilet attached to the room and others have access to a shared shower and a toilet; you will also have access to a shared kitchen.
Are you a Summer Study Abroad student?
If you are looking for more information on summer accommodation please visit the summer accommodation page.
Students applying to a London College of Fashion Summer School programme are advised to email the Study Abroad team for help with applying for UAL halls of residence.
The Glassyard Building
Nearest tube: Stockwell
Prices are charged for set contract start and end dates, depending on the programme dates as below.
View accommodation fees (PDF 45KB)
Further information
Student security and well-being is a top priority in UAL accommodation. All of the University's residences include the following security features:
CCTV inside and outside the building
Secure entry using a fob or card
Staff available and contactable 24 hours a day
If you are offered a place in halls, you will need to sign a tenancy agreement. This is a binding legal contract that covers the length of your stay. Where possible, Study Abroad students can sign a shorter tenancy agreement. These short-term tenancies are more expensive than the standard full-length tenancies.
Find out more about accommodation, including private renting.
See the courses available on each programme
Integrated Study Abroad

Study alongside local degree-seeking students for 1, 2, or 3 terms and fully integrate into UK student life.

Semester Study Abroad

14-week semester programmes designed and tailored to incoming study abroad students that offers electives to suit individualised learning needs.

Summer Study Abroad

Study for up to 8 weeks on one of our summer programmes with the option to take English language tuition before your course.