Written by MA students Kim Judge and Pawel Tomaszewski from London College of Communication.
An experimental concept of a space where people can exchange ideas and experience in various forms.
The idea came about as an outcome of performative research done for "Everything Happens So Much" show at LCC coinciding with London Design Festival 2018, where one of the issues explored was mapping the flow of people throughout the building and how they interact with it. It pointed towards the conclusion that not many people are engaged inside of the building, given that plenty of rooms are empty and liminal spaces remain unused. This brought up a number of questions such as 'What makes people stay on the premises?' or 'Within that space, are there many spots for students to collaborate in?'.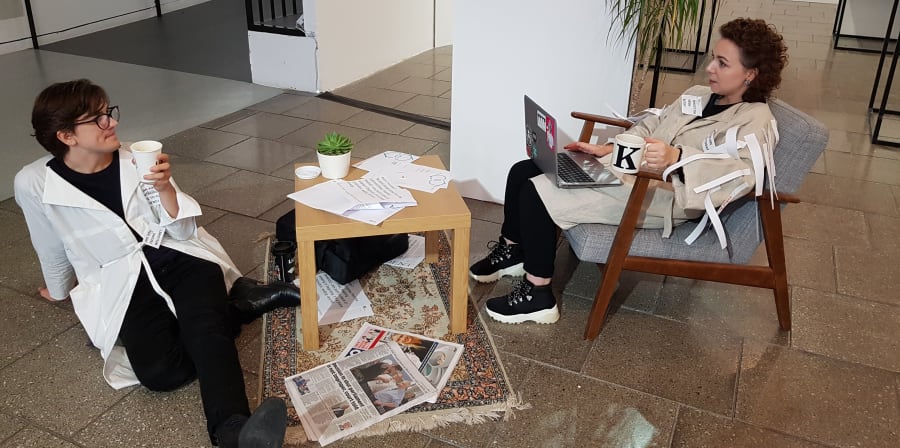 The next step, naturally, was to get students' opinion on the matter. Through engaging with them in a performative manner, what we have managed to establish is that although in many cases courses collaborate extensively with external partners and organisations, when asked about how much they get to collaborate with each other across college, the students generally responded: 'not much'
What does that mean in the bigger picture?
Students don't get to mingle with other courses and pathways. Not knowing many people outside of their own course, together with the fact that the building is naturally laid out in a way that divides departments into almost standalone sections, all contribute to preventing an inside-college community from forming - a community which is needed by many, especially those coming from small towns or even abroad. People, who on top of switching from life at home to student life, have to simultaneously become Londoners too. That can be quite intimidating as it is. Adding the lack of a 'safe' space where students can develop and bounce ideas off of each other, or even to simply hang out makes it worse. Altogether with not having much of a community that supports each other in the realisation that it is a big, confusing world of professional industry, all of that can make the experience a little horrific.
Putting these ideas together was the beginning of the concept.
Fuzzy Spaces - the marketplace of mind, a putting-people-in-touch-with-each-other place, a place you can come to if you need help with your project, university-related or personal, either looking for a person with a specific skill that you'd like to use (or learn yourself) or just to brainstorm, making sure you're on the right track.
In spirit, it is a space that brings different people from across the university (staff and students) together, attempts to find out what are their needs and see how they might help each other through arranging meetings, spaces, social events, skill sharing, networking, collaboration and exchange of knowledge.
This, however, requires lots of participants to get on board.
We had to think of performative actions and social events that would bring the attention of as many people as possible to that matter and let us explain our point. And so, we held the first of these events in one of the busiest places in the college - between the library and the canteen.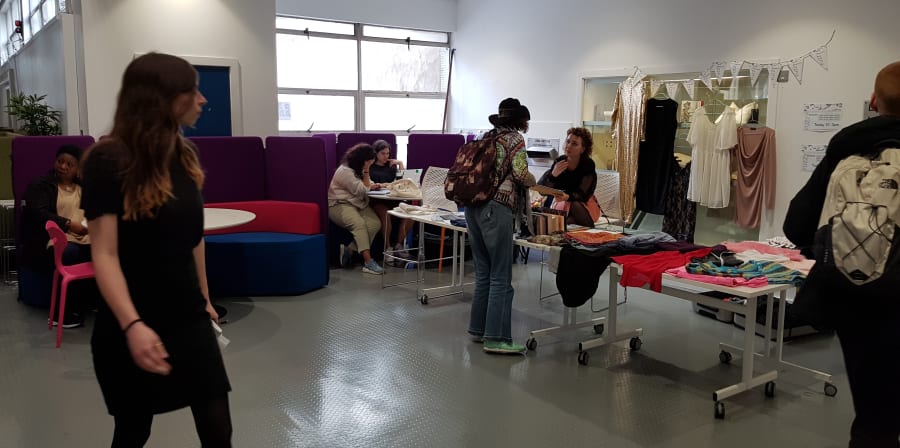 Said event was a twisted take on a swap-shop - instead of making students bring their own objects to swap, we were exchanging clothes, books, etc. for people's time. This could mean doing a talk, a workshop or teaching someone a skill. At first, the audience were quite hesitant, probably because in their minds they just 'got stuff for free'. However, once introduced to the concept, we could see them getting enthusiastic about the perspective of attending useful workshops, suddenly realising how their interests/hobbies can become useful to someone else as well and how easy it would be to interact or find help within such community.
That was exactly the aim - making students think about how their time can be a valuable currency in itself.
In the end, there was a tremendously positive feedback and already some people started getting acquainted standing over the swap table, offering skill sharing or even classes, which itself showed the need and purpose of such intervention. It also proved the very core idea to the project. Even being as experimental as it is, we wanted to build Fuzzy Spaces strongly on interaction - meeting people face to face and creating a kind of bond between us and them. We believe this is something that we, as a people, miss out on and underestimate in our techno-narcissist age.
It cannot be denied, however, that technology can help in many ways.
An example could be being able to meet participants of the experiment better through an online questionnaire that we have created and sent to every person signing up to the project.
Alongside asking what kind of collaboration they would find most useful for them and what they can contribute to the pot themselves, we were (and still are) trying to find out what spaces are in demand and which events would be popular in terms of bringing people together.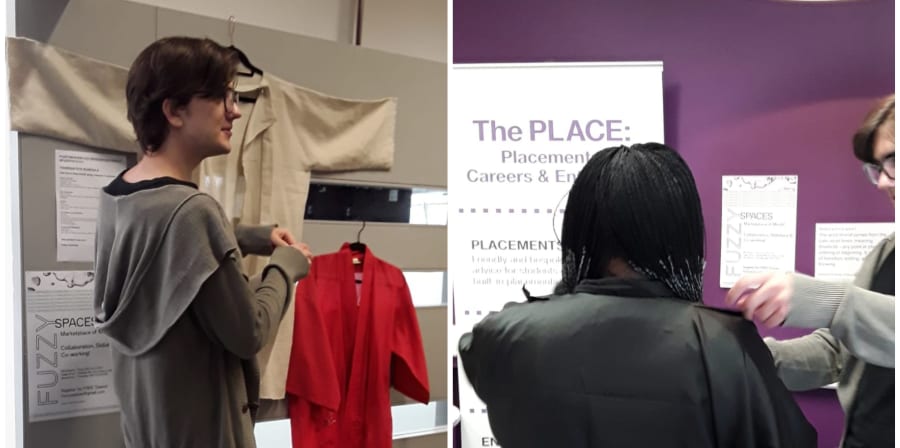 Doing it that way allows us to meet every person as a unique individual and build a base of such individuals to start putting people in touch. It is also a great feedback on students' needs, but also struggles, which we would like to continue researching throughout this project and tailor our plan accordingly as it evolves.
So far, aside from the swap shop, we've managed to do a zero-waste coat making workshop, machine-sewing class and drop-ins.
We're hoping to take our experiment further and organise more events…So keep an eye out!
Also, if you're interested in signing up or hearing more about our project, drop us a line! We'd be delighted to hear your ideas!
Yours Truly,
Fuzzy Aggregates