Written by Claire Michel, Wimbledon Post-Grad Community Ambassador (MFA Fine Art)
---
Having always been surrounded by dolls and plastic objects hanging from my father's studio ceiling, I have always been interested in outsider art. Outsider art, or art brut, is a term invented by Jean Dubuffet, a French artist who saw art in the work produced by patients in psychiatric hospitals in Switzerland in the late 1940s.
Not long ago, a friend told me about the House of Dreams museum, located in East Dulwich, but because it is only open on one or two Saturdays a month, I never got around to going.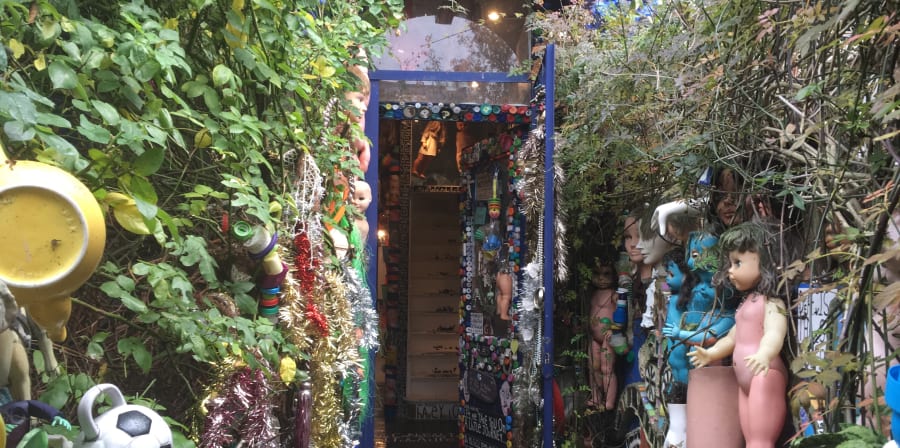 Having recently become a Post-Grad Ambassador for Wimbledon, I thought that it would be great to organise a tour of the museum for a group of post-grad students. I got in touch with the artist, Stephen Wright. he was very receptive and happy to welcome 15 students into his wonderful colourful world. The museum is located within his house and occupies the whole of the ground floor, as well as the front garden.
This space is home to hundreds of dolls - some in better states than others - colourful plastic objects, statues with soft fabrics, family photographs and much more...
Shortly after we arrived on Monday the 25th of November, Stephen split us in two groups. The first group got to stay downstairs with Stephen where he explained more about his approach and his practice as an artist. The second group got to go upstairs, in his living room, to watch a thirteen minute documentary filmed by Vince Rogers in 2013. The film combines archival footage with more recent shots. It gives a great insight as of how the House of Dreams saw the light of day. Stephen and his former partner Donald started decorating the house with mosaics and colourful objects collected from all over the world, but more specifically from India, Mexico and Paris in order to brighten up the moroseness of their lives in London. Unfortunately, Donald passed away three years after they had started the project and shortly after his mother then his father passed away too.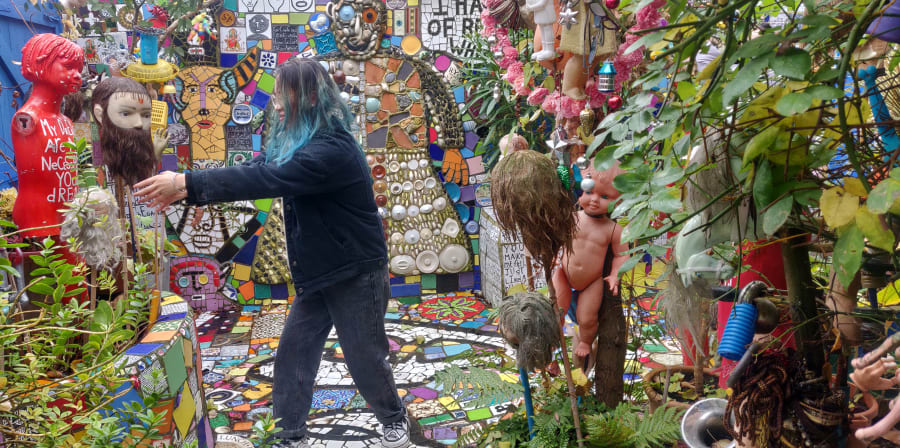 Since then, the House of Dreams has become a place of therapy for the artist. Indeed, carrying on with the project allowed him to overcome his grief. For instance, some statues contain his parents' clothes and even his dad's fake teeth, and they give Stephen great comfort. He told us that his favourite space is under the stairs, where his family photographs are hung. He said it feels like a cave from his childhood.
He describes this museum as « a diary of his life », « a safety room and somewhere to hide » and it is for him an open ending project.
The visitors have definitely a sense of stepping into somebody's deepest secrets as soon as they enter: in the hallway that leads into the main rooms, Stephen wrote in big black and white letters, sentences that were taken straight from his notebook. Some of the writing is really moving and deeply personal, like the paragraph where he describes his sensations minutes after his partner passed away in hospital.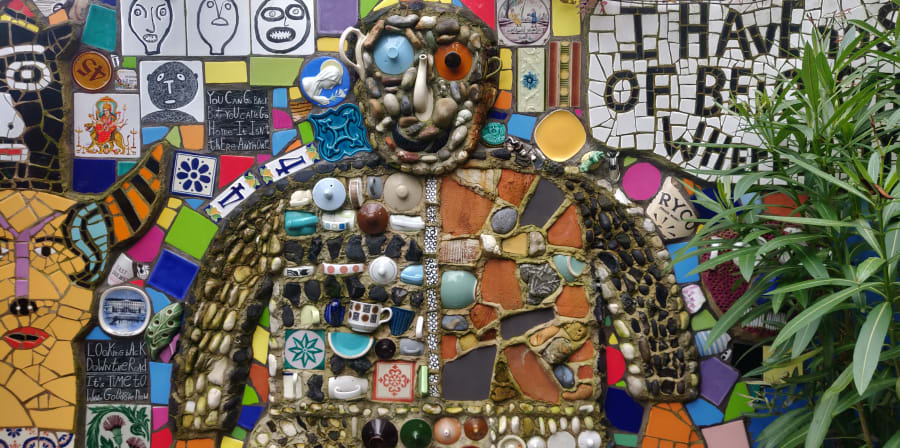 What was especially great about this visit was Stephen's ability to openly speak about his collection of objects, his interests and his ambitions. He has a big heart and is passionate about his museum. Eight years ago, the National Trust agreed to take on board Stephen's museum and since then, the popularity of this place keeps on growing. Last year, Stephen and his partner Michael welcomed over 2000 visitors.
Stephen now receives donations from people such as little plastic toys or the glasses of a deceased person. He even told us that somebody's ashes are hidden somewhere in the house. He wouldn't tell us where though, and I guess it would have taken us days to find them!
After the visit, we all went for a pizza and we got to chat a bit longer about the extraordinary place we had just seen. Some students told me that this experience will stay with them for a long time. Visit Stephen Wrights website here.