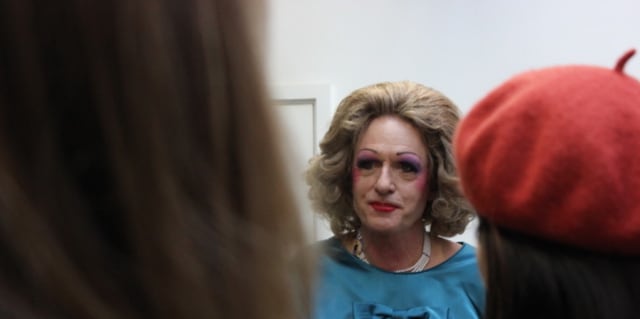 Post-Grad Community Ambassador, Pont C Nelson from MA Interior Spatial Design at Chelsea, shares his experience from a recent pop-up common room visit at Grayson Perry's Studio
The Post-Grad community members had the wonderful opportunity to meet Grayson Perry at his private studio in Islington on the 12th March as part of the Q&A pop-up common room. The session went very smoothly in the cozy and intimate ambience of Grayson's all-white studio, despite the awful rain storm, every had an amazing afternoon together.
His studio is located on a quiet street amongst residential buildings in Islington, hidden behind the green gate is the artist's converted barn-like structure with wooden trusses and huge roof windows for natural sunlight. His colourful textile works on the wall and sofa really adds a sense of Grayson's cheerful character to the minimal interior space.
Students had to prepare questions that they would like to ask him prior to the session for the efficiency of the afternoon. As a design student, it was an absolutely precious experience receive advice on how to become successful practitioners within the contemporary art and design world directly from Grayson Perry himself.
Grayson's Studio, Islington
I had a few favourite questions that I think are worth sharing to all in the creative community or those who are passionate in what they do. The first one was, "Where does your inspiration come from and what is the process of creating pieces of art? What is the most vital part for you?".
He paused for a few seconds and replied, "I never had to come to studio and sit down and think, I am going to have an idea". There isn't a particular moment where he feels like there's the need to 'seek in inspiration', because it should just come naturally as part of you. Sometimes he may be doing something else totally irrelevant but the ideas would just jump out from his mind and that's how it should be.
Another student asked; "How to get in the art world when one doesn't have financial resources or connections, probably just a talent (Is there any regularity (life-time persistence) or is it a pure randomness of a chance)?".
He replied instantly, "Sometimes you also need luck". He believes that to become a successful art practitioner, it's not only about how good you are art at what you do, but also how you present yourself and communicate to the public. He adds, "You need to speak art". During the early stage in his career as an artist, he would always attend lots of art exhibition openings around London. It is crucial to be approachable and you must have a likeable personality. "Talk to other people and start to accumulate contacts and grow your network, you never know when opportunity will rise but make sure to grab it tight when it does."
"If you had to summarise your current practice into 5 keywords what would they be?"
Funny
Detailed
Organised
Surprising
Communicative
It is absolutely vital for somebody like Grayson Perry to stay true to his character, because that's what constitutes towards the core values of his art work. Every little detail matters to him as a creative practitioner which leads to an organised and systematic working order.
He suggests everyone to make lists and follow them step by step to avoid any mistake. This was evident on his office desk in the studio, amongst piles of books and paperwork, where I found a piece of A4 'to do list' paper with red crosses over almost all of the bullet points.
He defined surprises as vitality to both his personal and work life. Without these, life is a bore.
Lastly, communication. As an artist or designer, you need to be able to communicate your work to a wide array of audiences, therefore having good communication skills is paramount, above and beyond the creative industry.
After the Q&A session ended, we had the exclusive opportunity to have a look around Grayson Perry's studio, where the Post-grad community members witnessed some unseen works that the artist is currently working. As well as some of Grayson's famous outfits when dressed as Claire, that he often wears for many important occasions, among props that will be featured in the set of his new TV show due to come out later this year.
We left some time at the end for students to chat with Grayson and get to know other post-grad community members while enjoying snacks and juices before ending the session with a group photo.
Madeline Duflot a student from Chelsea MAISD told the team that, "I really fell in love with Grayson and his personality and wit. I mean everything about him is so great... a true role model"