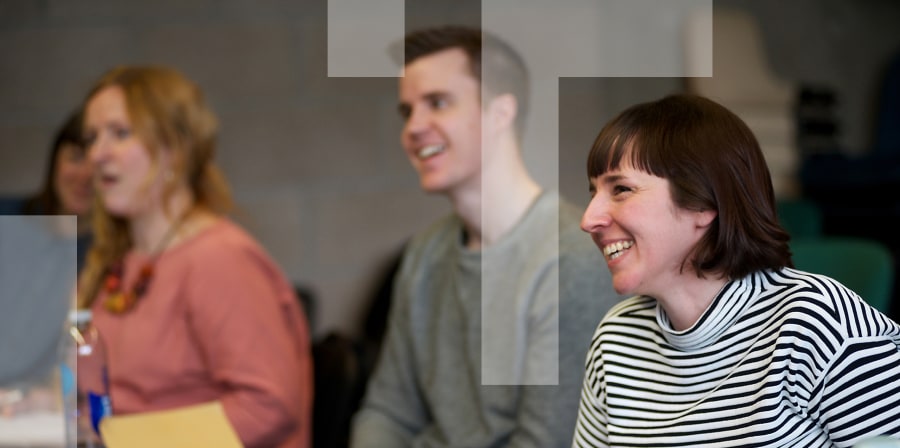 This series of events explores key issues in art and design teaching and learning in higher education. Each event includes leading speakers sharing current thinking in creative education.
The events will take place once a term and are for anyone in the sector with an interest in learning and teaching in art, design and communication. They are designed to be interactive, with opportunities to engage in activities to support networking and engagement.
Event schedule 2018/19
UAL Teaching Platform: Networked Studio Practice – Enhancing Student Engagement
10 July 2018, UAL Institute of Creative Computing, Peckham Road, Camberwell
Find out more and book your place
The 'studio' in contemporary art and design practice and education is place, pedagogy and disposition. It is a location for networked practices, supporting connections between students, tutors, processes and ideas.
The contemporary studio intersects with wider networks, coalescing with the digital environment via connected devices. For some, the digital has become the primary location of 'studio', collapsing geography and enabling broader collaborations.
This UAL Platform event will evaluate networked studio practices across digital and physical boundaries. We will explore the studio approach in supporting collaborative interdisciplinarity and the importance of reflection and knowing 'in-action,' both off and online.
Past events
Thinking Differently: Addressing Attainment Differentials in Higher Education
5 February 2019, London College of Fashion, John Princes Street
Attainment differentials between students of colour and white students are being exposed and considered across higher education. Members of the art and design higher education community are at different points in relation to recognising and addressing this problem. Dr Gurnam Singh (2018) refers to 'Awarding Gaps' to highlight the institutional responsibilities associated with attainment differentials.
Ethics in Art, Design and Media Education
12 December 2018, Central Saint Martins, Kings Cross
Students in Arts, Design and Media encounter a diverse range of situations throughout their educational journey, which will invariably include ethical issues around or within their creative practices. How can we best prepare our students to make ethical decisions around their practice? How can we navigate ethical issues and find solutions to enable ourselves and our students to fully explore their interests and opportunities in the creative disciplines? How can ethical issues present sites for positive action and outcomes?
The Art of Enterprise & Employability – Designing an approach for an art, design and communication HEI
27 June 2018, London College of Communication, Elephant & Castle
Does the art & design environment call for a unique expression of employability and enterprise learning? How can employability and enterprise be embedded in the art, design, and communication curriculum?
B plus or A minus? Assessment in the Creative Disciplines
9 February 2018, Central Saint Martins, Kings Cross
What are the challenges, nuances and opportunities within assessment in the creative disciplines?
Critical Creative Digital: Shaping the university in a networked era
1 December 2017, Chelsea College of Arts
How can the university sector take advantage of the positive, creative opportunities of digital? This Teaching Platform interrogated the tensions between network (the Web) and hierarchy (the institution) to explore an ideal creative university for the networked era.
The Theory and practice of Theory and Practice
17 May 2017, Chelsea College of Arts
This teaching platform looked beyond the simple binaries between theory and practice and put into focus the evolving pedagogical relationships between these 2 different yet intertwined disciplines.
Learning through Objects: Transformative Pedagogies in Practice
23 November 2016, London College of Communication
This event explored emerging best practice in object-based learning. Themes included the use of archives and special collections in teaching, the object as mediator, the role of object-based teaching in developing skilled hand function and objects as a source of curriculum diversity.
Social status: creative uses of social media in higher education
3 June 2016, London College of Fashion, Oxford Circus
This 1 day symposium focused on the value of social media for learning within creative arts and design higher education, and drew on innovative and effective practices from across the disciplines. #UALsocialmedia.
Art for All – Diversity and Inclusion in Art and Design Higher Education
27 November 2015, Red Room, Chelsea College of Art and Design
This event explored ways to embed equality and diversity in the art and design HE curriculum and teaching. It included presentations, workshops and group activity led by leading internal and external speakers.
Risk-taking in creative education
21 March 2016, Central Saint Martins, Kings Cross
This event explored risk-taking in creative education, asking questions such as: Is there a space for creative students to take risks in their learning at university? How do we understand and experience risk taking within students' learning and practice? What teaching approaches support (or not) the possibility of 'positive' failure?