When the COVID-19 pandemic hit in early 2020, we turned our thoughts to ways that UAL and our community could respond. In the early stages of the pandemic, staff and students turned their homes into places of PPE production; sewing masks for vulnerable people and scrubs for healthcare teams when these now-critical items were scarce.
During this year, UAL academics have been working to lead or contribute to UK and EU-funded research and Knowledge Exchange (KE) projects
and workstreams that respond to different aspects of the global crisis.
From multisensory culture boxes to pineapple PPE and plant platforms for the production of COVID-19 reagents and biopharmaceuticals; read about some of the key COVID-19 research and KE interventions involving UAL researchers that got underway this year:
Led by the University of West London, the project team includes Hannah Zeilig, Senior Research Fellow at London College of Fashion, UAL.
The Culture Box project designs and distributes bespoke culture boxes to people with dementia in care homes. The boxes contain important information on virus transmission and prevention to protect the elderly and most vulnerable during and after COVID-19; alongside creative activities co-developed with artists and musicians that encourage users to create art and music. The creative resources will be simple to implement and offer stimulation and enrichment. They are based on evidence that creativity is shown to improve mood and engagement and reduce troubling symptoms - such as agitation - amongst those living with dementia.
The project addresses 2 urgent challenges: providing essential health information for people with dementia in care homes - and alleviating social isolation and loneliness through culture.
The project team is collaborating with people with dementia, staff and family carers and Black, Asian and Minority Ethnic (BAME) representatives, to co-design and distribute the Culture Boxes into care homes. They are working with homes across the UK, focusing especially on areas of socio-economic deprivation and amongst BAME populations. The National Activity Providers Association (NAPA) will support distribution via their network of 3000 members.
Watch co-creative work developed by Dr Zeilig and Julian West from the Royal Academy of Music, supporting people with dementia in care homes through arts and culture: BBC CrowdScience.
Follow the project on Twitter @CultureBox
People's PPE
Led by Helen Storey, Professor in Fashion Science, London College of Fashion, UAL and Professor Tony Ryan, University of Sheffield, it teams artists and scientists with UNCHR and Syrian refugees in Za'atari refugee camp, to manufacture hand hygiene products, reusable masks, shields and gowns inside the camp. The PPE is designed for local needs, protecting those living in the densely-populated camp as well as the local Jordan population from severe community transmission of Covid-19.
The People's PPE project uses locally available, low-cost materials that can be repurposed after the pandemic, creating training and employment opportunities at a new mask production facility, while keeping people safe and reducing plastic waste.
You can also read about this project in an interview with Helen published in Times Higher Education, 7 January 2021.
Sustainable PPE with Ananas Anam
UAL has partnered with Ananas Anam, creators of Piñatex: a natural alternative to leather made from pineapple leaves. The project will work on the production of biodegradable personal protective equipment (PPE). Funded by UKRI: Sustainable Innovation Fund.
Dr. Kate Goldsworthy, Reader in Circular Design at Chelsea College of Arts, UAL and Co-Director of the Centre for Circular Design and colleagues will collaborate with Ananas Anam's R&D team during this 9-month project to investigate alternative ways to produce PPE.
The aim is to create new prototypes of biodegradable hygienic wipes and reusable masks made from pineapple leaf fibres. The outcomes resulting from this initiative will help combat the spread of Coronavirus in a more sustainable way, fulfilling the current high demand for PPE while offering a climate-friendly solution.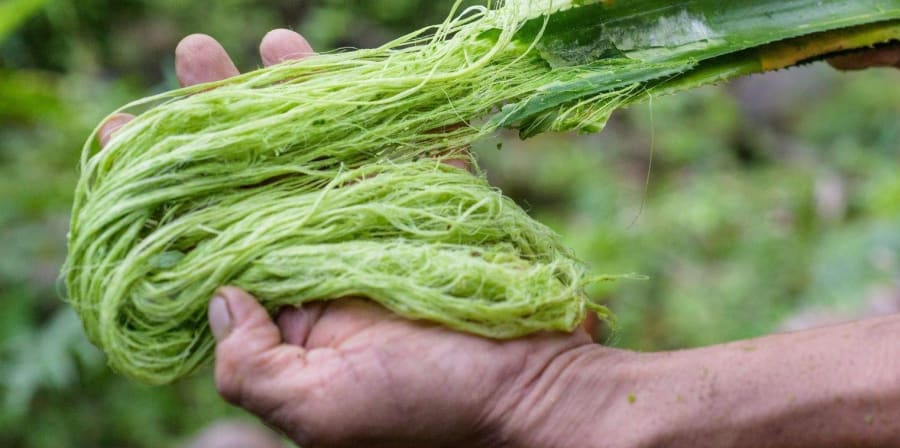 Pharma Factory - Building the product pipeline for commercial demonstration of Plant Molecular Factories
Led by Dr Alison Prendiville, Senior Researcher at London College of Communication, UAL, the existing Pharma Factory project has been adapted on request of the EU Commission to include an extra workpackage to contribute to fight COVID-19: Plant platforms for the production of COVID-19 reagents and biopharmaceuticals. Funded by the European Commission under Horizon 2020.
Plant molecular farming (PMF) technologies can make valuable contributions to the fight against COVID-19. Plant protein production platforms can flexibly address emerging requirements for SARS-CoV-2 antigens, antibodies and vaccine candidates because the technologies are rapid, easily scalable. PMF platforms have the potential to offer more affordable solutions, as well as local and global access.

This workpackage is building on and extending existing approaches within Pharma Factory workplan. It will also use existing knowledge gathered by the project to understand the factors that can influence the adoption of novel vaccines.
DREEm:
Principal Investigator Professor Jane Harris, Director of Research and Innovation (Stratford), London College of Fashion, UAL. The research team includes co-investigators Dr Rebecca Hawkins, Responsible Hospitality Partnership Limited (RHP) and Dr Thomas Bashford-Rogers, University of the West of England; and Postdoctoral Research Assistants, Francesco Mazzarella, Research Fellow in Fashion and Design for Social Change, London College of Fashion, UAL; Stephen Whelan and Dr Victoria Young. It is project managed by Dr James Harvey, Research and Knowledge Exchange Development Manager at London College of Fashion, UAL.
The UK produces high quality creative experiences - from theatres and museums to festivals, catering and accommodation providers - collectively referred to as the experience economy. With a value of over £300bn to the economy, this industry and the experiences it delivers to our visitors have helped the UK to be the world's seventh most visited country.
Prior to the COVID-19 pandemic, many experience economy operators in the creative sector had begun experimenting with online content. Over the course of the pandemic, the range of these offers has expanded, opening up new audiences and sustaining existing ones. For many businesses, the digital or online 'experience' comprises mainly recorded and distributed content, usually provided free.

Experiences are heavily dependent on evoking a sense of place. Therefore, at a time when access to physical places is restricted, there is a risk that online material fails to provide an effective proxy for the experience itself.
Convening expertise in experience design, post-production technology, games, visitor economy and place-making, this project will support experience providers in developing online and digital products which enhance their physical counterparts. It will also investigate modes of delivery and monetisation, and provide tools to support experience economy businesses' and help them to build a robust strategy for economic recovery.
Take our public survey about online audience experiences during lockdown: Online engagement with the UK's Creative, Cultural and Visitor sectors
HEartS Professional
Full project title: HEarTs Professional (Higher Education Arts Professional) - exploring the Health, Economic and Social impact of Covid-19 on professionals in the performing arts. Funded by AHRC.
Academics from Imperial, Royal College of Music and UAL Creative Computing Institute Programme Director, Dr Vali Lalioti collaborate on this project to reconceptualise consumer value and business resilience in the UK's creative and visitor sectors, through online and digital products. By investigating the health, wellbeing, and financial impact of the crisis on professionals in the arts and culture sectors, HEartS Professional will provide knowledge, leadership, advocacy and new ways forward when and where they are needed most.
The arts and culture sectors play a vital role in connecting and inspiring communities. In the COVID-19 crisis, these sectors are also among the most disrupted, with performances, exhibitions, and exchanges of all kinds all but halted. The arts and cultural economies, and those who work within them, face unprecedented challenges and uncertainty.
VALIANT - Virtual Innovation and Support Networks for Teachers
Led by Jekaterina Rogaten, Course Leader, Applied Psychology in Fashion, London College of Fashion, UAL. Funded by Erasmus+.
Virtual Innovation and Support Networks will provide educators with opportunities for innovation, collaboration, sustainable professional development and career planning which would otherwise be difficult to access in rural areas or in times of enforced isolation.
ACCELERATE - Accessible immersive learning for art and design
Led by Chris Follows, Emerging Technologies Manager at UAL's Chelsea, Camberwell and Wimbledon Colleges, ACCELERATE has a simple but ambitious aim: to improve the teaching of art and design higher education in a post-pandemic Europe. Funded by Erasmus+.
It is focused on developing innovative methodologies, tools, platforms, and resources for accessible immersive learning. It will bring together art and design lecturers, educational researchers, and learning technologists from the UK, Ireland, Poland, and Ukraine to reflect on the impact of COVID-19 and to explore new possibilities for pedagogy and digital innovation.