Careers support for international students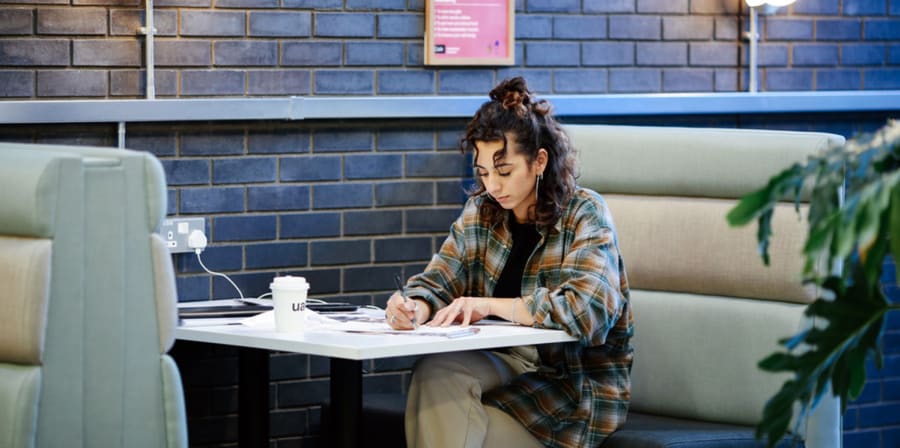 International student or graduate? Careers and Employability can support you with your career throughout your time at UAL and after you graduate.

Studying as an international student allows you to grow personally and professionally. By coming to UAL you have chosen to immerse yourself in a new setting, whilst also building your knowledge and skills.
Careers events and one-to-one advice
We run 150+ free events and training sessions a year, as well as week-long programmes for entrepreneurs and graduating students. These events will help you to learn practical skills, develop your career, gain useful advice and meet other aspiring creative professionals. We also provide career one-to-ones, where you can speak to a member of the team about anything relating to your career.
Explore our events or email careers-support@arts.ac.uk to request a one-to-one.
Find a job
Looking for work to support your studies and make some extra money? Our industry jobs board Creative Opportunities advertises paid jobs and voluntary roles in the UK and internationally.
UAL's in house recruitment service Arts Temps places UAL students and graduates in part-time, temporary roles and permanent jobs.
Online careers resources
Our range of online resources and career guides are designed to help you to start your career or business. They will also provide you with a useful insight into what it's like to work in the UK.
Support for international students
Before you graduate
Engaging with Careers and Employability whilst at UAL can help you to decide what you want to do after you graduate.
You might be considering:
Whatever route you decide to take, we'd suggest you take the following steps:
Make a list of contacts and networks that you have made whilst studying and working in the UK.
Contact potential referees, asking them for permission to provide their details to potential job or further study offers.
Look at the Register of Licensed Sponsors in the UK to find out what companies can sponsor you on the Worker and Temporary Worker immigration routes.
Working on a visa
As an international student you may have a visa, and depending on the type of visa, there may be working restrictions on this. It's important that you refer to your visa or biometric residency permit (BRP) card to check what this limit is. If you don't understand these limitations, you can contact the International Office at your college
Working whilst studying can be a great way to build skills, knowledge, experience and relationships with others.
Make the most of your job by:
Networking with colleagues
Keeping a copy of the job description for roles you have worked in – you can use this on your next CV or cover letter
Asking current employers about their sponsorship policy for future graduate opportunities.
Make sure you also understand the visa options available to you once you complete your course. Take a look at some of the following pages to familiarise yourself with the types of visas available to you in the UK:
Support for international graduates
As an international graduate there are many options available to you once you complete your course. You might want to consider further study or starting your own business. Careers and Employability can support in you in your next steps. Some of the options available to you are:
Finding work in the UK
If you've finished your course and are looking for work in the UK, UAL has two dedicated services that can help you to find a job:
If you are considering self-employment, explore our range of freelance and business resources.
Finding work in your country
If you're planning to return to your home country when you finish your course we're still here to support you and you can continue to access our resources and events.
It's important to appreciate that each individual country will have its own recruitment practices, some of which will differ from finding work in the UK.
Tips for looking for work in your home country
Our industry jobs board Creative Opportunities advertises paid jobs and voluntary roles in the UK and internationally.
Start by building an understanding of the local job market and consider the sectors in which you wish to work. Take a look at the network of alumni around the world. Developing contacts and networks will help you gain valuable insights into jobs and sectors. You might also gain advice and secure work through these networks.
Research how recruitment works in your country. Do you need some form of resume or CV? Are jobs secured via online platforms or through personal connections? This knowledge will help you to be better prepared when searching for work.
Resources for finding work outside of the UK: