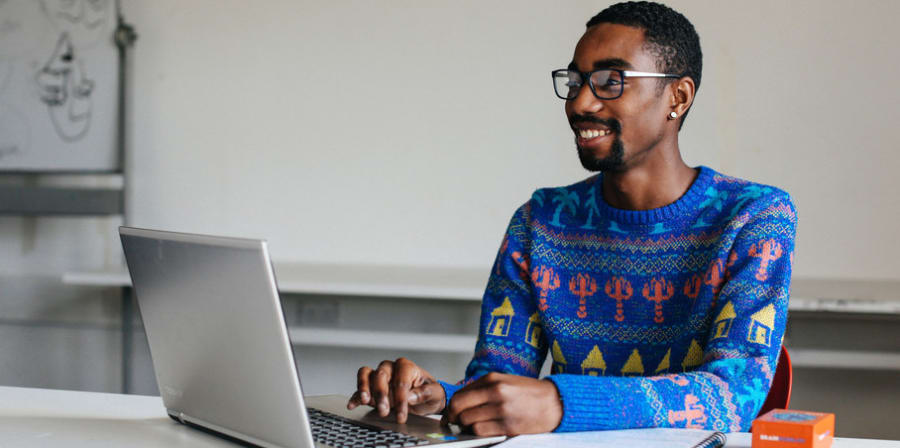 Employability is the collection of skills and attributes a person has to help them gain and maintain employment. Careers and Employability equips University of the Arts London students and graduates with employment skills.
The employment landscape is changing rapidly. The traditional way to apply for a job is to complete an application form supplied by the employer or submit your CV or curriculum vitae along with a cover letter. However, social media has made it easier to not only find employment opportunities but can also be used as a tool to promote yourself and your employability skills and help with the application process.
It's important that you understand how to develop and present your own employability skills.
Employers are looking for applicants with a combination of relevant experience and employability skills.
Employability skills
You can develop employability skills at university, during temp or freelance work, through volunteering or in other paid employment.
Employers look for the following skills:
Teamwork – working in a team with others, contributing to discussions, being aware of other people's opinions, respecting other people, co-operating and negotiating.
Communication skills – ability to produce clear, structured written work and oral literacy, including listening and questioning.
Problem-solving – analysing facts and situations and applying creative thinking to develop solutions appropriate to the problem.
Commercial awareness – having the ability to think commercially i.e. what are the key objectives for businesses, who are their competitors, how can businesses keep their customers satisfied and loyal and what can they do to continue to innovate.
Organised – time management, meeting deadlines, setting personal goals, keeping a to-do list, and prioritising are all skills to demonstrate organisation.
Leadership skills – having the ability to motivate and lead others, being assertive, decision-making and being flexible when the situation changes.
Positive attitude – employers want staff who are excited about the prospect of working for them and who have positive ideas about what they can bring to the team and make a difference to the company.
Exercise
Brainstorm a list of your own employability skills and identify where and how you have gained your skills. This list will help you when you are applying for future roles or in interviews.
Understanding the employer
Presenting examples of employability skills alone wont guarantee you a job. Employers also want candidates who have researched their business, who have a good understanding of the role and who can articulate why they would like to work for the business.
Many applicants make the mistake of approaching the application process with a 'one size fits all' approach. Writing one covering letter and sending it to multiple employers may be time efficient but is less likely to gain the attention of an employer and ultimately secure you a job. If you tailor your application and cover letter to each business and role it will help the employer to understand why you are applying and what makes you the most suitable candidate for the role.
Exercise
The best way to start learning about a company is to create a SWOT analysis. A SWOT analysis is a document you can create to research the Strengths Weaknesses Opportunities and Threats of a business.
Presenting your employability skills
How you present your employability skills is also important. Social media and online profiles are a key way of promoting your employability skills.
The top three social media channels to find employment are LinkedIn, Twitter and Facebook. Whilst you are job searching via these channels it's important that your profiles are up-to-date and include all relevant skills. Refer to the social media section on the How to Find Jobs page for more information.
Exercise
Google yourself, see what comes up. If you don't want a potential employer to see information about you, change your privacy settings or remove the information.
Check that you are happy with all of your profile pictures and that the summary information is up to date, relevant to the jobs you are applying for and include employability skills keywords.