Published date
25 Jul 2018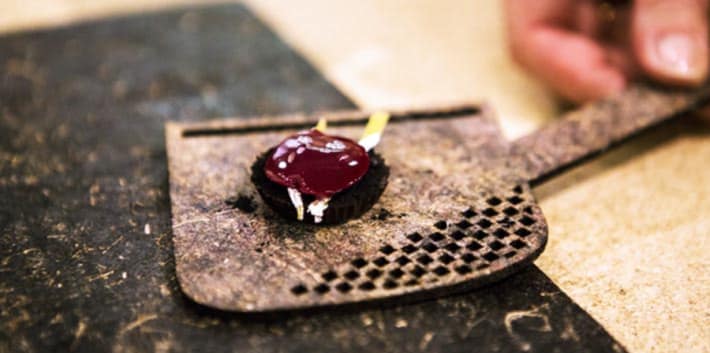 Principal Investigator: Maja Kuzmanovic (FoAM)
Co-Investigator: Professor Carole Collet
College: CSM
Project summary
The Edible Alchemy Aperolab took place on the 1st of February 2013, and was organised by Bartaku and Carole Collet as part of The Resilients, a European Culture Programme Project. This project has evolved over 2 years in collaboration with the MA Textile Futures course and culminated in a final table landscape, staged in the heart of Central Saint Martins. The Apero Lab examined how plants can inspire models of resilience and the capacity to adapt and survive despite varying degrees of light and other environmental conditions. Plants can transform part of the (sun)light into energy at ambient temperature, energy that is transformed in -and used by- animals and/or humans, with leftovers released back into the environment. The aim was to harvest light energy by creating a biological electrical 'device' made of 'active' food ingredients.
With this in mind, Bart and Carole lead workshops with MA Textile Futures designers to develop resilient strategies for design in 2011-12. The students applied resilience thinking to plant systems, exploring how far one can push the adaptation for different raw materials. In this case the creation of controllable measurable energy using Aronia Melanocarpa fruit berries (choke berry) was directed by Bartaku. Inspired by the cultural and historic origins of the flax plant (linen), Carole experimented with innovative material transformation of new flax composites.
Both Bartaku and Carole chose to work with plants that had a profound impact on european culture and that had been adapted to different usage over centuries. Their challenge was to propose an example of extreme adaptation for aronia and flax. Bartaku developed a recipe to produce edible photovoltaics, named TpeD (Temporary PhotoElectric Dygestopians), and Carole chose to exploit new linen composites made of flax waste, to use them in an new context: tableware.
The Aperolab event is the culmuination of this body of research and took place in "The Street" at Central Saint Martins, King's Cross. Aperolab staged a table landscape that celebrates these two plant systems as models of resilience; everything on display was either made of linen flax (including the flax tables made by Kieren Jones for this project), or aronia. Guests were indeed invited to sample a unique limited production of aronia berry wine, beer and vodka that is indigenous to a Latvian village community, before creating their own edible photovoltaic tapas.
Attended by the Head of college Jeremy Till and industry leaders, including Masters of Linen, as well as representatives form the Victoria and Albert Museum and The British Council, guests literally enjoyed the fruits of this project's labour. Both plants have been used for centuries in multifarious ways, and a change in cultural context as well as production methods has adapted their use. The table landscape was able to showcase the flexibility of use and malleability of these plant systems, and ultimately it makes us reconsider the integrity of our material world.
Professor in Design For Sustainable Futures Director, Design & Living Systems Lab
Central Saint Martins
Outputs
Outputs realised from the research project